This post may contain affiliate links, which means we may receive a commission if you purchase through our links. Please
read our full disclosure here
.
Since you all have seemed to enjoy our personality quiz posts so much, we are back with another one this week. In case you missed our previous quizzes, check out Quiz: What Color Should You Wear Today?, Quiz: Which Spring Trend Should You Try?, and Quiz: Which City Best Represents Your Style?.
For this week's quiz, I thought it would be fun to try something new. This week, our quiz will tell you which summer activity matches your style. After you find out which activity best describes you, I have designed one outfit inspired by that activity.
Just take the fun quiz below to find out what summer activity describes you best. Once you get your answer, find your letter and corresponding result below for a sample outfit inspired by your result.
Quiz: What Summer Activity Are You?
Quiz Results – No peeking!
Below are the results of the quiz. Don't look if you haven't taken it yet! I've created one outfit inspired by each result to help give you some ideas for what to wear. Enjoy!
Mostly A's: Amusement Park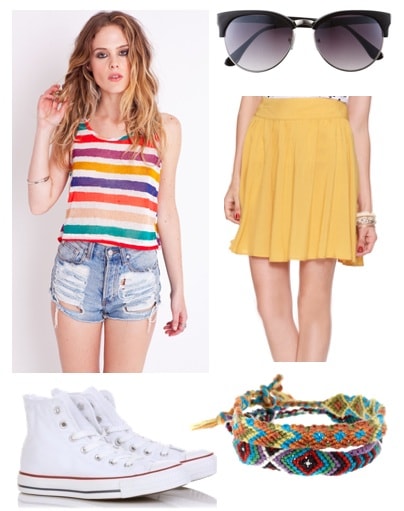 Product Information: Top, Sunglasses, Skirt, Bracelets, Shoes
Amusement parks are always full of excitement and energy, just like this brightly-colored outfit. This multi-colored striped top combines perfectly with a lemon yellow skirt, while Hi-Top Chuck Taylor All Star kicks are classic and add a spunky flair to the outfit. Friendship bracelets have taken the blogosphere by storm lately and are a fun addition to any summer look. Finally, add on some trendy black sunglasses and you're ready to go.
Mostly B's: Camping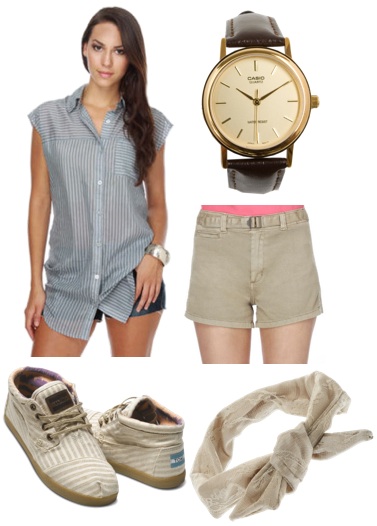 Product Information: Shirt, Watch, Shorts, Headband, Shoes
Camping is all about roughing it in the great outdoors and an outfit like this one will let you do just that in comfort and style. A pinstripe button-down shirt and high-waisted khaki shorts are simple and practical for any outdoor adventure. During the summer, I love wearing headbands because they are perfect for keeping stray hairs at bay – this scarf-style headband is both sporty and cute. These striped TOMS would be a practical and comfortable choice for any adventure — whether that is forging a new trail through the woods or picking up some milk from the grocery store. Lastly, a simple leather watch helps tie the whole look together.
Mostly C's: Backyard BBQ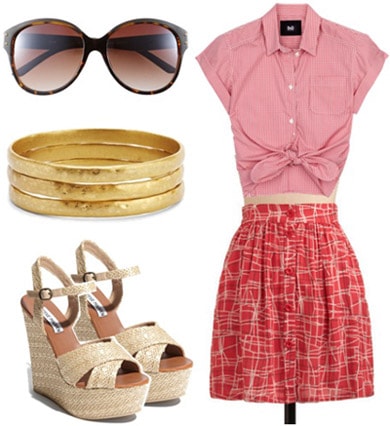 Product Information: Sunglasses, Shirt, Skirt, Wedges, Bangles
When I think of a backyard BBQ, the first thing that comes to mind is the iconic red and white checkered tablecloth. In keeping with that spirit, I picked out this gingham button-up shirt that can be tied up as shown. While you can easily pair this shirt with any neutral bottom, I decided to take a cue from Emily of Cupcakes and Cashmere and pair it with a red patterned skirt. While mixing prints can be intimidating, using different sized prints and similar colors will help to create balance and cohesion. Since the outfit is already so loud, all you need next are some neutral sandals, a great pair of sunglasses, and a simple gold bangle set.
Mostly D's: Beach/ Pool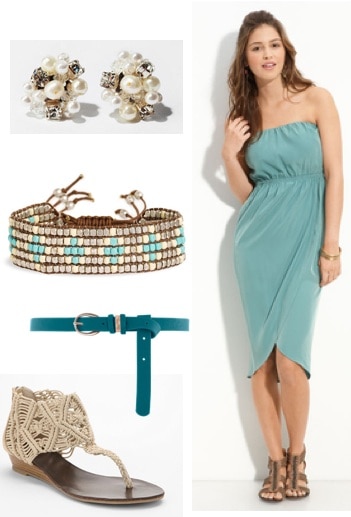 Product Information: Earrings, Dress, Sandals, Belt, Bracelet
This outfit is inspired by the tranquility of the beach. The outfit's muted blue-green color palette is reminiscent of the soft waves of the sea. I love the mermaid-esque silhouette of the simple dress. To define your waist, add on a belt in a similar hue. Next, these sand-colored, crochet sandals are definitely on-trend, yet they could still be worn many different ways throughout the seasons. Finally, accessorize the look with pearl-cluster earrings and a simple beaded bracelet.
What do you think?
Did you like the quiz? Which result did you get? Do you think your result represents your personality well? Did you like the outfit inspired by your activity? Do you enjoy these personality quizzes? Please let me know what you think by leaving a comment below!