This post may contain affiliate links, which means we may receive a commission if you purchase through our links. Please
read our full disclosure here
.
I don't know about you, but I personally love sports. And when the weather's nice in the summer, I want to spend all my free time running around and being active. In our past personality quizzes, we've drawn style inspiration from topics as diverse as world cities and college majors. Now, we're back with a sports personality quiz to learn what sport best aligns with your personal style.
Not sure which sport is your style-soulmate? Just take this quiz below to find out which sport represents your style! Once you get your answer, find your letter and corresponding result below for a sample outfit based on your personality type.
Quiz: What Sport Represents Your Style?
Quiz Results – No peeking!
Below are the results of the quiz. Don't look if you haven't taken it yet! I've created one outfit for each result to help give you some ideas for what to wear. Enjoy!
Mostly A's: Baseball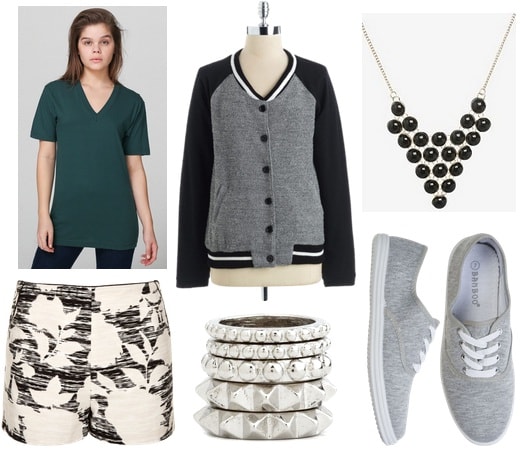 Product Information: T-shirt, Jacket, Necklace, Shoes, Rings, Shorts
Baseball is considered America's pastime and like this all-American tradition, you tend to stick to basic, classic pieces like v-neck tees, varsity jackets, and sneakers. But, you are also not afraid to mix up these basics with a few trendy pieces, like a cool bubble necklace, printed shorts, and stackable rings.
Mostly B's: Beach Volleyball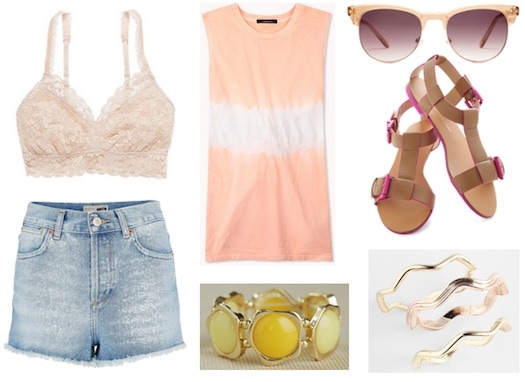 Product Information: Bralette, T-shirt, Sunglasses, Sandals, Rings, Bracelet, Shorts
As a waterside sport, beach volleyball has a sense of being very casual and laid-back. For a look inspired by beach volleyball, try a pair of high-waisted denim shorts paired with a lace bralette and muscle tee. Add on some accessories like beige-colored sunnies, a yellow bracelet, and wave rings, which are reminiscent of the ocean.
Mostly C's: Basketball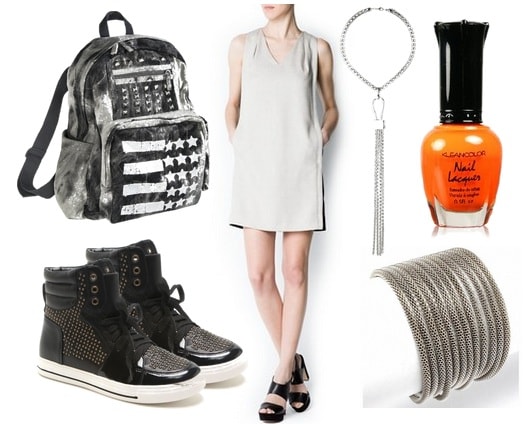 Product Information: Backpack, Dress, Necklace, Nail Polish, Bracelets, Shoes
Basketball is a fast-paced sport to watch and play. This ensemble is inspired by the basketball uniforms that players wear. First, try on this shift dress, reminiscent of a jersey you might see on the court. Pair it with some studded high-top sneakers and mesh jewelry for sparkle. Finish the look with an orange nail polish and printed backpack.
Mostly D's: Tennis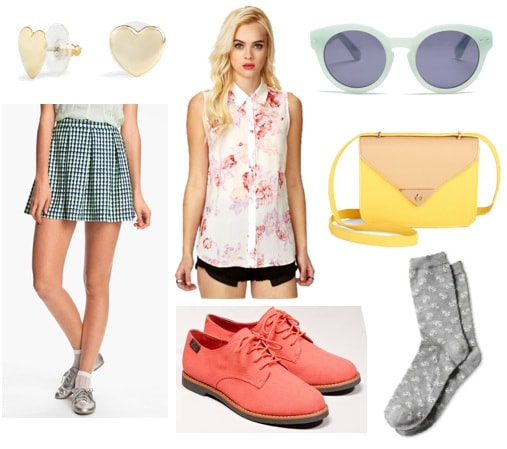 Product Information: Earrings, Shirt, Sunglasses, Bag, Socks, Shoes, Skirt
Tennis is often considered a preppy sport and your personal aesthetic has an appreciation for all things prep. For this tennis-inspired outfit, pair a pleated skirt with a floral, sleeveless button-down. Next, add on a pair of printed grey socks and add a bright splash of color with these coral oxfords. Finish the look with accessories such as this yellow bag, mint sunglasses, and gold post earrings.
What do you think?
What was your result? Do you think it fits your style personality well? What is your favorite sport? Does your fashion sense align with it? Are there other sports that you think better represent your style? Which ones? Which of these is your favorite outfit? Please let us know what you think by leaving a comment below!