This post may contain affiliate links, which means we may receive a commission if you purchase through our links. Please
read our full disclosure here
.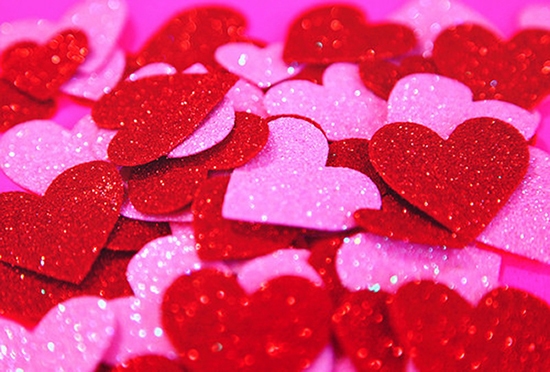 For the past few weeks you've been constantly surrounded by a blur of pink hearts, boxes of chocolate, and countless advertisements for flowers and jewelry, but the wait is almost over! Whether you're planning on spending a romantic evening with your significant other, going out with the girls, or treating it just like any other day, Valentine's Day is right around the corner.
Remember: just because you don't have a "special someone" in your life doesn't mean you can't celebrate the holiday! Take time to let the important people in your life know you care. You can always do something thoughtful for your parents, your friends, your siblings, and, yes, your significant other. It doesn't have to be big, just do something to let them know you're thinking of them. Don't forget: a little candy goes a long way.
If you are still looking to make Valentine's Day plans, take the quiz below for a little date night and outfit inspiration.
Quiz Results!
Below are the results to the quiz. If you haven't taken it yet, please don't peek! I've created an outfit to wear for each Valentine's Day activity. Scroll down to take a look:
Movie Night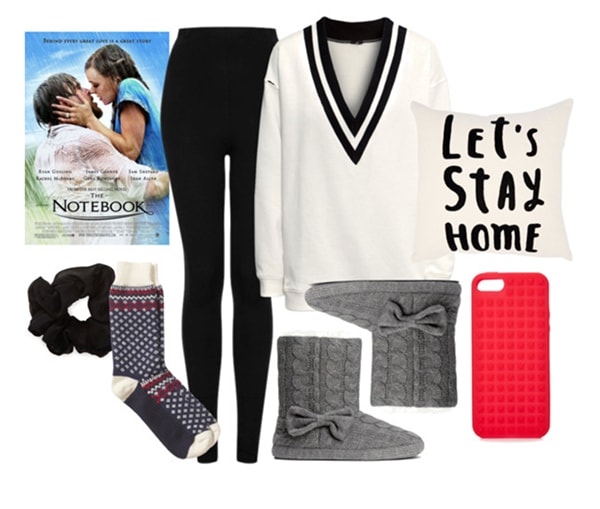 Leggings, Sweater, Slippers, Socks, Scrunchie, Phone Case, Pillow
If you're staying in for Valentine's Day, then this is the perfect ensemble for you. Whether you're spending it with a couple of girlfriends or your "bae," you'll be comfortable and look cute. An oversized v-neck sweater and leggings are the ideal combo for lounging around and enjoying your favorite movie. Don't forget fuzzy socks and slippers!
Dinner Date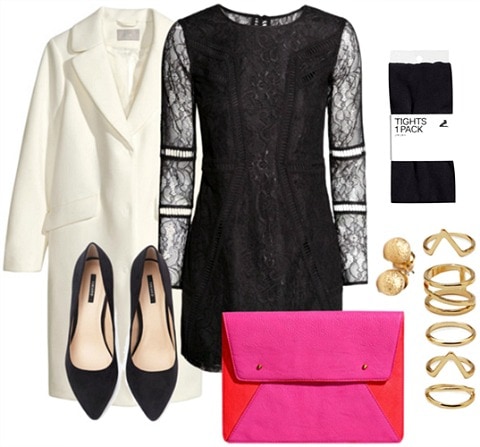 Dress, Coat, Shoes, Clutch, Tights, Rings, Earrings
A little black dress can be your go-to for any occasion, including Valentine's Day. Paired with tights and pointed-toe pumps, you'll be dressed to the nines for your dinner date. Throw on your favorite coat, then add a little Valentine's Day touch with this fun clutch.
Ice Skating
Coat, Sweater, Jeans, Bag, Earrings, Scarf
If you're going ice skating this winter, I suggest you bundle up! Try wearing tights under your jeans or slipping on a thermal shirt under your sweater to keep warm. Add a cozy infinity scarf and boyfriend coat, and you'll be ready to skate the night away. Be sure to take a crossbody bag, since you won't want to leave your purse unattended.
Concert/Show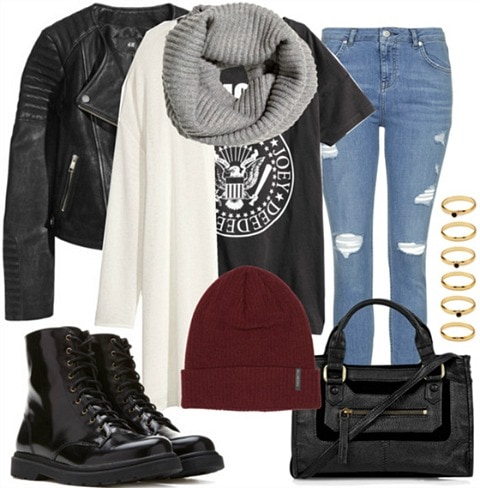 Jeans, T-Shirt, Cardigan, Jacket, Boots, Beanie, Scarf, Rings
Depending on the nature of the event (indoor/outdoor, dressy/casual), you may need to tweak this outfit a little. Considering your typical indoor concert venue, I think this is a great outfit for inspiration. For activities like this, it's always good to dress in layers just in case you get hot or cold.
What do you think?
What are your plans for the upcoming holiday? Would you wear any of these outfits? Which idea is your favorite? Let us know in the comments below!