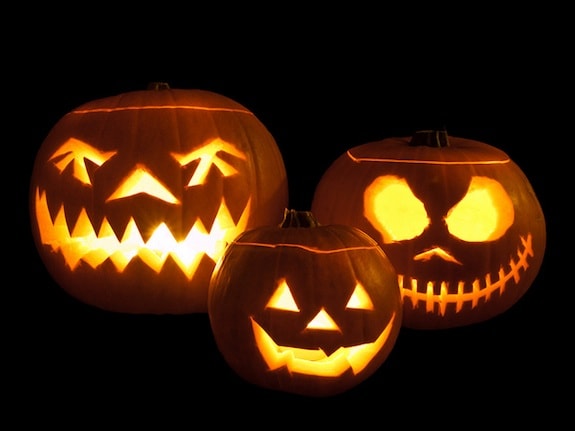 And so the countdown begins: There's exactly 1 week and 3 days until the big day! If you're anything like me, you probably haven't settled on what you want to be for Halloween yet (though we've shared some ideas in our 15 College Halloween Costumes Ideas for Girls on a Budget post, and our Geek Chic Halloween post).
So if you're still looking for a costume, we've created a personality quiz to help point you in the right direction.
Just take this fun quiz below to find out what Halloween costume style you should choose this year! If you take the quiz here on the site, the widget will automatically total up your answers for you. If you print the quiz, total up the letters you got and find which one you selected the most. Once you get your answer, find your letter and corresponding result below for a sample outfit based on your personality type.
Quiz: What Should You Be for Halloween?
Quiz Results – No peeking!
Below are the results of the quiz. Don't look if you haven't taken it yet! I've created one outfit for each result to help give you some ideas for what to wear. Enjoy!
Mostly A's: Person of the Moment – Anna Dello Russo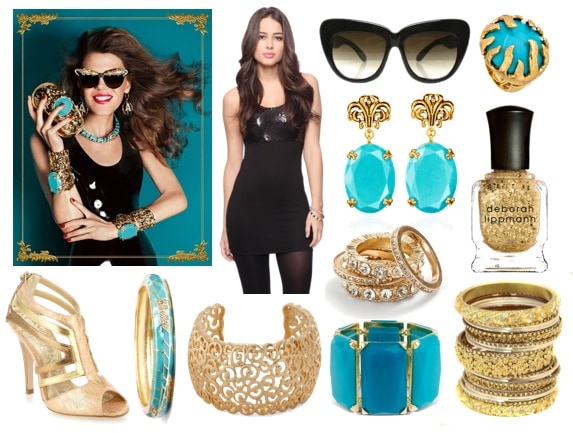 Photo courtesy of H&M | Product Information: Dress, Sunglasses, Turquoise Ring, Earrings, Nail polish, Bangles, Gold Ring Set, Turquoise Bracelet, Gold Bracelet, Turquoise Bangle, Heels
You are up-to-date on all things happening. You want to dress as someone relevant to what's going on right now.
Thanks to her recent collaboration with H&M, Anna Dello Russo's been on our radars more than ever. (Not to mention I can't get that song outta my head.) To dress like Anna Dello Russo à la her H&M campaign, all you need to do is grab a black body-con dress and pile on the gold and turquoise jewels. Don't skimp, either: The more the better. And if you don't want to buy the exact glasses she's wearing, try a DIY by decorating a cheaper pair with gold glitter nail polish, chains, or whatever else you can come up with.
Other costume ideas for you: Not a fan of this look? Some other great of-the-moment costumes include Honey Boo Boo, any Olympic athlete from the Summer 2012 Games in London, or even presidential campaign leading ladies Michelle Obama or Ann Romney.
Mostly B's: Comedic – Minion from Disney Pixar's Despicable Me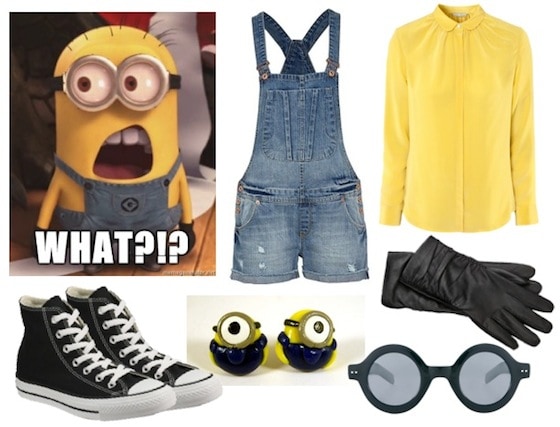 Product Information: Overalls, Shirt, Gloves, Sunglasses, Earrings, Shoes
You never take yourself too seriously, and Halloween gives you the perfect excuse to dress up in something ridiculously hilarious.
If you've seen Despicable Me, you know that the yellow Minions are the true stars of the movie — their witty sayings will keep you laughing all the way through. Dressing up as one for Halloween will ensure that you are the star of any Halloween party, too. To create this look, pair a yellow shirt with denim overalls. Next add on some black gloves, circle glasses, and some black shoes. I also included these cute Minion earrings for fun.
Other costume ideas for you: Some other comedic options include a "punny" costume (Deviled Egg, Holy Cow, Smarty Pants… I think you get the idea), PSY from "Gangnam Style," girl from Sh*t Girls Say, or McKayla Maroney is Not Impressed.
Mostly C's: Entertainment Character- Julia Roberts as the Evil Queen in Mirror, Mirror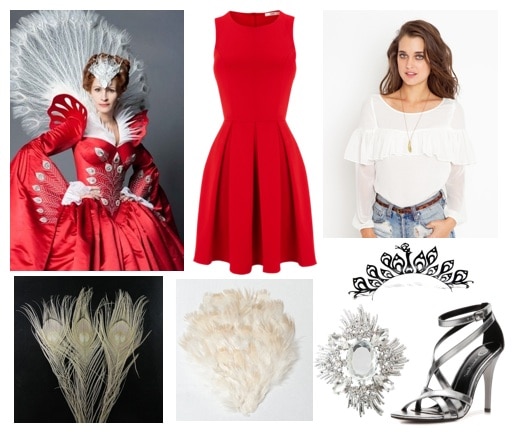 Product Information: Dress, Shirt, False Eyelashes, Shoes, Brooch, Feather Headpiece, Feathers
You love all things related to Hollywood, so why not channel your favorite character for your Halloween costume?
For a one-of-a-kind look, dress as the Evil Queen from the movie Mirror, Mirror. While this look is rather elaborate, you can still pull it off by wearing a red dress with a full skirt, a ruffled white top, and simple silver sandals. Once you have these main pieces, the look is all about the feather details. Try making a headpiece that matches the one Julia is wearing out of a feather piece and sparkly brooch. Buy some white feathers (we found these on eBay) and decorate to your heart's content. For an added peacock bonus, check out these peacock false eyelashes.
Other costume ideas for you: Some other good Hollywood costumes include Katniss Everdeen from The Hunger Games, Merida from Brave, Selina Kyle from The Dark Knight Rises, the cast of Girls, Jess from New Girl, Mary from Downton Abbey, or anyone from the cast of Mad Men.
Mostly D's: Dark – Zooey Deschanel as a Zombie (Zombey Deschanel?)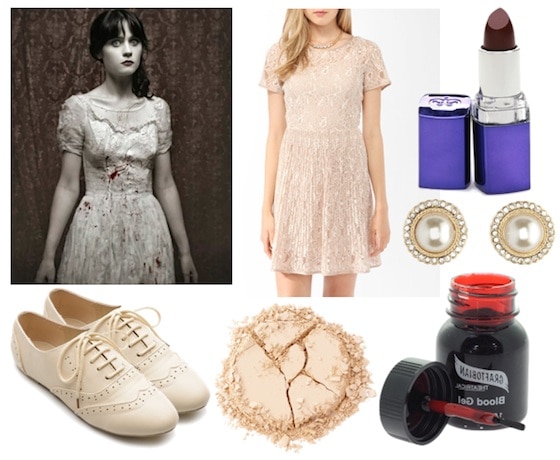 Product Information: Dress, Lipstick, Earrings, Fake Blood, Powder, Shoes
Halloween is founded on the creepy, gruesome, and downright sinister. Therefore, this holiday makes for a perfect excuse to get in touch with your macabre side.
For this look, I chose this picture of Zooey Deschanel dressed as a zombie for inspiration. This look is pretty simple. Just find a cheap lace dress with an empire waist and splatter on some fake blood. Next it's all about the makeup. To get that washed out, zombie look for your face, opt for a powder makeup a few shades lighter than your natural skin tone. Add on some dark burgundy lips for contrast and finish with smudged eyeshadow for your eyes. Delicate earrings and pretty oxfords complete this creepy innocent girl-turned-zombie look.
Other costume ideas for you: Not digging this zombie look? Other dark character ideas include a character from FX's American Horror Story like the dead bride, Jessica Lange's nun character, Sister Jude, and the asylum monster, the girl from The Ring, or Tim Burton's Corpse Bride.
What do you think?
What was your result? Did you like the quiz? Have you decided what your Halloween costume will be? Which one of these is your favorite? Please be sure to leave a comment and let us know what you think!