This post may contain affiliate links, which means we may receive a commission if you purchase through our links. Please
read our full disclosure here
.
Forget diamonds; if you're anything like me, you know that shoes are a girl's best friend. This week we're back with another personality quiz, and this time around, we're talking footwear!
Just take this fun quiz below to find out what shoe style represents your personality. Once you get your answer, find your letter and corresponding result below for a sample outfit based on your personality type.
Quiz: What Shoe Style are You?
Quiz Results – No peeking!
Below are the results of the quiz. Don't look if you haven't taken it yet! I've created one outfit for each result to help give you some ideas for what to wear. Enjoy!
Mostly A's: Ballet Flats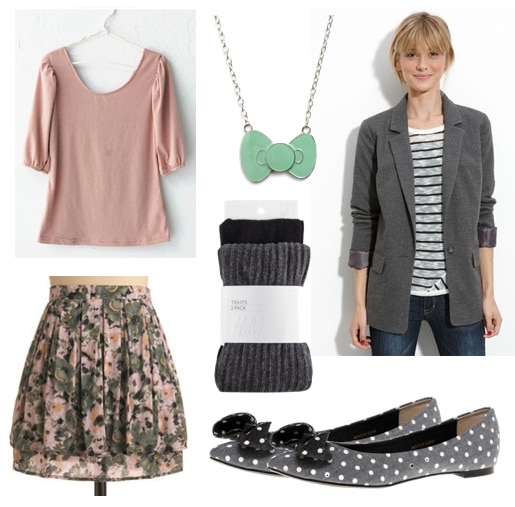 Product Information: Top, Necklace, Jacket, Shoes, Tights, Skirt
Ballet flats are timeless and feminine — just like you! This look is inspired by these characteristics. Pair these fun and feminine polka dot flats with a pretty pink blouse and floral skirt. A dark grey jacket and cable-knit tights will keep you warm during the chilly months. Finish the look with a simple bow necklace that picks up on the green found in the skirt.
Mostly B's: Boots
Product Information: Dress, Jacket, Necklace, Socks, Boots, Ring
As the famous song tells us, boots are made for walking. But aside from being extremely practical, they can also be statement-making accessories. I started this look with this pair of knee-high boots worn over some knitted socks. Pair the boots with a floral-printed dress and a structured jacket. Simple jewelry like this clock necklace and winged ring add the finishing touches to the ensemble.
Mostly C's: Oxfords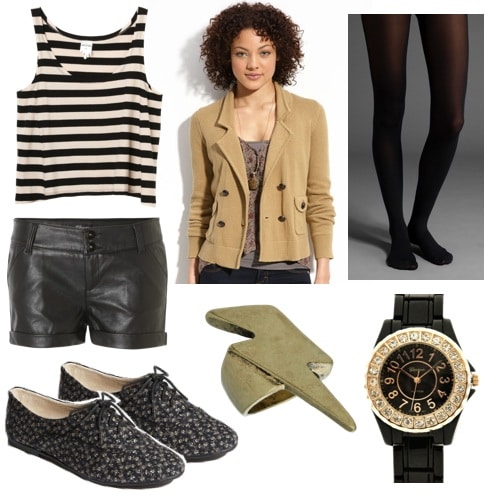 Product Information: Top, Jacket, Tights, Watch, Ring, Shoes, Shorts
Oxfords are a shoe that was once reserved for men; however the popularity of menswear-inspired fashion made them into a popular trend for women as well. What I love about these shoes is that they can be worn with an androgynous look, however they also look great paired with super girly pieces. For this look, I found a pair of floral printed oxfords that showcase this shoe style's versatility. A striped tank is a classic staple, yet pairing it with some leather shorts and a gold swing jacket gives it a current feel. Accessorize the look with some sheer black tights, a cool lightening ring, and a menswear-inspired watch.
Mostly D's: Sneakers
Product Information: Sweater, Bracelet Set, Necklace, Courage Bracelet, Backpack, Pants, Sneakers
Sneakers are without a doubt the most practical and comfortable shoe style for a busy college girl on the go. But just because you enjoy comfort doesn't mean you have to sacrifice style – this pair of sequin sneakers will ensure that your kicks stand out from the rest. Maroon pants paired with a salt and pepper grey sweater make a simple yet unique combination. To carry around all your daily essentials, try a backpack like the one above.
What do you think?
What was your result? Do you think your result represents your style well? Do you like the outfits? Which one is your favorite? Please let us know what you think by leaving a comment below!