This post may contain affiliate links, which means we may receive a commission if you purchase through our links. Please
read our full disclosure here
.
We're back again with another personality quiz. This week's quiz will tell you which of the four seasons represents your sense of style.
We know that people are often classified into color "seasons" depending on their hair and skin color. But we also know that fashion inspiration can come from anywhere or anything.
Just take this fun quiz below to find out what season represents your style. Once you get your answer, find your letter and corresponding result below for a sample outfit based on your personality type.
Quiz: What Season Represents Your Style?
Quiz Results – No peeking!
Below are the results of the quiz. Don't look if you haven't taken it yet! I've created one outfit for each result to help give you some ideas for what to wear. Enjoy!
Mostly A's: Spring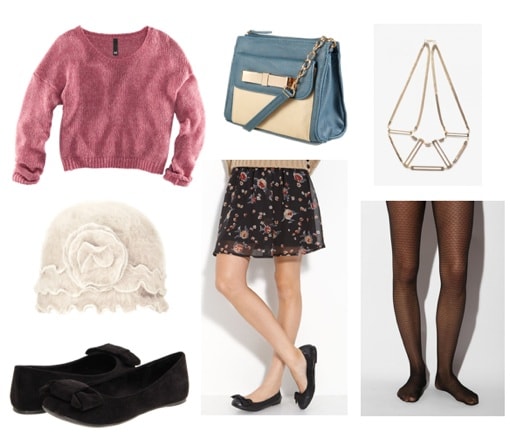 Product Information: Sweater, Bag, Necklace, Tights, Skirt, Shoes, Hat
Spring marks the time of year when the weather gets warmer and the flowers start to bloom. With this in mind, I selected a floral print skirt and paired it with a pastel pink sweater for a fall-appropriate take on spring dressing. Next add on some accessories to make the outfit stand out, like patterned tights, simple ballet flats, and a hat with floral details. Throw on a necklace and grab a cross-body bag to complete the look.
Mostly B's: Summer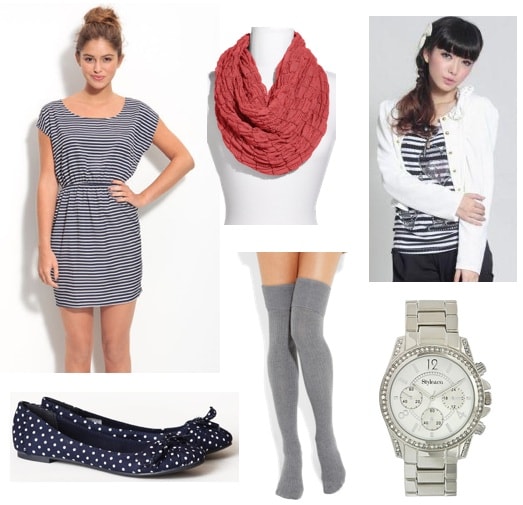 Product Information: Dress, Scarf, Jacket, Watch, Socks, Shoes
Even though the thermometer may not read 80 degrees right now, you can still capture the spirit of summer in an outfit. Nautical stripes are an iconic summer print, so wear them for winter in a dress and add in that necessary splash of red with an infinity scarf. Keep warm with a white jacket and some grey socks, and accessorize with some fun polka dot ballet flats and a silver watch.
Mostly C's: Fall
Product Information: Pants, Sweater, Necklace, Jacket, Shoes, Ring
Between the changing leaves and the crisp, cool air, fall brings a uniquely comforting feeling. For that reason, I chose a comfy charcoal grey cable knit sweater to pair with some easy denim jeans. A nice coat will add an extra layer of warmth to the look. Leopard loafers are a huge trend right now and are well in line with the spirit of Fall. Add on some gold accessories like this spike necklace and leaf ring to accessorize the look.
Mostly D's: Winter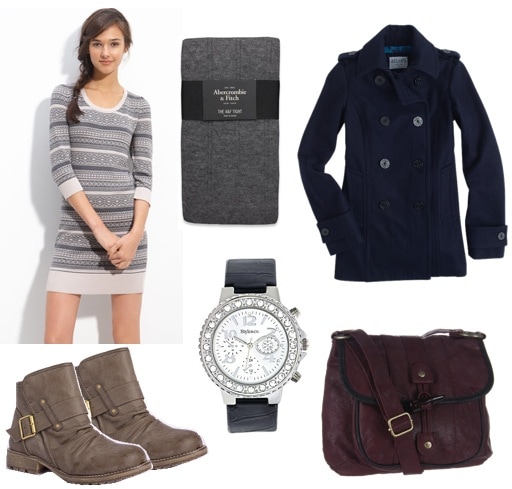 Product Information: Dress, Tights, Jacket, Bag, Watch, Shoes
Winter is all about being cozy and bundled up, and a printed sweater dress is a perfect way to capture that feeling. Don a pair (or two!) of grey cable knit tights and a navy peacoat to brave the cold weather. A burgundy bag, rhinestone watch, and pair of buckled boots finish the ensemble.
What do you think?
Did you like the quiz? What was your result? Do you think it was accurate? What outfit is your favorite? Does your style season match up with your favorite season? Leave a comment below to let us know what you think!