Since I have been studying abroad these past few months, I have been fortunate enough to do some traveling and see some magnificent places. During my travels, I have been inspired not only by the people around me but also by the architecture and surrounding nature.
This got me thinking, there are so many wonderfully beautiful places in our world – why not take some fashion inspiration from them as well? So chose four natural world wonders to use as inspiration for this quiz. Continue on below to find which of the world's natural wonders inspires your style.
Just take this fun quiz below to find out what natural world wonder inspires your style! Once you get your answer, find your letter and corresponding result below for a sample outfit based on your personality type.
Quiz: Which Natural World Wonder Inspires Your Style?
Quiz Results – No peeking!
Below are the results of the quiz. Don't look if you haven't taken it yet! I've created one outfit for each result to help give you some ideas for what to wear. Enjoy!
Mostly A's: Aurora Borealis (Northern Lights)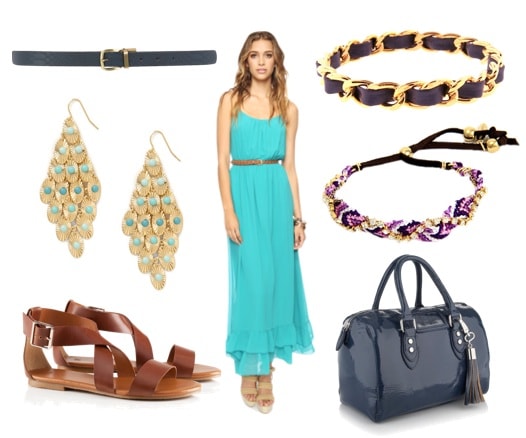 Product Information: Belt, Dress, Bracelet, Braided Bracelet, Bag, Sandals, Earrings
The Aurora Borealis (or the Northern Lights), consists of beautiful colors sweeping across the night sky. To emulate this ethereal phenomenon, I chose this flowy teal maxi dress. Switch out the braided belt it comes with for a navy one to mimic the colors of the night sky. Accessorize with a midnight blue purse, some purple jewelry, and some earrings that are reminiscent of stars. Finally, finish the look with a neutral flat sandal.
Mostly B's: Grand Canyon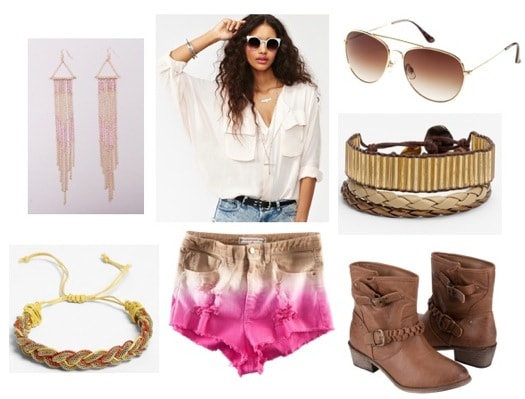 Product Information: Earrings, Top, Sunglasses, Bracelets, Boots, Shorts, Bracelet
Having been to the Grand Canyon twice, I can attest that the layers of colors that make up the rocks are truly breathtaking. For a look inspired by the Grand Canyon, I wanted to capture the almost tie-dyed, color-blocked look with these shorts. Next, add on a loose-fitting white shirt. Then grab some accessories reminiscent of the Grand Canyon landscape like these ombre earrings, and woven bracelets. Complete the outfit with some classic western boots and aviators.
Mostly C's: Great Barrier Reef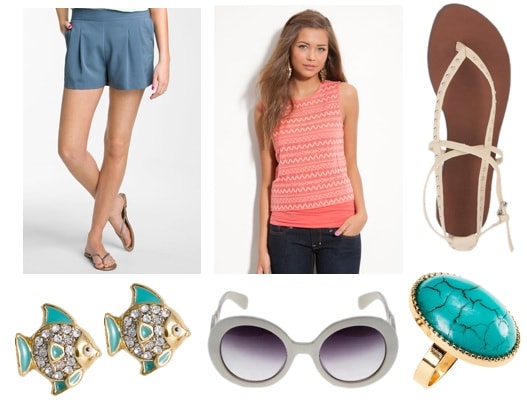 Product Information: Shorts, Top, Sandals, Ring, Sunglasses, Earrings
For an outfit inspired by the magnificence of the Great Barrier Reef, tuck this coral-colored top into these sea-blue swing shorts. Neutral studded sandals are reminiscent of the sand, while these cute post earrings add a touch of whimsy to the look. Lastly, finish with some round white sunglasses and a pretty turquoise ring.
Mostly D's: Victoria Falls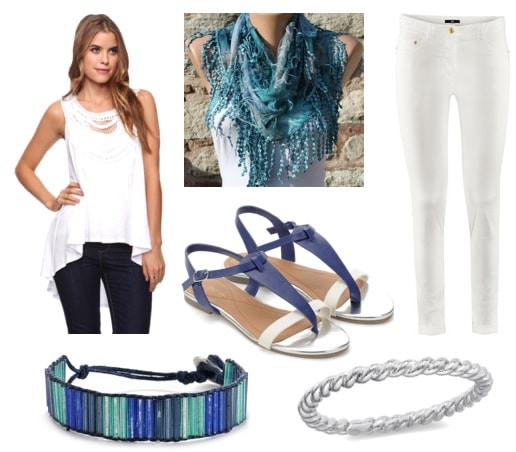 Product Information: Top, Scarf, Pants, Ring, Sandals, Bracelet
To capture the essence of Victoria Falls, I wanted to combine pieces that were serene and soft, but still powerful, like this world wonder. To get this look, start with a white-on-white ensemble made up of a flowy sleeveless tank and some white pants — this combination will give you a long, lean line that is reminiscent of the falls. Next, layer on a scarf that captures water shades. Finally, throw on a bracelet of a similar nature, a silver ring, and some sandals to complete the look.
What do you think?
What was your result? Do you think it matches your personal style well? Which outfit is your favorite? What things inspire your style? Have you ever been to any of these places before? Please let us know what you think by leaving a comment below!