Summer is the time for vacation and no matter what type of trip you prefer, there's a vacation style for you. We wanted to see what your favorite vacation styles are and how that preference influences your everyday fashion style.
Want to know what your ideal vacation destination is? Just take this quiz below to find out! Once you get your answer, find your letter and corresponding result below for a sample outfit based on your personality type.
Quiz: What is Your Ideal Vacation Destination?
Quiz Results – No peeking!
Below are the results of the quiz. Don't look if you haven't taken it yet! I've created one outfit for each result to help give you some ideas for what to wear. Enjoy!
Mostly A's: Tropical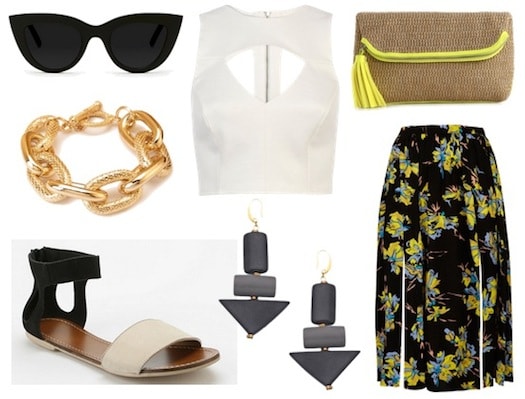 Product Information: Sunglasses, Top, Bag, Skirt, Earrings, Sandals, Bracelet
A tropical vacation combines relaxation with adventure and your style does the same, mixing laid-back basics with fun, interesting extras. For this look, pair a printed skirt and a cropped top. Next, pile on the accessories with a neon-trimmed clutch, drop earrings, and serious cat-eye sunnies. Finish with some sandals and a classic gold link bracelet.
Mostly B's: Metropolitan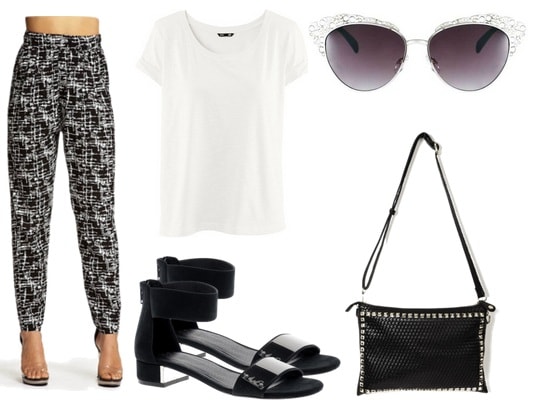 Product Information:Pants, Tee, Sunglasses, Bag, Shoes
The fast-paced and urban feel of a metropolitan vacation can be a wonderful source of fashion inspiration. For this look, wear a simple white tee with these tapered, patterned pants. Bring in that wow-factor with some statement sunglasses. Finally, keep the look classic with a tote and some heeled black sandals.
Mostly C's: Nature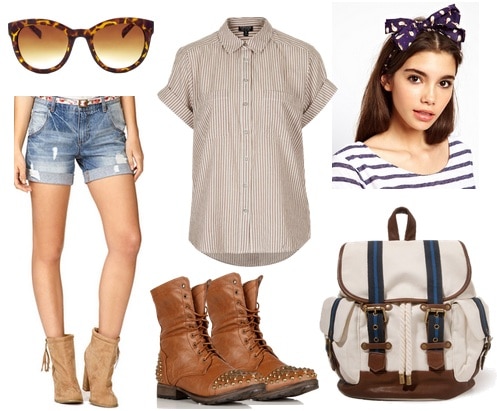 Product Information: Sunglasses, Shirt, Headband, Backpack, Boots, Shorts
If you like to be outdoors in nature on your vacations, you are surely the adventurous type and want your outfits to allow you to do that. For this look, pair a striped button-down and denim shorts. (These shorts come with a printed floral belt that we love!) Add on a pretty printed headband to keep your hair out of your face. Finish the look with tortoiseshell sunnies, studded boots, and a canvas backpack.
Mostly D's: Cruise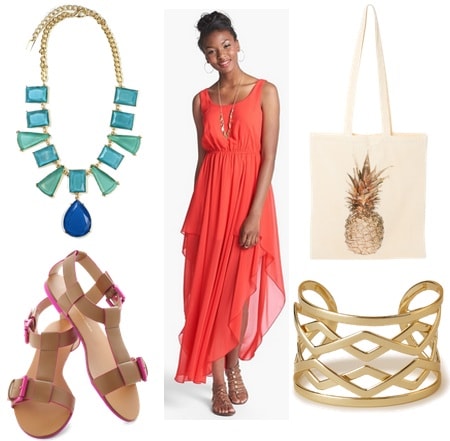 Product Information:Necklace, Dress, Bag, Bracelet, Sandals
A cruise is all about being pampered for the duration of your vacation. This easy and breezy chiffon maxi-dress is the epitome of cruise vacation chic. To complete the look, add on a tote (we love this one printed with a pineapple), a blue jeweled statement necklace, and cage bracelet.
What do you think?
What was your result? Do you think it fits your style personality well? Where is your ideal vacation spot? Do you have a favorite outfit? Which of these is it? Please let us know what you think by leaving a comment below!