This post may contain affiliate links, which means we may receive a commission if you purchase through our links. Please
read our full disclosure here
.
Accessories are one of the easiest ways to transform an outfit to make it your own. Whether it's a statement necklace or a great bag, adding the right accessory can change the feel of an outfit in an instant.
Just take this fun quiz below to find out what type of accessory inspires your style. Once you get your answer, find your letter and corresponding result below for a sample outfit based on your personality type.
Quiz: What Accessory Inspires Your Style?
Quiz Results – No peeking!
Below are the results of the quiz. Don't look if you haven't taken it yet! I've created one outfit for each result to help give you some ideas for what to wear. Enjoy!
Mostly A's: Bag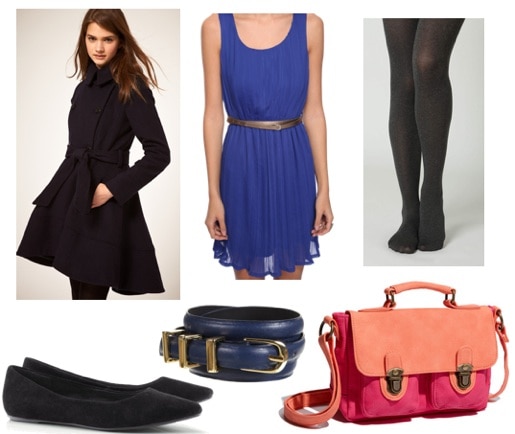 Product Information: Coat, Dress, Tights, Bag, Belt, Shoes
The right handbag is a perfect accessory for you to base your look around because you enjoy a simple, fashionable style but you also strongly believe in practicality.
For this outfit, I chose a bright blue dress and cinched it with a navy belt. Grab this girly swing peacoat, some tights, and flats to keep your warm. And of course top off the look with this contrasting color block bag that will show the world your unique fashion sense.
Mostly B's: Jewelry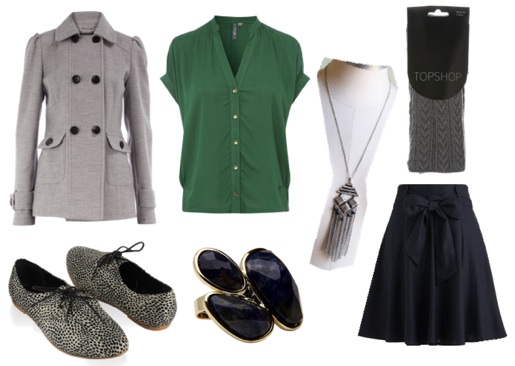 Product Information: Coat, Shirt, Necklace, Tights, Skirt, Ring, Shoes
Jewelry is a great way to add some sparkle and excitement to an ordinary outfit. Some people love a statement necklace, others love some stacked bracelets, a cocktail ring, or statement earrings. Whatever styles you prefer, jewelry has that timeless feel to it and it is so easy to switch out depending on your moods.
For this outfit, I was inspired by this long necklace and stone cocktail ring. Tuck this green button-up shirt into a high-waisted navy skirt. Put on a grey peacoat and sweater tights to block out the cold. Lastly, finish the look with these fun patterned oxfords.
Mostly C's: Scarf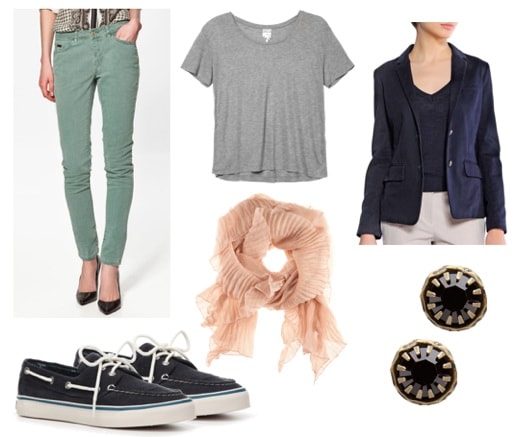 Product Information: Pants, Shirt, Jacket, Earrings, Scarf, Shoes
Scarves are a great accessory choice because they are simple, timeless, and come in so many styles — between knitted, solid, and patterned scarves, the options are truly endless.
This outfit is pretty simple, made up of some basics with a twist. A navy jacket worn over a grey tee is an effortless way to layer for interest. A pair of sage green pants adds a unique element that will help you stand out from the crowd. For an added textural feature, tie this pleated, blush-colored scarf around your neck. Finish the look with simple studs and classic boat shoes.
Mostly D's: Sunglasses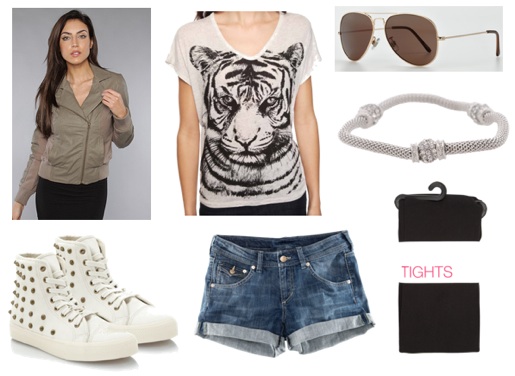 Product Information: Jacket, Shirt, Sunglasses, Bracelet, Tights, Shorts, Shoes
Wearing a pair of sunglasses will instantly add a "cool" factor to any look — especially when you wear a pair of aviators like the ones above. Pair the shades with a tiger print tee, a faux leather jacket, denim shorts, and tights. Finish the look with a simple bracelet and some cool studded high tops.
What do you think?
What was your result? Did you like the corresponding outfit? Do you think the quiz was accurate? Which outfit is your favorite? What other quizzes would you like to see in the future? Please let us know what you think by leaving a comment below!