This post may contain affiliate links, which means we may receive a commission if you purchase through our links. Please
read our full disclosure here
.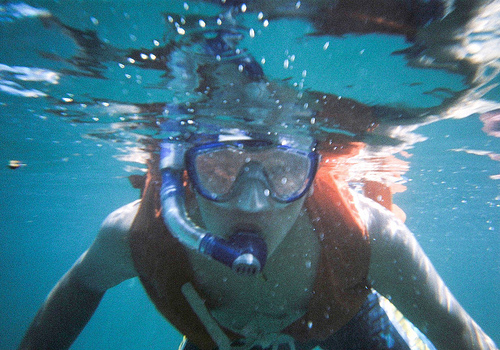 It's finally summer! The weather is warm, the stress of school is (hopefully) gone, and there are so many things you can do with your free time. You could take a road trip across the country, travel to another continent, build your resume, or even just lay low in your hometown.
We think that summer is prime time to go out and do something that you normally wouldn't do during the school year. No matter what your summer schedule is like, take the quiz below to find out how you should spend your next day off.
Quiz Results!
Below are the results to the quiz. If you haven't taken it yet, then don't peek! I've created an outfit for each of the summertime activities. Scroll down to check them out:
Mostly A's: Picnic in the Park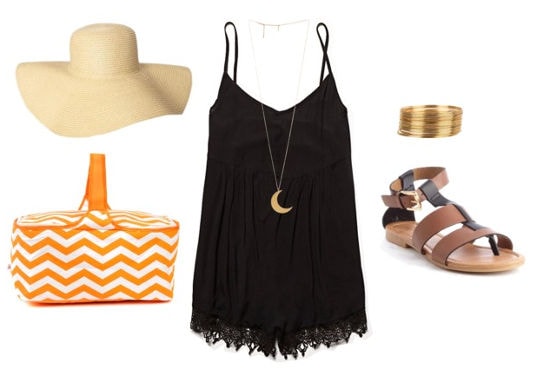 Product Info: Romper, Hat, Bracelets,Necklace, Picnic Basket, Shoes
You'll be just as beautiful as the weather in a breezy, lace-adorned romper. Sandals are ideal for warmer weather, while a floppy straw hat will protect your face from the sun. As far as accessories go, keep the jewelry glam with a long pendant necklace and stacked bracelets. Lastly, don't forget to pack your picnic lunch – this chevron basket is too adorable!
Mostly B's: Beach Day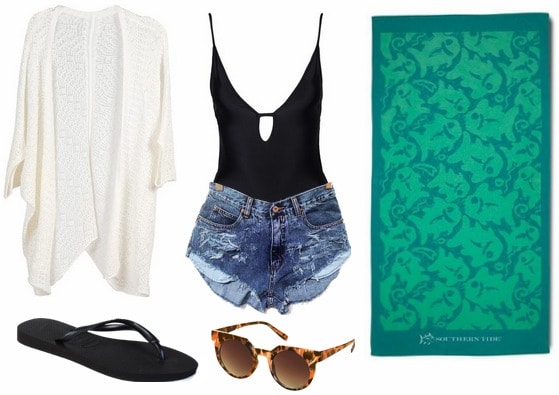 Product Info: Shorts, Bathing Suit, Caridgan, Sunglasses, Flip-Flops, Towel
The next time you head to the beach (or whatever body of water you have nearby), we suggest sticking with the classics. Distressed daisy dukes and a black swimsuit pair perfectly with one another, while a flowy cover-up adds an indie flair. Of course, remember to bring the essentials: flip-flops, sunglasses, and a towel. Protective sunscreen and a favorite book aren't pictured, but are definitely important, too!
Mostly C's: DIY Spa Day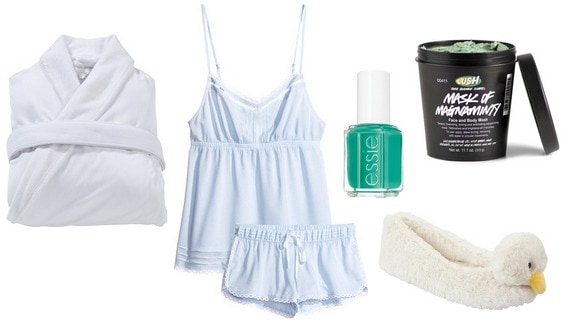 Product Info: Robe, Pajamas, Nail Polish, Face Mask, Slippers
On this day of relaxation, plan on not leaving the house. Get all cuddly in your pajamas, robe, and slippers, then invite friends to join you for a day of lounging and pampering. Give yourselves facials and paint your nails a bright and summery color. You'll feel so relaxed when you head back to the real world!
Mostly D's: Exploring the Outdoors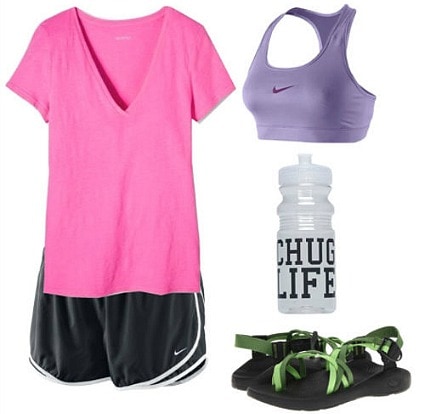 Product Info: Running Shorts, V-Neck, Sports Bra, Water Bottle, Shoes
Keep it simple and breathable with a sports bra, a v-neck tee, and some athletic shorts. Versatile shoes, like the ones above, are perfect for walking long distances and for activities like nature walks. If you're spending a lot of time in the heat, make sure to stay hydrated with this cute reusable water bottle.
What do you think?
What are your plans for this summer? How do get away on a days notice? Would you wear any of these outfits? Which is your favorite? Let us know what you think in the comments below!