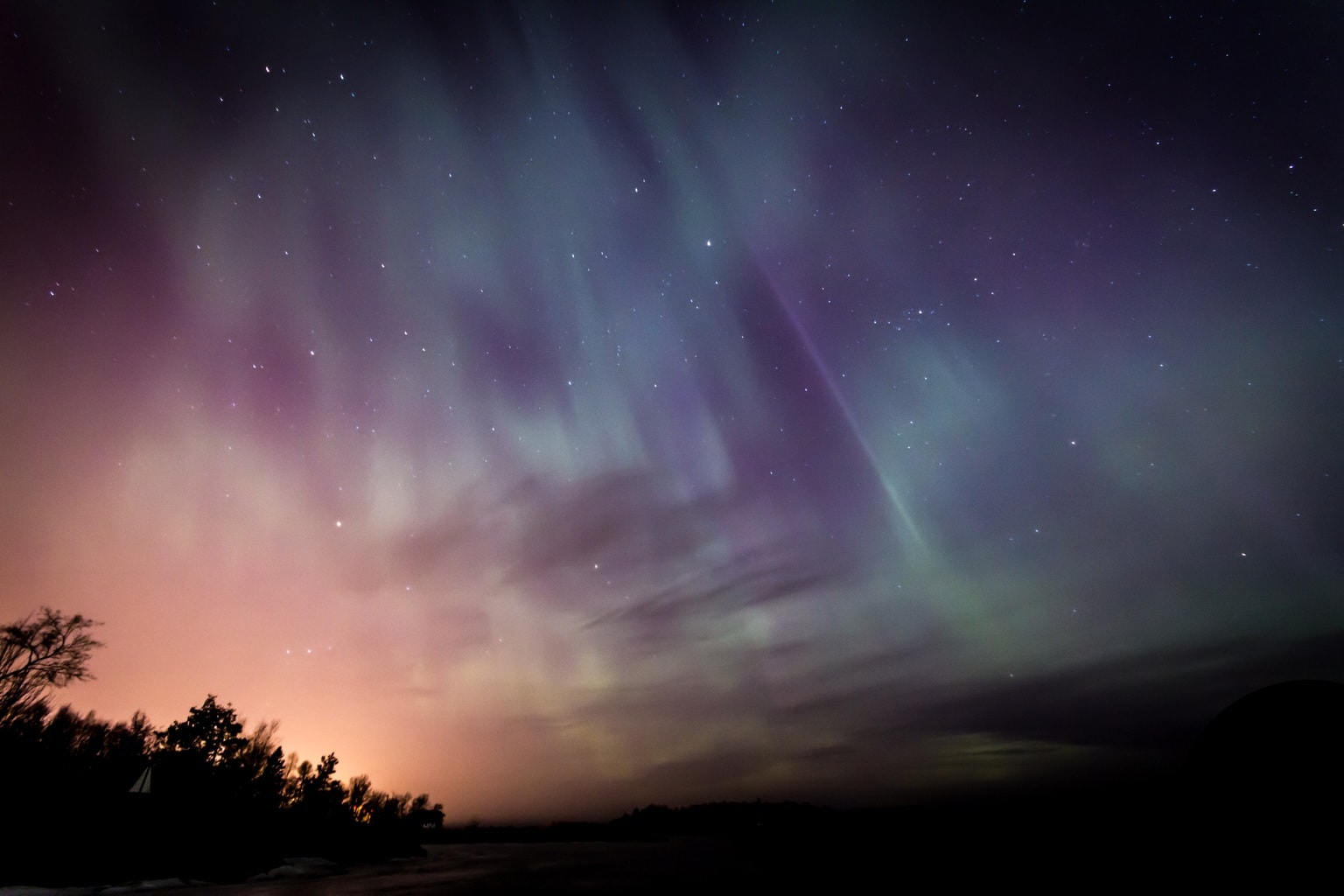 Despite my love for pop culture, I'm the first to admit that the list of beloved "pop culture-y" films I've watched is somewhat spotty. For example, I've never seen Breakfast at Tiffany's, Jaws, Jurassic Park, The Godfather, The Matrix, or The Big Lebowski, but I feel like I've seen them because they're so frequently quoted and referenced.
This weekend, I finally bit the bullet and sat down to watch one such film: Pulp Fiction, Quentin Tarantino's groundbreaking and infinitely quotable 1994 masterpiece that weaves intertwining tales about the lives of Los Angeles criminals. With its non-linear structure, strikingly violent imagery, eclectic monologues, and heavy use of pastiche, Pulp Fiction was a breath of fresh air and was a game-changer in Hollywood's attitude towards independent films.
Outfits Inspired by Pulp Fiction
Mia Wallace
"I do believe Marsellus Wallace, my husband, your boss, told you to take ME out and do WHATEVER I WANTED. Now I wanna dance, I wanna win. I want that trophy, so dance good."
Mia Wallace, played by Uma Thurman, is the wife of crime boss Marsellus Wallace. When her husband orders hitman Vincent Vega to accompany Mia for the evening, she takes Vincent to Jack Rabbit Slim's, a 1950s-style diner, and demands that he enter the twist contest with her. In the now-iconic dance scene, Mia cuts a striking figure on the dance floor with her blunt bangs, crisp white shirt, and cropped trousers.
Snag Mia's minimalist style (minus the drug habit) for yourself with a classic button-down, cropped pants, and gold loafers. A lacy bralet is reminiscent of the bustier we see Mia wearing in the also-iconic adrenaline shot scene. Next, slip on an oversized trench coat and accessorize with a quirky milkshake purse. Last but not least, paint your nails with screen-accurate Chanel Vamp nail polish, which sold out after Pulp Fiction was released.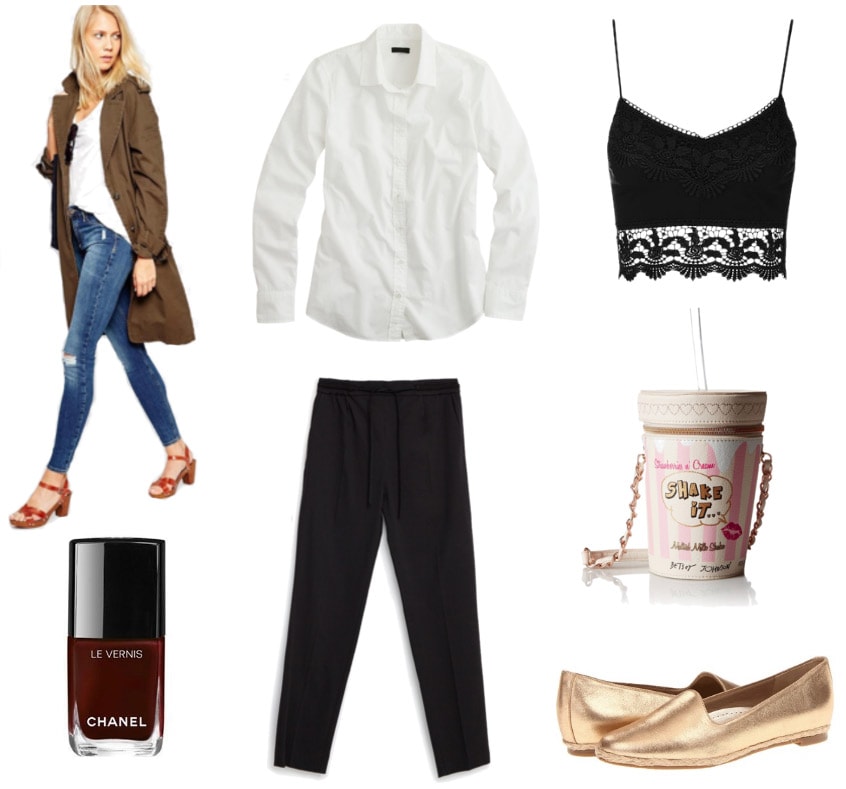 Products: Coat, Shirt, Pants, Shoes, Bralet, Bag, Nail Polish
Jules Winnfield & Vincent Vega
"You know what they call a Quarter Pounder with Cheese in France?"
Jules Winnfield (Samuel L. Jackson) and Vincent Vega (John Travolta) are two hitmen who are tasked with retrieving a briefcase for their boss. The two pass the time between jobs by bantering about everything from the inherent eroticism of foot massages to deep spiritual debates about miracles.
Try out a fun take on the suit-and-tie look with a tie-neck blouse, high-waisted shorts, and a blood red blazer (this is a Tarantino movie we're talking about, after all). Book-shaped earrings are a reminder of the importance of bringing some reading material with you to the bathroom, while a burger-shaped phone case will satisfy your Royale with Cheese cravings. Finally, brush a shimmering gold highlighter onto your cheeks as a reference to the mysterious glowing contents of the briefcase.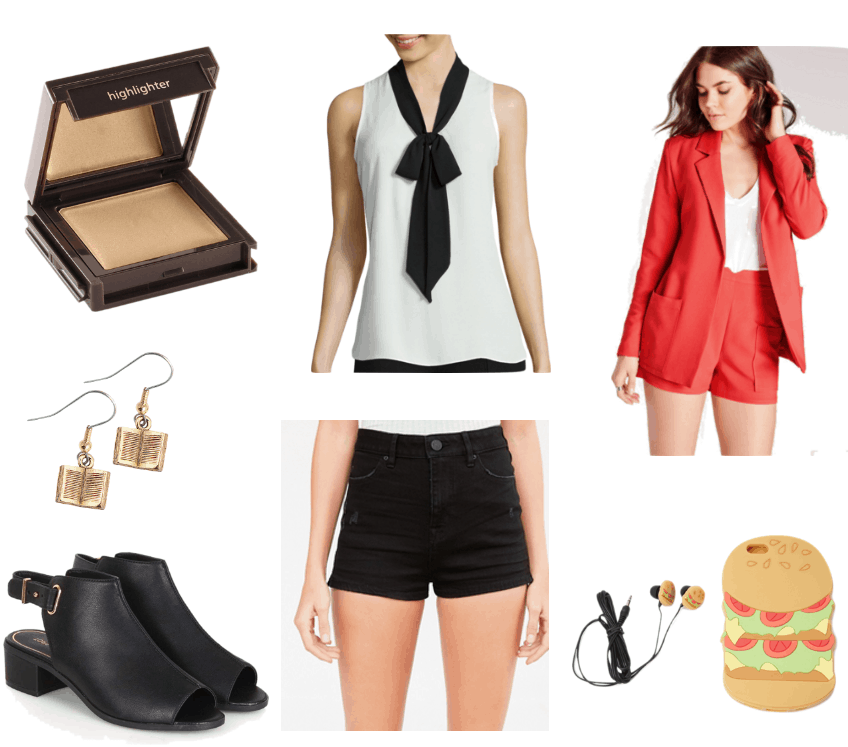 Products: Blazer, Top, Shorts, Boots, Earrings, Highlighter, Phone Case
Honey Bunny & Pumpkin
"All right, everybody be cool, this is a robbery!"
Honey Bunny (Amanda Plummer) and Pumpkin (Tim Roth) believe that the couple that robs together, stays together. This high-energy duo provides one of the most iconic scenes in the movie when they team up to take down a diner.
While you probably shouldn't go Bonnie and Clyde like they do, you can definitely steal their laid-back look for yourself. Pair a Hawaiian-print shift dress with a flowy lavender cardigan, then accessorize with oxford flats and a gun-shaped pendant.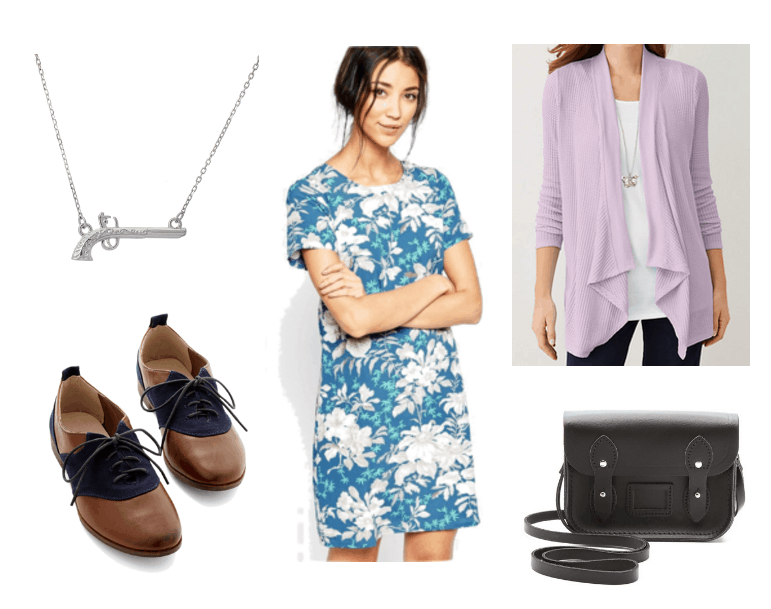 Products: Cardigan, Dress, Shoes, Bag, Necklace
What did you think?
Would you wear these outfits? Have you seen Pulp Fiction? What classic pop culture movies are on your to-watch list? What other movies should we cover? Let us know in the comments!