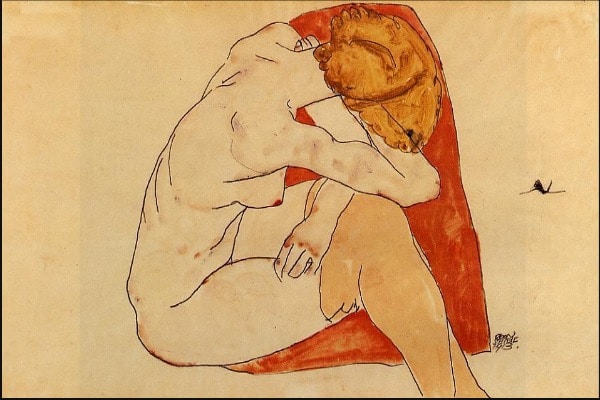 Egon Schiele's "Seated Woman" (1913) via Wikiart
I am, as I guess the youths say, all about that bass. By this, I don't mean that I jam out to this song in my car or even condone its message. I am, however, like Meghan Trainor in the sense that it's pretty clear I ain't no size two.
I am, in fact, a size 12-14.
It's strange to write that because, in a persistent part of my brain, I'm still the size 8 I was when I started college.
That's the same sick part that's told me I've been impossibly fat since I was 12, when I grew all of the boobs and the butt, and the boys in my gym class made this gesture at me and called me a fatass. The same part of my brain that was absolutely mortified of my body when a friend threw a party when she finally weighed a hundred pounds our junior year of high school. The same part that doesn't see my German shoulders and ribcage or my Scandinavian height; it just sees a too-big number on the scale, a too-big number on the measuring tape.
What I guess I'm saying is that I've always felt fat, but I've never felt plus-sized.
Yet, by fashion industry standards, that's what I am now. My obvious body image issues aside, I've never before had to go out of my way to dress my body; I've always fit into larges and XLs in most straight sizes and rarely did I leave a store empty-handed because nothing I wanted fit.
Being plus-sized is new territory for me, a territory that I've only begun to navigate, a territory that's complicated because I still fit into straight sizes in some stores. I've grown to prefer shopping online rather than shopping in stores, because three-way mirrors + terrible lighting = day ruined, but also because I'm more likely to find something that fits perfectly, rather than just… okay-ly.
There are a lot of issues with the fashion industry in regards to the treatment of women's bodies, which I won't get into because they've been written about extensively and more expertly than I can here. What I do want to write about today is how women's bodies were and are celebrated in art, as well as the places I shop online that I feel do a good job of making fashion-forward options available for all body types.
Art and the Female Body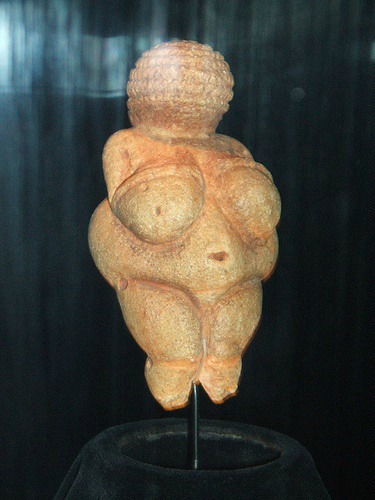 "Venus of Willendorf," artist unknown. (c. 25000 BCE) Photo Credit
The physical feminine ideal has morphed so many times over the course of history that it's mind-boggling, especially considering that 'thin' has been the ideal for most of our lives. But as one of the oldest known works of art, the Venus of Willendorf, illustrates, that wasn't always the case.
The Venus of Willendorf shows a female figure with prominent, drooping breasts, which she drapes her arms over; similarly prominent is the pubis and outer labia of the figurine. The focus on these features suggests that the purpose of this figurine was to invoke fertility in rituals, or as an icon for women to pray to for children.
Though the features of the Venus of Willendorf are believed to be exaggerated, it's not difficult to believe that women with this particular body shape were highly valued in these very early societies, where life was difficult and many women died in childbirth or before childbearing age. A woman with a body that predisposed her towards easy childbearing and childrearing, like having wide hips or productive breasts, would certainly help assure the continued survival of that society.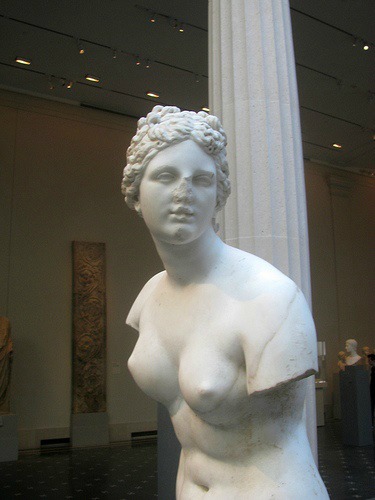 Statue of Aphrodite, artist unknown. (c. fourth century BCE) Photo Credit
Statues of Greek gods and goddesses were insanely popular during the Hellenistic period, and none were more popular than depictions of the Greek Goddess of love and beauty, Aphrodite. This work, possibly by the sculptor Praxiteles, is believed to be one of the first where the goddess is depicted nude though modest (originally her arms and hands were covering her breasts and genitals).
This depiction allowed the goddess to be viewed as both a sexual and beautiful woman, but also a powerful goddess to be feared and worshiped, though her powerful pose would later be adapted for more modest and submissive subjects such as Venus and Eve.
The ideal female body shown here is also far from what we are used to today; Aphrodite has a soft belly and a thicker waist, small but full breasts, and muscular thighs, along with a rounder face with small eyes and lips. This ideal is prominent in most of ancient Greek and Roman art.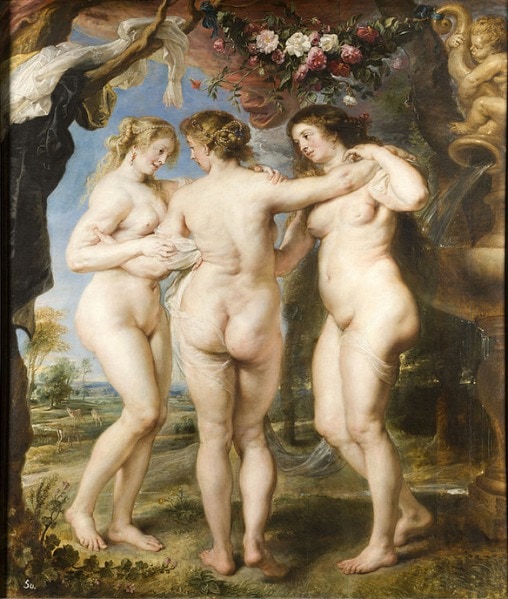 Peter Paul Rubens' "The Three Graces" (1635) via Wikimedia Commons (Click image to enlarge.)
In the seventeenth century, larger female bodies were still seen as the ideal, but for different reasons than before – extra weight evoked a wealth of resources and of finer life, successfully conveying that a woman (or man) was a part of the upper class. No artist reinforced this ideal like Peter Paul Rubens, who prolifically painted allegorical and mythological paintings that reinforced this ideal, as well as 24 paintings of Marie de Medici, the mother of Louis XIII.
This particular painting of the three graces (charm, grace, and beauty) reinforces the feminine ideal in this period. Rubens didn't shy away from cellulite, softness, or flabby skin – all of that was part of the ideal, and was seen by many as attractive. Even today, the term "Rubenesque" refers not just to larger women, but also sensual and sexy women.
Dressing Your Awesome Body
It's devastating for so many women (and men!) that we live in a world where we're bombarded with images and messages that our bodies should look a certain way. This is why we, as a society, have a pretty sick relationship with our bodies and how we look. I wish more people spread messages of body acceptance and positivity, rather than assumptions or judgement.
So, if you take anything away from this article, I hope it's that no matter what size or shape you are, there's no reason for you to be ashamed of your body. Your body is awesome! It houses your beautiful soul, your crazy-smart brain, and your unique personality! It can have orgasms! It fights diseases! You don't have to think about breathing!
In a perfect world, fashion retailers would reinforce this positivity by providing the same clothing to plus sizes they do straight sizes, and not have separate lines for their plus-sized customers. That's not the case yet, but the following retailers provide excellent options for all sorts of body types, and are my go-to as a lady who's in-between straight and plus sizes.
Forever 21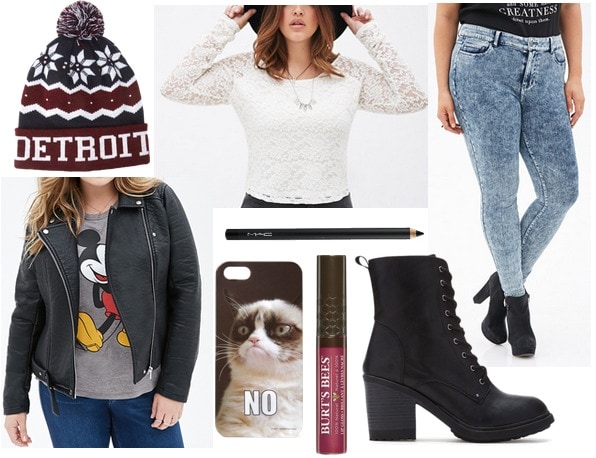 Beanie, Top, Jeans, Leather Jacket, iPhone Case, Lip Gloss (in "Ruby Moon"), Booties
I realize this is probably not news to any of you, but I really love that Forever 21 has a plus size section, and, for the most part, I love what it offers. It has a pretty extensive selection of denim and pants (starting at size 12!), blazers and leather jackets, and crop tops (don't want to see my belly? too bad.), as well as wide-calf options for their boots.
What it doesn't offer, however, is sizes larger than size 20 or 3x, and a lot of their pieces run edgy/grungy/urban, though I'm not sure if that's more indicative of the direction F21 as a whole is going right now or what. And I feel like this goes without saying with Forever 21, but I'll say it anyway; the quality is not awesome (though their faux leather game is pretty on point, IMO).
In any case, if you're like me and you're completely addicted to Forever 21 for your trendy fast-fashion fix, they're still coming through for you if you're plus-sized.
Boohoo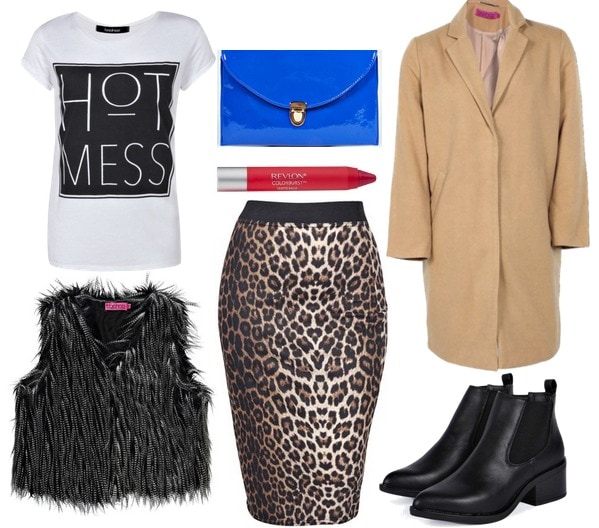 Tee, Clutch, Lip Balm (in "Unapologetic"), Jacket, Vest, Skirt, Booties
You want a sequined party dress for the holidays? Boohoo's gotyourback. You want a velvet LBD? Boohoo's got yourback. You want one of those weird asymmetrical skorts that are all over the blogosphere? Boohoo's gotyourback. You want a hilarious ugly Xmas sweater that doesn't make your tatas look ginormous? Giiiiiiiirl.
British-based Boohoo does an awesome job of offering edgy and über-trendy pieces that are similar to their straight-sized fares, while still looking super-flattering and comfy. I would say the quality is comparable to Forever 21, as are the prices – that is to say, not only are they cheap, but the plus prices aren't jacked up for 'extra material' or whatever. Unlike Forever 21, however, their offerings range from matchy-matchy minimalist sets to ultra-colorful printed blazers to super-luxe fur coats, so you're more likely to find something that fits with your style.
The only downside to Boohoo is they only offer up to size 20. Boo, Boohoo! They do, however, have a petites line, too. Yay, Boohoo!
ModCloth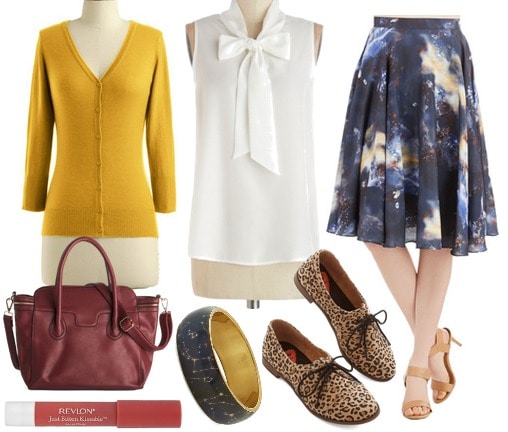 Cardigan, Blouse, Skirt, Bag, Lip Balm (in "Honey"), Bangle, Oxfords
If I could give ModCloth all my gold stars, I would. Not only does ModCloth have a HUGE selection of plus-sized clothing, but most of it is the same clothing as their straight sizes. Hallelujah, praise ModCloth.
Though ModCloth can be pricey, I've always been happy with the quality and durability of the clothing I've ordered from them. And while the retailer markets themselves as retro and quirky, their offerings are actually quite diverse, style-wise. Their sizing goes up to size 3o in some pieces, but unfortunately, no petites section. :<
Also, in general, their selection of dresses is SICK. SIIIIIICK.
ASOS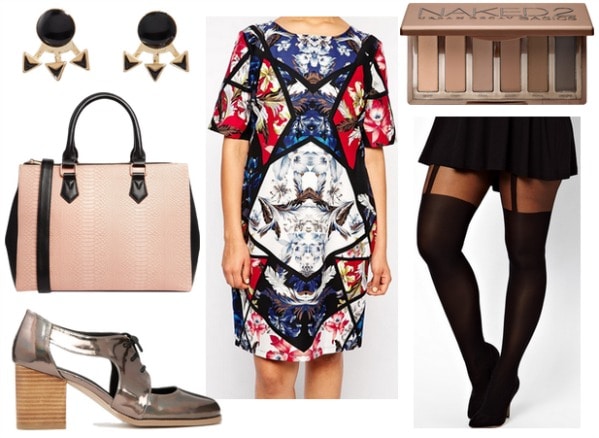 Earrings, Dress, Eyeshadow, Bag, Shoes, Tights
Okay, so I've never ordered from ASOS or ASOS Curve, so I can't personally speak to the quality of their wares, but a girl can window shop, right? I'm constantly impressed with how fashion-forward their options are, and I've read on multiple blogs that their sizing runs large and is incredibly forgiving. And not only does ASOS sell their own Curve line, but they also carry other plus-sized brands that look equally as interesting.
The only thing that's stopped me from ordering from them is the price, which is high. That being said, I might take the plunge after Xmas this year, because momma needs some new dresses for work.
What do you think?
If you shop plus-sized, where do you like to shop? How do you feel about how the physical feminine ideal has changed over time? If you are a youth, is "all about that bass" actually a thing, or a Trainor-ism? Let me know in the comments below!