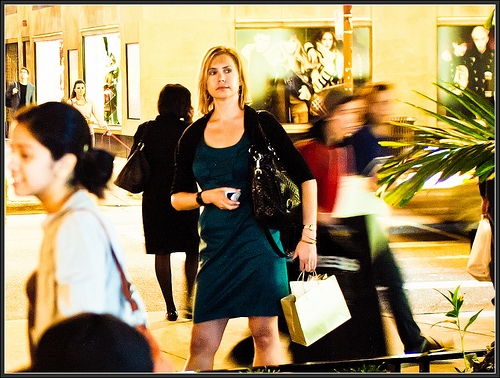 While I love shopping on Black Friday, I'm not a big fan of the late night and sometimes even early Thanksgiving sale times. These way-too-early store hours cut into your time with family and friends and, frankly, I find them to be more of a hassle than it's worth.
That said, sometimes you don't have time to spare between your Thanksgiving celebration and getting in line for Black Friday deals, but worry not! Below, I've included two plus-size outfits that can be easily transitioned from your Thanksgiving plans to Black Friday shopping.
Look #1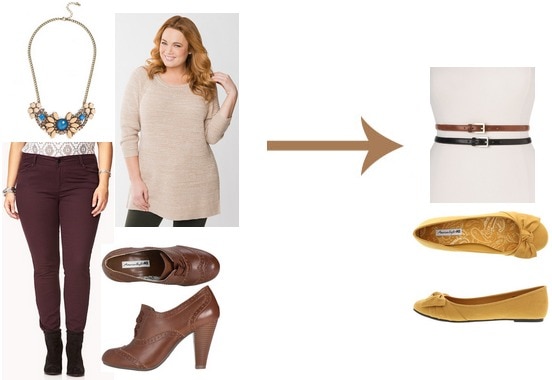 Necklace, Sweater, Pants, Oxford Heels | Belts, Flats
For this look, I paired a thick sweater with dark, wine-hued pants for a chic fall feel. One of my favorite jewelry trends this season are chunky necklaces, and this blue one matches perfectly with the light-colored sweater. In turn, the sweater draws attention to the necklace, making it the focal point of the whole outfit. To top it all off, I included a pair of brown oxford heels which are a fab addition to this Thanksgiving-worthy ensemble.
To turn this outfit Black Friday-friendly, you can pack an extra pair of mustard flats in your purse or even leave them in your car. After all, who wants to go shopping in heels? (Kudos to you if your feet can handle all that walking in heels.) You can also pack a thin belt to accentuate your waist and add some flair to the neutral sweater.
Look #2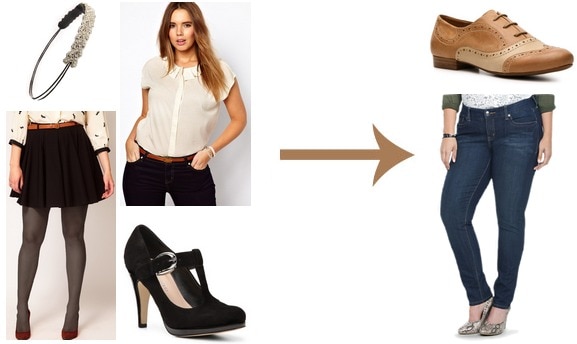 Headband, Shirt, Skirt, Pumps | Oxford Flats, Jeans
Create a more formal Thanksgiving outfit by pairing this lovely cream-colored collared shirt with a black flow-y skirt. For an extra dose of neutral and a smoother transition, you can wear a skinny brown belt over the skirt. Also, if you live in colder weather, don't forget to add some tights to keep warm! Complete the look with a pair of black pumps and a sparkly beaded headband.
When it's time to go Black Friday shopping, ditch the pumps and grab some oxford flats, then swap the skirt for a pair of jeans. Losing the fancy headband makes the outfit much more casual, too. You could also remove the belt from the skirt, pair it with the jeans, and keep the shirt tucked-in. Personally, though, I prefer the more relaxed not-tucked-in shirt with jeans for Black Friday.
What do you think?
What are your tips for transitioning your outfit from Thanksgiving to Black Friday? Which one of the looks pictured above is your favorite? What are your tips on dressing for Black Friday? Let me know in the comments. Also, Happy Thanksgiving and happy shopping!