This post may contain affiliate links, which means we may receive a commission if you purchase through our links. Please
read our full disclosure here
.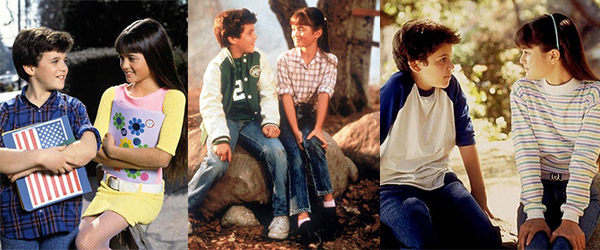 You knew this one was coming. One of my all-time favorite old school TV shows is The Wonder Years, the hit '80s and '90s series starring Fred Savage and Danica McKellar.
By the way, the dates above? They're not typos. This show ran from 1988 to 1993, although the series itself was set exactly 20 years earlier. The Wonder Years did such an amazing job at recreating the feel of the '60s and '70s that many of us who saw it years later mistook it for a show filmed in the era!
Although this show featured many stylish characters sixties and seventies characters — hippies, housewives, preppy students, and more — this post will focus on Winnie Cooper, the sweetheart of The Wonder Years. Interested in stealing some of her innocent, mod style for yourself? Read on!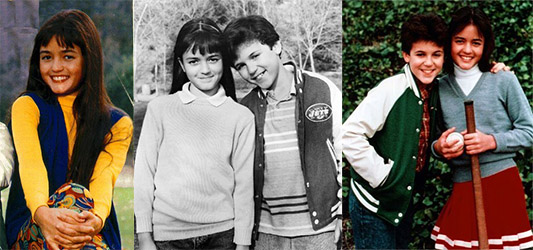 More About The Wonder Years
The Wonder Years tells the story of a typical suburban boy from the ages 11 through 17 growing up in the late '60s and early '70s. Kevin Arnold, the protagonist of the series, faces hurdles in school, his dating life, and his life at home, and also encounters larger issues of the time, like the Vietnam war, counter-culture, and more. The series is narrated by an adult Kevin, who lends additional insight and humor to the events that unfold.
Kevin lives with his parents and older siblings, and mainly socializes with his best friend Paul and his neighbor Winnie Cooper. Winnie, the show's heroine, is kind, thoughtful, wholesome, independent, and intelligent. She embodies the perfect "girl next door" archetype and serves as Kevin's enduring on-again, off-again love interest throughout the series.
Despite its popularity, The Wonder Years was never released on DVD due to issues with licensing all of the amazing '60s and '70s music that the show featured. The Wonder Years is now available on Netflix Instant Watch — although it should be noted that the opening credits' song "With A Little Help From My Friends" is not the Joe Cocker version featured in the show's original airing and even syndication.
Winnie Cooper's Style
Winnie Cooper's style is a unique mix of preppy, varsity schoolgirl looks and hints of '60s mod. Even though she is very young, Winnie dresses almost like a "little woman," in child-size versions of popular adult fashions. Winnie's outfits somehow manage to look fresh and youthful, while at the same time mature. Crazy, I know.
For example, Winnie is often seen wearing mod-style dresses with tights while rocking blunt-cut bangs and a headband. She usually balances this "grown up" sort of look with youthful flat mary-jane slippers and a clean face.
Winnie's style is also a great example of the preppy, wholesome, old school suburban teen looks seen on Happy Days, Grease, and The Brady Bunch. Varsity jackets and cardigans, rolled-up jeans, collared shirts, thin turtlenecks, pleated skirts, canvas sneakers, and more are her staples, and are a perfect match for her "girl next door" image.
Outfit Inspiration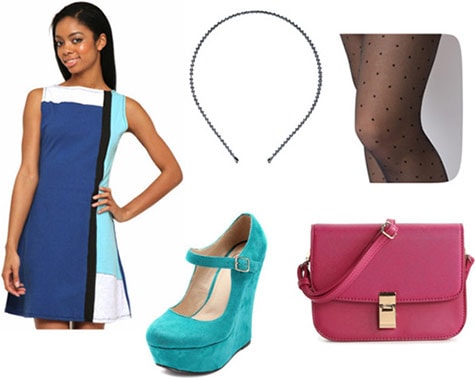 Dress, Shoes, Headband, Bag, Tights
This first look has a colorful, fun, almost Boogie Nights-esque vibe to it! A colorblocked dress like the one above has a striking mod vibe to it, but is still sweet and wholesome enough to work for a girl like Winnie. Spice it up a bit with a pair of colorful mary-jane platforms and some polka dot tights. Finish the ensemble with a thin headband and a cross-body purse.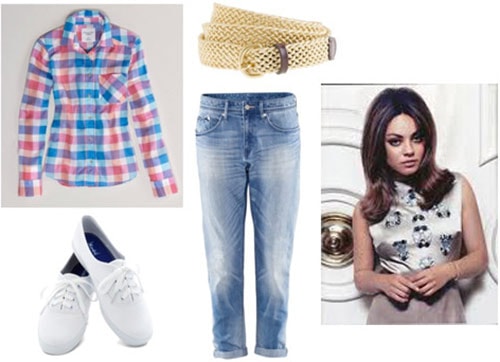 Shirt, Jeans, Shoes, Belt | Hair Photo Courtesy of Elle
This outfit is a great example of a casual, after-school look that Winnie might have worn while exploring the neighborhood or taking walks with Kevin. Plaid shirts were very popular during the '60s and '70s (as they are today!), and Winnie would have paired one with a relaxed-fit pair of jeans. Add classic white sneakers and a belt, and finish with foxy '70s center-part hair.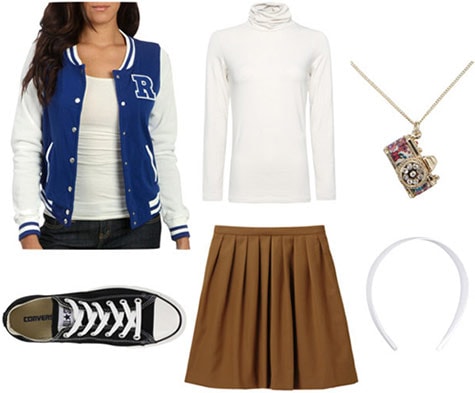 Jacket, Turtleneck, Skirt, Shoes, Headband, Necklace
When Winnie wasn't dating Kevin, she was usually on the arm of the school's most popular athlete. Start with girly, studious staples like a turtleneck shirt and a pleated skirt, then add a varsity jacket and Converse sneakers for a fun and stylish outfit remix. Finish the look with a headband and a vintage camera necklace.
What do you think?
What do you think about The Wonder Years? What is your favorite episode? Favorite character? What other retro TV shows do you love? How do you feel about Winnie's style? Leave a comment and tell us what you think!