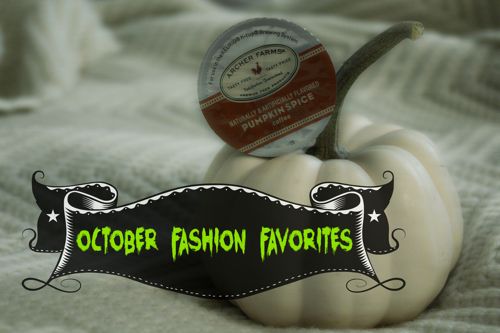 The scariest thing happens during this time of the year… midterms! Don't let that scare you into becoming a yoga pants and giant sweatshirt zombie. Instead, let me show you a few of my favorite outfits from this month that are oh-so easy to recreate.
Check them out below, as well as – surprise, surprise – some of my other seasonal faves.
1. Skater Skirts & Cardigans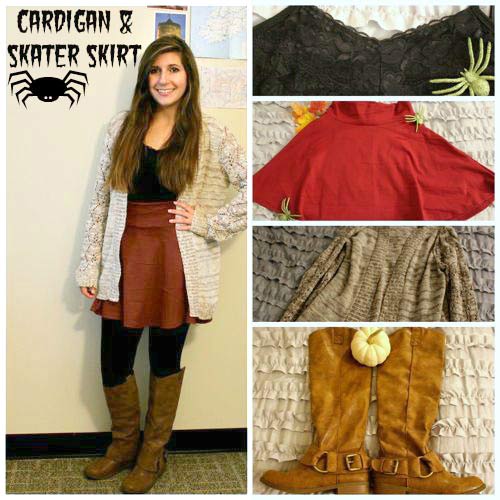 I know what you're thinking: something is different here. Yes, I'm inside! I've never taken pictures inside before because I prefer natural lighting, but I thought I would switch it up since the sun is in hibernation mode.
Onto the outfit: High-waisted skater skirts are flattering and romantic. I tucked mine into a lacy camisole, sweater leggings and high, camel colored boots. On top, I'm wearing an oatmeal colored cardigan that I've worn almost every single day since it came into my life.
This look can easily be dressed up or down with accessories, making it a versatile choice for fall.
2. Olive Jeans & Denim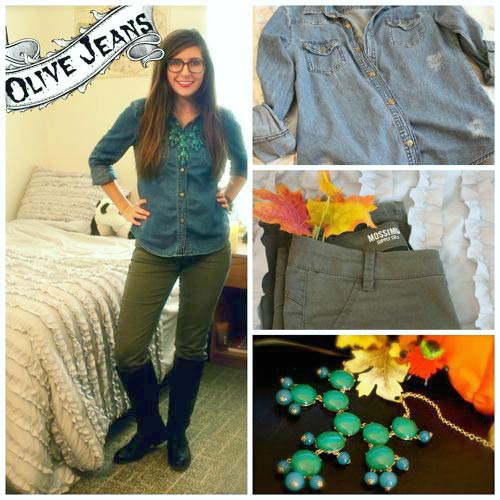 I know what you're thinking this time: "Woah, a bedroom! I thought you lived under those trees you always take pictures in front of!" I live under those trees in the summer and migrate into this cave (see the bear?) during fall and wintertime, obviously.
I was the last person to jump on the olive jeans trend because I was under the impression green pants were difficult to match. However, olive jeans areSO easy to wear.
As you can see here, I paired them with a denim shirt, but I know what you're thinking: what else can you wear with olive jeans besides denim? Chunky, neutral sweaters. Lightweight button up shirts. A striped shirt. Even the top and cardigan I had from my first outfit would look great.
To make the denim and olive combination look less "I'm hunting for quail" (indeed, people do that where I live), I'm wearing one of my favorite statement necklaces. On the toes are black riding boots.
3. Long Sleeved Dresses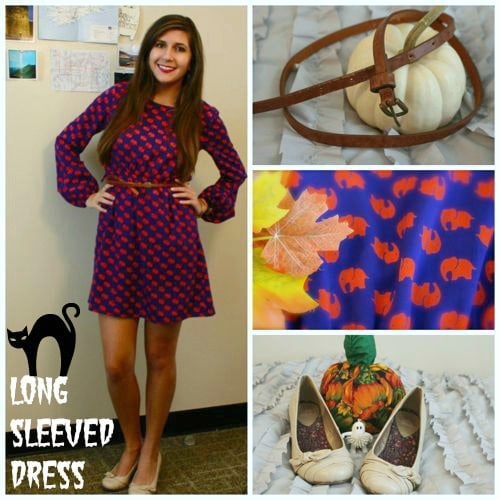 Some people feel magical during the full moon, or when it's Halloween night, or when they finish midterms. But for me, there is nothing more magical than a long sleeved dress (except maybe dresses with pockets).
It was love at first sight when I laid my eyes on those happy red elephants on this dress. Also, I'm a cold-natured person, so long sleeved dresses are perfect for those slightly warmer autumn days freezing buildings.
If it's colder where you live, just add leggings and boots for a cozy yet chic autumn look.
Bonus! Seasonal Favorites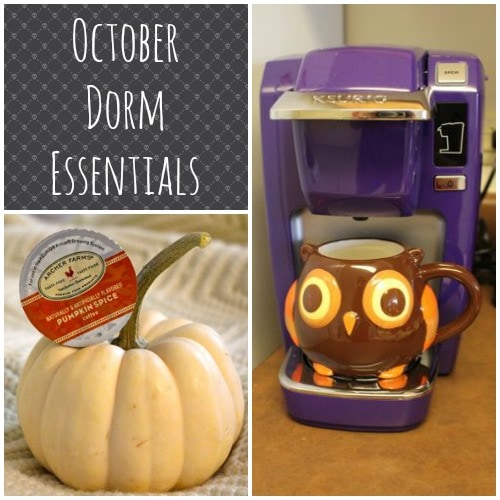 Okay, so I couldn't resist sharing a few items that are making my October, well, feel like October.
Like this baby white pumpkin! I have never seen an all-white pumpkin before (or is this some kind of pseudo pumpkin-squash-gourd hybrid?). And look what it's drinking… Pumpkin Spice coffee! It would not be fall without the PS coffee. Plus, it helps you stay awake in class. It's a win-win deal.
Also, look who flew in to deliver the coffee… an owl mug! It's the perfect representation of all things warm, cozy, and Harry Potter fall-related.
Tell me what you think:
Which of the looks above are your favorite? Do you have any fall fashion favorites that you just want to wear over and over again? Did you survive mid-terms? Are you a fan of pumpkin spice everything? Leave a comment below!