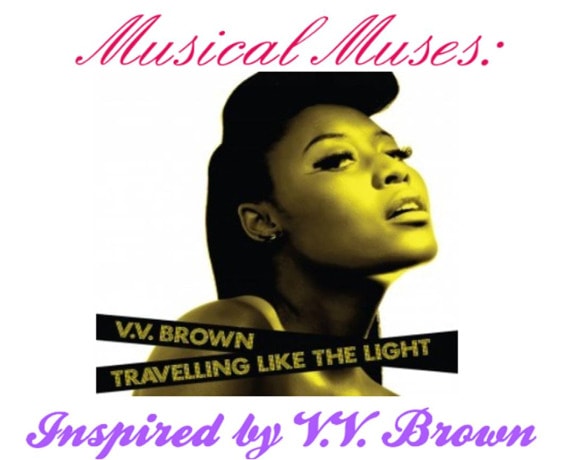 When I first found out V.V. Brown was performing in my university's annual back to school concert, I was beyond excited! If the name doesn't ring a bell, her music probably will: Vanessa (V.V.) Brown's smash hit "Shark in the Water" was blared all over this summer, and featured in popular TV shows like The City and Degrassi. The Brittish former model released her debut album Travelling Like the Light in 2009.
V.V. is currently working on a video art show and a comic book, as well as touring and promoting her music. But even with her hectic schedule, she never sacrifices style! Read on to see how she mixes modern Hollywood glam with a retro edge.
Outfit 1 : "L.O.V.E."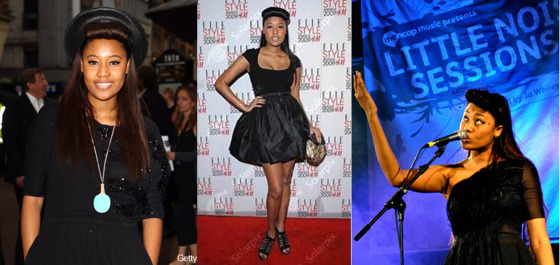 V.V. Brown's go-to look for instant glamor is the classic LBD. She gives this classic her own twist by picking frocks with interesting silhouettes or details and adding colorful accessories. This black lace dress and bowler hat are very V.V.-esque, and give the outfit a vintage feel, while the cage heels and turquoise pendant add edginess. Gold accessories add shine and sparkle to finish off the look!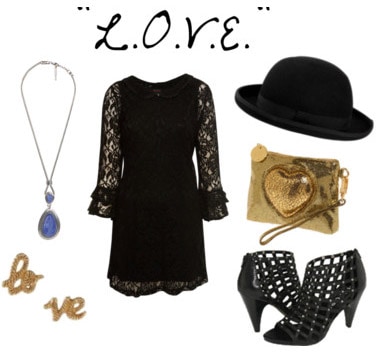 Product Information: Earrings- Asos, Necklace- Forever 21, Dress- Miss Selfridge, Bowler Hat- Urban Outfitters, Clutch- ModCloth, Heels- Zappos.
Outfit 2: "Back in Time"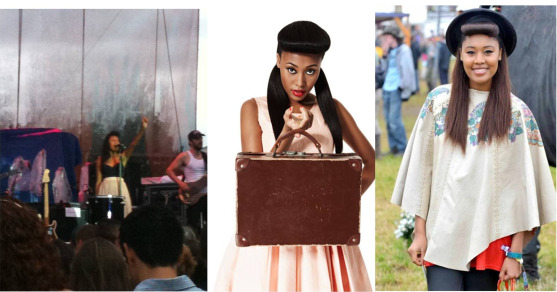 Photo Credits: singing through the rain at WVU's FallFest, 2, 3.
V.V.'s fabulous vintage pieces are an integral element of her style. In addition, she rocks a vintage-inspired beauty look: She is almost never spotted without her signature retro-flattop hairstyle.
Even if you don't have access to vintage fashions like V.V.'s, looking for clothes wtih unique details or retro-chic silhouettes will set you apart from the crowd. Start with a colorblock dress and add ladylike pumps, a leopard purse, and red lipstick. A coat with a Peter Pan collar pulls it all together while keeping you warm on a fall day!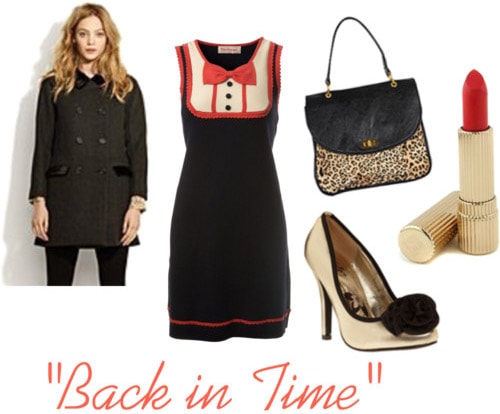 Product Information: Coat- Alexa Chung for Madewell, Dress- Miss Selfridge, Purse- Forever 21, Heels- ModCloth, Lipstick- YesStyle.
Outfit 3: "Crazy Amazing"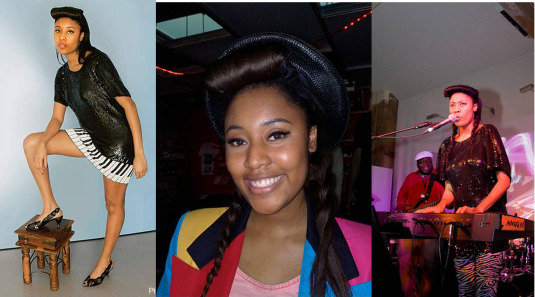 V.V. Brown is such an inspiring style icon because of her creativity and individuality. She owns her look at all times, whether it is what's currently in vogue or not.
To channel V.V.'s fearless fashion sense, don't be afraid to try bold colors together or add sequins or unexpected prints to your outfit! In the ensemble below, I combined black trousers with a top and sweater in two complementary colors. Visually interesting accessories like peacock earrings and zebra-print booties help create a style that stands out.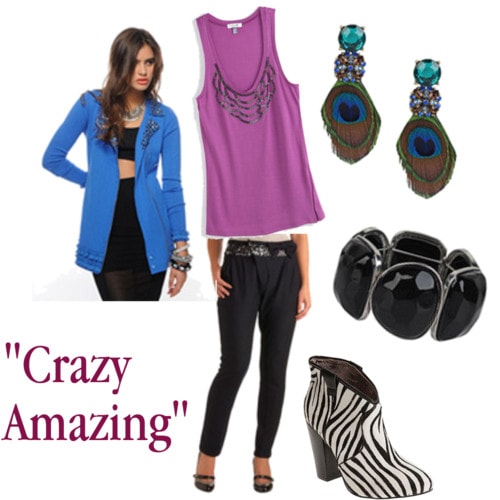 Product Information: Sweater- Forever 21, Pants- Modcloth, Tank- PacSun, Earrings- Forever 21, Bracelet- Forever 21, Boots- Urban Outfitters.
Looking for more V.V. Brown?
Listen to these songs!
"L.O.V.E." – This is one of V.V.'s more retro-sounding songs, and I love it! Its nod to '50s-pop always puts me in a good mood.
"Game Over" – This edgy anthem is one of V.V. Brown's up-and-coming hits.
"Crying Blood" – The debut single from her album, this upbeat song put V.V. Brown on the musical map.
Watch this video!
"Shark in the Water" – This tune, about V.V.'s ex-boyfriend, is so catchy. I love all the vintage fashions she wears in the video!
For even more V.V. Brown, you can check out her website for tour dates and official merchandise. The stylish starlet also opened her own vintage clothing boutique, VV Vintage, where you can score clothes like V.V.'s online!
More V.V.-Inspired Style
If vintage isn't your thing, here are some more items inspired by this week's Musical Muse!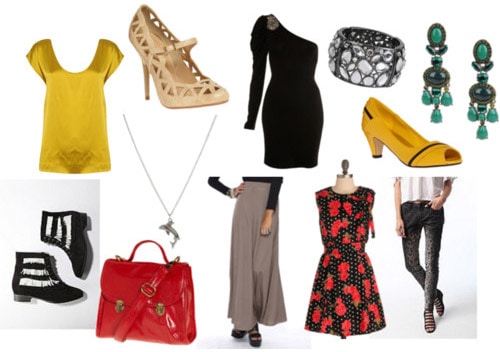 Product Information: Shirt- Forever 21, Heels- ModCloth, Dress- Miss Selfridge, Bracelet- Forever 21, Earrings- Forever 21, Heels- ModCloth, Jeans- Urban Outfitters, Dress- ModCloth, Skirt- Forever 21, Purse- ModCloth, Shark Necklace- Asos, Boots- Urban Outfitters.
What do you think?
Are you a V.V. Brown fan? How do you incorporate vintage fashion into your modern wardrobe? What music artists would you like to see in a future post? Let me know with a comment!