This post may contain affiliate links, which means we may receive a commission if you purchase through our links. Please
read our full disclosure here
.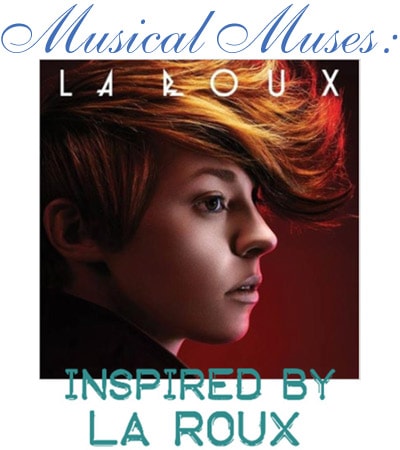 English electro-pop sensations La Roux have been creating dance hits since 2008, when they released their self-titled debut album. Often mistaken for a solo act, La Roux is actually a duo, made up of lead singer Elly Jackson and keyboardist Ben Langmaid. Elly Jackson's distinct androgynous style inspired the band name, which is a mix of the male and female versions of "red hair" in French.
Even if you aren't ready to test out Elly's signature cropped coif just yet, keep reading for ways to add some of her tomboy flair to your outfit!
Outfit 1: "Fascination"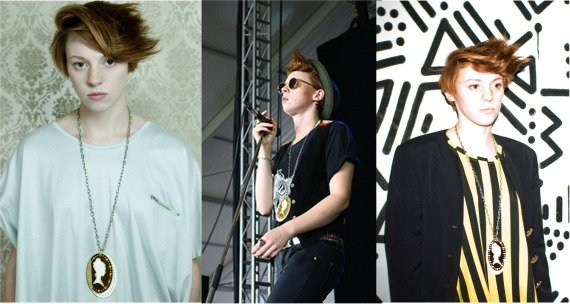 Elly is often spotted wearing this neo-cameo necklace, and I was lucky enough to find the same exact one for you guys! While wearing this signature necklace, she likes to create outfits that have vintage style with a futuristic edge, all while keeping an air of fun and mystery about her. Try layering leggings, a patterned romper, and cropped tee with a bowler hat and tough boots in addition to the cameo necklace for a rockstar-cool look.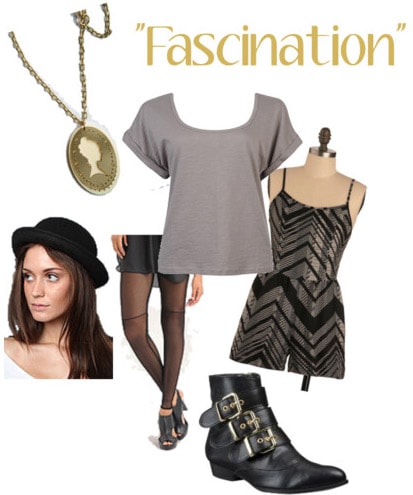 Product Information: Necklace- Sylvie Markovina, Bowler Hat- Karmaloop, Shirt- Forever 21, Romper- Modcloth, Boots- Target, Leggings- Forever 21.
Outfit 2: "I'm Not Your Toy"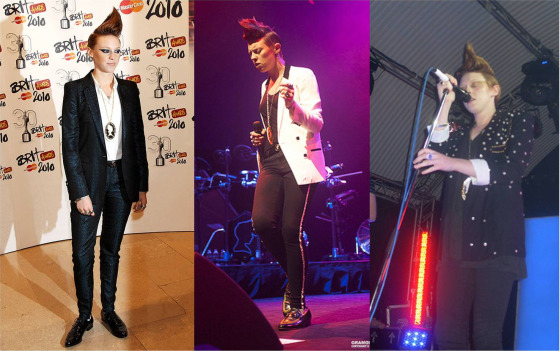 In keeping with her androgynous style, Elly relies on menswear-inspired staples like blazers and oxfords to jazz up her outfits. Little details like studs, metallic stripes, and gold accents help her stand out from the crowd. To get a similar look, take a basic black blazer-and-pants combo and add a fun printed shirt, oxfords, and gold jewelry.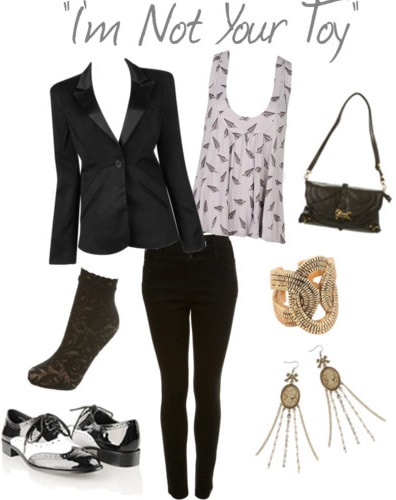 Product Information: Blazer- Forever 21, Socks- Miss Selfridge, Oxfords- Forever 21, Pants- Miss Selfridge, Tank- Forever 21, Earrings- Miss Selfridge, Ring- Forever 21, Bag- Miss Selfridge.
Outfit 3: "Tigerlily"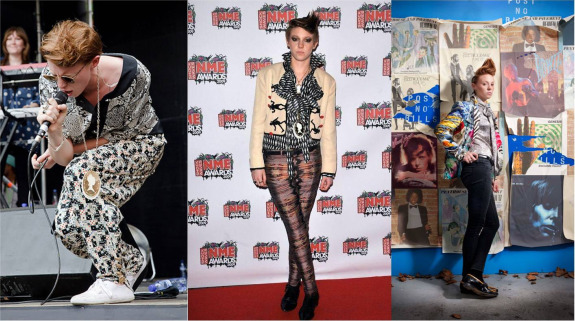 One of the most important themes behind La Roux's music- and Jackson's fashion sense- is fearlessness! Elly always mixes crazy prints together, but manages to pull it off with confidence. Let your creativity shine through with a colorful ensemble like the one below- just keep prints in the same color family, or balance out a large, bold print with a smaller one. Add pops of color with bright accessories and some retro high-top sneakers.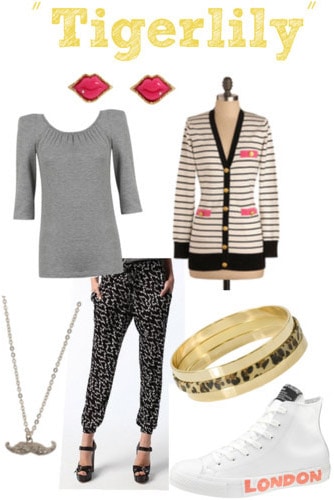 Product Information: Earrings- Zappos, Shirt- Forever 21, Sweater- Modcloth, Mustache Necklace- Modcloth, Pants- Urban Outfitters, Bangles- ShopTwigs, Sneakers- Bunny Hug.
Do you love La Roux?
Watch this video!
"Bulletproof"– Elly's style really shines in this upbeat video- I love the changing eyeshadow colors!
Listen to these songs!
"I'm Not Your Toy"– This catchy synth pop tune is all about independence and confidence.
"In For the Kill"– It made the top ten in the U.K. and evokes '80s pop while staying true to La Roux's modern style.
"Quicksand"– This song showcases Elly Jackson's high vocal range while addressing the up and down nature of relationships.
For even more, you can visit La Roux's website for tour dates and to score some awesome merchandise. There, you'll find everything from a cute cameo ring featuring Elly's iconic hairstyle, tote bags, and T-Shirts. And in case you still can't get enough of La Roux, here are some more items inspired by the band: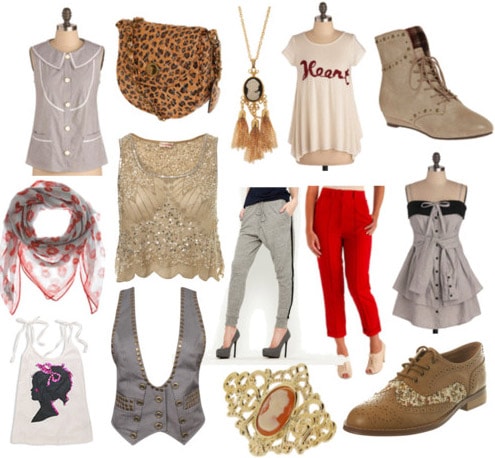 Product Information: Shirt- Modcloth, Bag- Modcloth, Necklace- Modcloth, T-Shirt- Modcloth, Boots- Modcloth, Dress- Modcloth, Pants- Modcloth, Striped Pants- Ron Herman, Tank- Miss Selfridge, Scarf- Miss Selfridge, Cameo Tank- Forever 21, Vest- Forever 21, Ring- Modcloth, Oxfords- Miss Selfridge.
What do you think?
Do you like La Roux's music? Are you a fan of Elly's style? Do you incorporate menswear and cameo-inspired pieces into your own wardrobe? What music artists would you like to see featured next? Let me know in the comments!