This post may contain affiliate links, which means we may receive a commission if you purchase through our links. Please
read our full disclosure here
.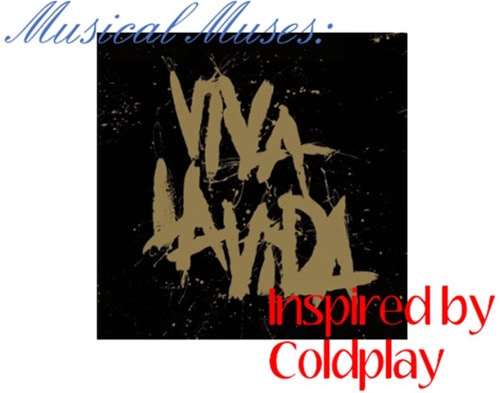 Known the world over for their melodic piano riffs and inspiring lyrics, British rock band Coldplay has been making music nonstop since their first album Parachutes debuted in 2000. Composed of lead singer Chris Martin, drummer Will Champion, and guitarists Jonny Buckland and Guy Berryman, this band does not shy away from musical or sartorial risks.
With the most recent release of their Viva La Vida album, they have totally embraced the French Revolution theme with military jacket ensembles and other touches for an international flair. If you like Coldplay, or would just like to steal some of their savvy style tricks, look no further than the tips below!
Outfit 1: "Viva La Vida"

The military trend may be hot on the runway right now, but these boys were literally rockin' this look long before it hit the stores. I absolutely love their custom-made jackets with colorful armbands, buttons, and embroidery. Their looks show that military-inspired pieces don't have to be plain or serious and can instead be fun and whimsical.
To incorporate this aesthetic into your wardrobe, add a military-style coat and tee to black jeans and flats. For some extra color, slip on these recycled rubber Made with Love bracelets (the same ones Chris Martin sports) from a charity the band supports that helps women and children in Africa.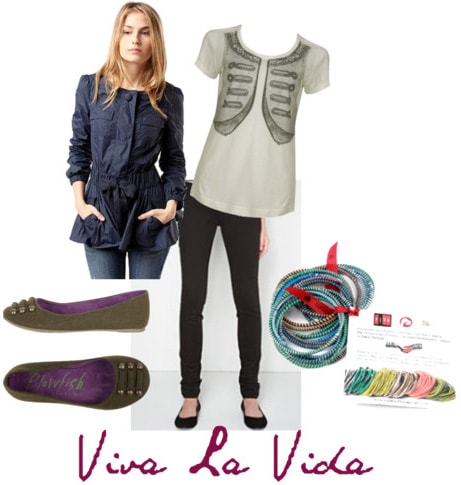 Product Information: Jacket- Urban Outfitters, T-Shirt- Forever 21, Flats- Delias, Jeans- Pacsun, Bracelets- Giving Tree Jewelry.
Outfit 2: "Lovers in Japan"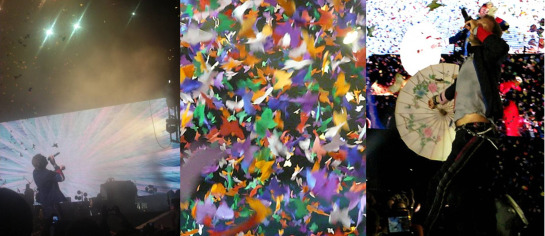 This look is inspired by the butterfly confetti that rains down on the audience every time Coldplay plays Lovers in Japan live. I have fortunately been able to see the band live twice, and each time they played this song it was truly magical!
In keeping with the joyous tune of the song, this outfit is fun and bright with florals and butterfly earrings, as well as a skirt that still has a military feel. For a feminine touch, add a pair of pink heels with lace socks. And of course this outfit would not be complete without a cute parasol to keep the Osaka sun off your face!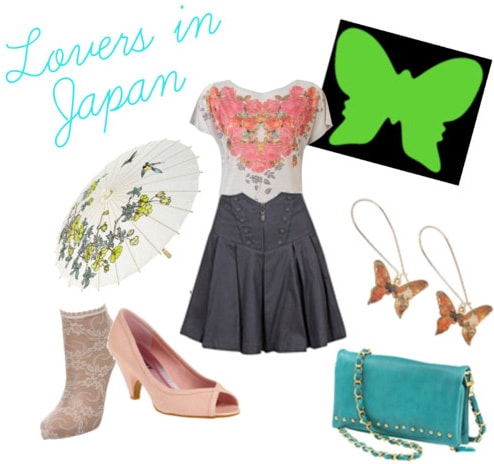 Product Information: Parasol- Oriental Trading, Socks- Miss Selfridge, Heels- Modcloth, Shirt- Forever 21, Skirt- Forever 21 (unfortunately sold out, but here is a similar one), Earrings- Miss Selfridge, Purse- Modcloth.
Outfit 3: "Life in Technicolor"

This look is all about color and living life to the fullest! When Coldplay comes back out for the encore at their concerts, they trade in their navy and black military jackets for the more colorful ones shown above. I love how they are not afraid to wear bright colors and that each piece has its own unique touch.
To copy this look, try wearing a tee tucked into a striped pencil skirt with a fuschia trench and sneakers. To top it all off, wrap a purple scarf around your neck like Will Champion does for every concert!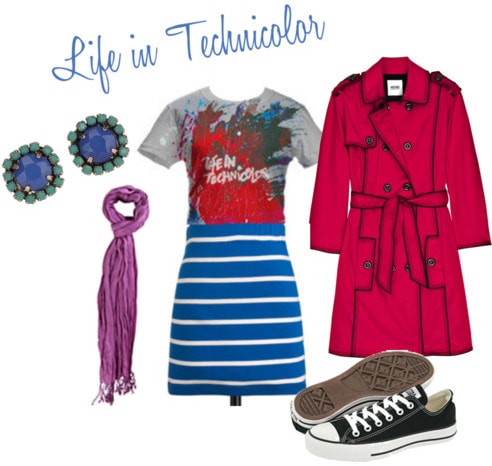 Product Information: Earrings- Urban Outfitters, Scarf- Forever 21, T-Shirt- Coldplay Official Store, Skirt- Modcloth, Trench- Net-a-Porter, Sneakers- Zappos.
Want more Coldplay?
Download these songs!
"Death and All His Friends"– this song builds to an exuberant ending, perfect for listening to outside on a nice summer day.
"White Shadows"– a more contemplative, electronica-based song with a catchy tune.
"Yellow"– the classic romantic hit that started it all.
Watch this video!
"Strawberry Swing"– This amazing stop-animation video is done entirely in chalk, with Chris Martin posing as a superhero who must save a damsel in distress from a giant squirrel!
Also, don't forget to check out Coldplay's website for tour dates, merch, the latest news, and a feature called The Exibition Room that showcases artwork done by Coldplay fans around the world. You can even submit your own artwork for a chance to be shown on the homepage!
Even More Coldplay Fashion
While Coldplay is hard at work on their next album, here are some more Coldplay inspired pieces to suit their style and tide you over until their next release!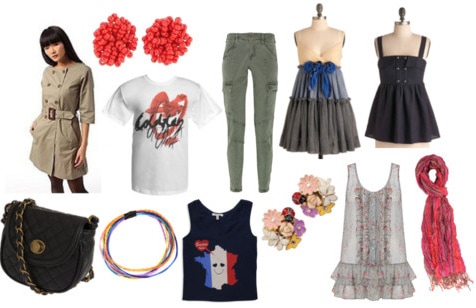 Product Information: Trench- Urban Outfitters, Earrings- Urban Outfitters, T-Shirt- Official Coldplay Store, Cargo Pants- Singer 22, Dress- Modcloth, Tank- Modcloth, Purse- Modcloth, Headband- Forever 21, Paris Tank- Forever 21, Earrings- Miss Selfridge, Tank- Forever 21, Scarf- Forever 21.
What do you think?
Are you a fan of Coldplay? Do you like how they incorporated the military trend into their stage costumes? Let us know with a comment, and as always let us know what other musical artists you'd like to see featured in a future post!