This post may contain affiliate links, which means we may receive a commission if you purchase through our links. Please
read our full disclosure here
.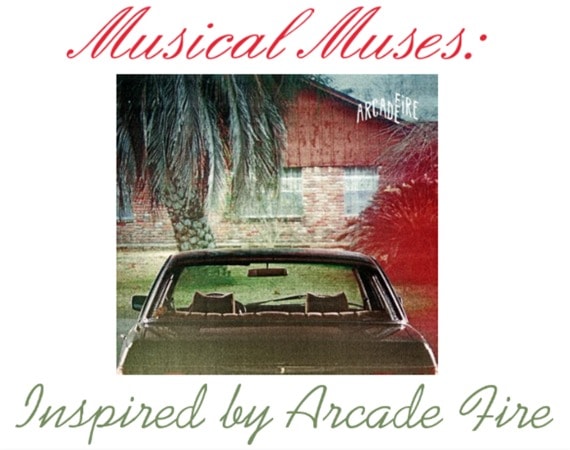 French-Canadian indie-rock band Arcade Fire have been making beautiful music since their debut in 2001. Fronted by Win Butler and his wife Régine Chassagne, the band also includes numerous other members, including Win's brother William, who all play the vast array of instruments featured in their songs. Both of Arcade Fire's past albums, Funeral and Neon Bible, have been nominated for Best Alternative Music Grammys, and their recent release of The Suburbs has proved that they still have what it takes to make an excellent record.
Below, I've compiled a few outfits based on the creative, diverse nature of the band and their music. If you're in an end-of-the-semester fashion rut, read on for some inspiration!
Outfit 1: "Empty Room"

The first outfit is inspired by Régine (and the other ladies of Arcade Fire)'s unique and colorful dresses. I love the unexpected vintage details and unique textures that they wear.
For this look, I was particularly inspired by the outfit Régine wore for the band's performance on last week's Saturday Night Live, so I found a gold sequin dress to be the focal point of the look. Pair it with patterned tights, brocade flats, and an elegant cape. and don't forget gilded accessories like a studded clutch, feather earrings, and sequined hand warmers – a signature part of Régine's look.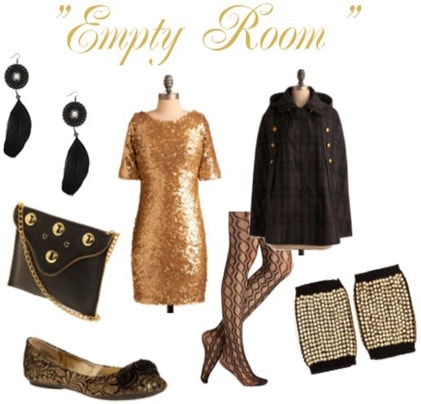 Product Information: Earrings- Forever 21, Purse- ModCloth, Flats- ModCloth, Dress- ModCloth, Tights- ModCloth, Cape- ModCloth, Handwarmers- Ssense.
Outfit 2: "Suburban War"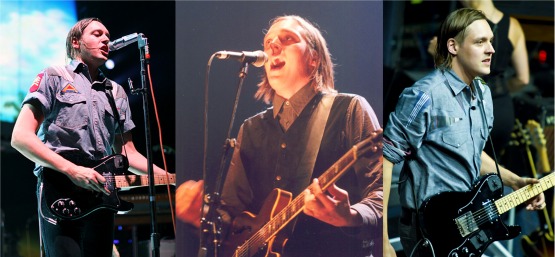 This next look is inspired by Win's dapper dressing. He is almost always spotted onstage in a buttoned-up oxford shirt. But this doesn't mean his look is boring; intriguing details like patches, studs, trims, and military details add interest to an otherwise plain ensemble.
To get Win's look, layer a chambray oxford under a military-inspired vest and add edgy pieces like studded boots and a two-finger ring.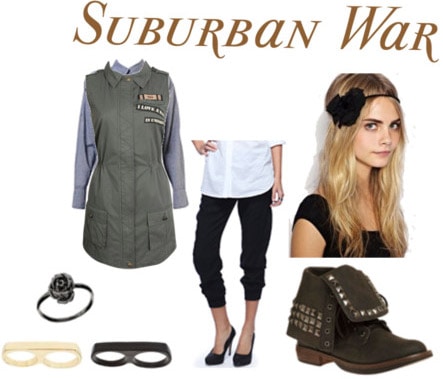 Product Information: Rings- Asos, Chambray Shirt- Forever 21, Vest- Forever 21, Pants- Forever 21, Headband- Asos, Boots- ModCloth.
Outfit 3: "HalfLight II (No Celebration)"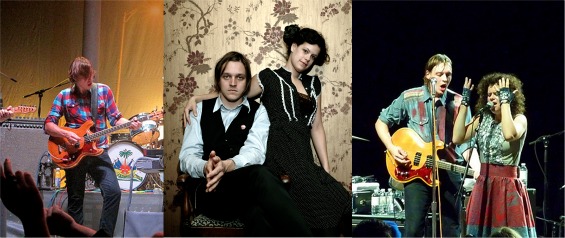 Each member of Arcade Fire has a distinct style, and all the unique looks come together to form the band's image. While it is hard to pinpoint the band's exact fashion sense as a whole, it certainly has elements of vintage, baroque, hipster, and goth, for an eclectic feel.
To channel their look, don't be afraid to mix up your wardrobe and combine pieces that you normally wouldn't wear together. If you're hesitant, keep pieces in the same color family as shown below. Add whimsical touches like knee socks and a flower ring for a look that is mysterious and feminine.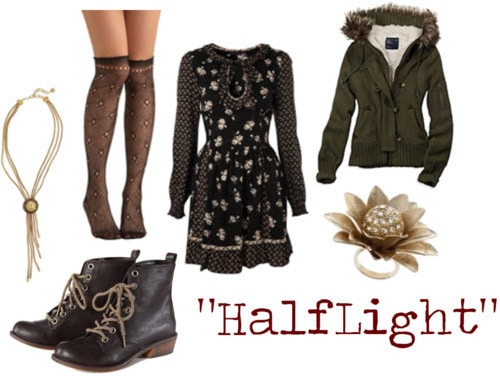 Product Information: Necklace- ModCloth, Boots- ShopRuche, Socks- ModCloth, Dress- Miss Selfridge, Sweater- American Eagle, Ring- Asos.
Need More Arcade Fire?
Watch this video!
"Rebellion (Lies)" – Off of their first album, this tune was ranked number 29 on NME's list of the 50 Greatest Indie Anthems Ever.
Listen to these songs!
"Keep the Car Running" – This catchy, inspiring song will help pump you up for that 8:30 math class. The second single from Neon Bible, it was number 22 on Rolling Stone's list of the 100 Best Songs of 2007.
"Wake Up" – You may have heard this song during the trailers for the movie Where the Wild Things Are. The band also licensed the song for commercials during Super Bowl XLIV, with all proceeds benefiting relief efforts for the 2010 earthquake in Haiti.
"Sprawl II (Mountains Beyond Mountains)" – An upbeat, enchanting song featuring the charming vocals of Régine.
If you still want more Arcade Fire, visit their website for tour dates and more information. Also, check out the interactive video for "We Used to Wait" which uses Google Chrome and Google Maps to create a personalized video. And here are some more garments inspired by the band: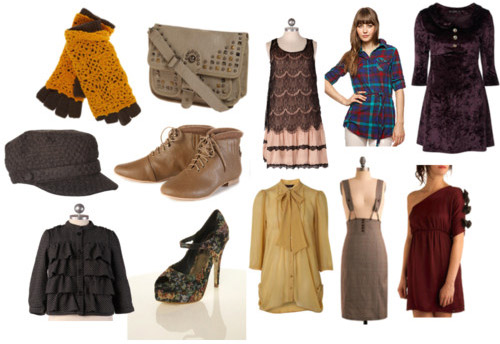 Product Information: Gloves- ModCloth, Hat- ShopRuche, Jacket- ShopRuche, Heels- Miss Selfridge, Boots- ShopRuche, Bag- ModCloth, Dress- ShopRuche, Blouse- Miss Selfridge, Skirt- ModCloth, Plaid Shirt- Forever 21, Velvet Dress- Miss Selfridge, Maroon Dress- ModCloth.
What do you think?
Are you an Arcade Fire fan? How do you use music as fashion inspiration? What other music artists inspire you? Let me know with a comment!