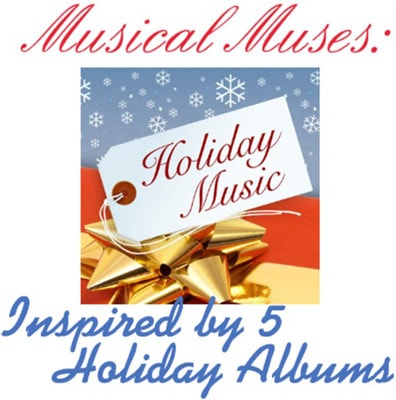 The holiday season is just around the corner, and one of my favorite parts of this time of year is the festive music! Every year I look forward to breaking out my classic Christmas CDs. Holiday music is just as much a tradition as decorating the tree or giving gifts- what would snowy December be without Jingle Bells and White Christmas playing as you shop for presents at your local mall?
In honor of these beloved holiday tunes, I've created a post with a few of my favorite holiday albums and outfits influenced by each of them. Read on for some holiday inspiration!
1. A Charlie Brown Christmas – Vince Guaraldi
I've watched A Charlie Brown Christmas with my family every year for as far back as I can remember. The heartwarming cartoon focuses on the real meaning of Christmas and makes me want to buy the tiniest, scrawniest Christmas tree left in the lot. The music that accompanies this special is equally as great; composed by jazz musician Vince Guaraldi, the track "Christmas Time is Here" has become a perennial holiday favorite.
For a Peanuts-inspired outfit, I chose items in cartoon colors with sharp pops of white and black. The silhouette of this dress is reminiscent of the frocks Sally and Lucy wear in the film, and the mary-jane printed rain boots are more practical than the real thing when trudging through the snow.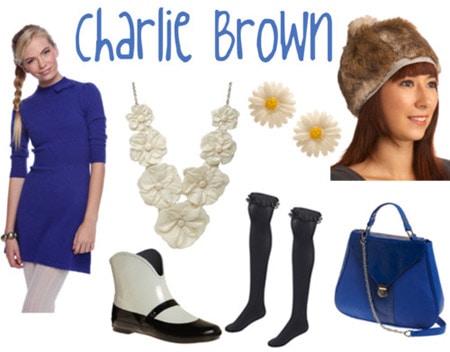 Product Information: Dress- Forever 21, Boots- Modcloth, Necklace- ModCloth, Socks- Forever 21, Earrings- ModCloth, Hat- ModCloth, Bag- ModCloth.
2. Noel – Josh Groban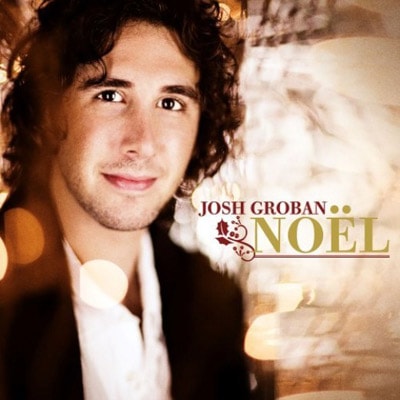 Released in 2007, Josh Groban's Christmas album has sold more than 5 million copies worldwide and broken numerous records on the Billboard 200. Featuring duets with Faith Hill and Brian McKnight, it consists of traditional hymns with an upbeat, pop feel. It even includes a version of Little Drummer Boy I will gladly listen to over and over again!
For an outfit based on this album, I went for a cozy, mountain Christmas feel using colors represented in the album cover. Layer a kitschy reindeer sweater under a faux fur coat and jeggings and add warm wooly socks and shearling boots for a perfect snowed-in look.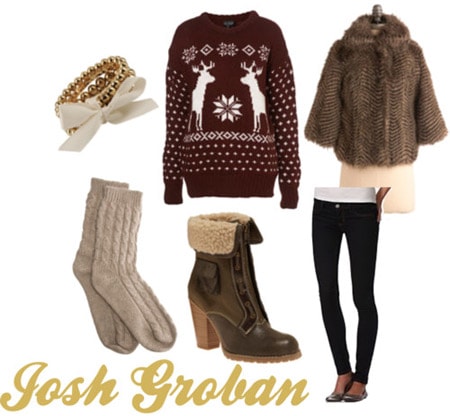 Product Information: Bracelet- Forever 21, Socks- Brown's Fashion, Sweater- Topshop, Boots- ModCloth, Jeans- American Eagle, Jacket- ModCloth.
3. Merry Christmas – Bing Crosby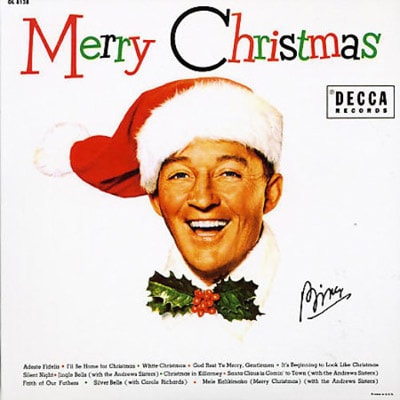 Even though this album was originally released in 1945, it is still popular today. In fact, it is the second-best selling Christmas album ever and includes the best-selling single ever, "White Christmas". Bing Crosby's crooning, plus accompaniments by The Andrews Sisters on tracks like "Mele Kalikimaka" make for a nostalgic track list.
Bing Crosby's album inspired me to create a classic Holiday look with a vintage 1940s feel. A festive red peter pan-collared dress looks great paired with sparkly tights, retro heels, and a faux fur-trimmed coat. Add a cozy scarf, black cloche, and glimmering earrings for a party-ready look.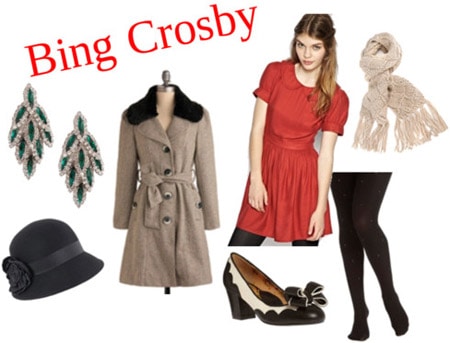 Product Information: Earrings- ModCloth, Cloche- Forever 21, Coat- ModCloth, Heels- ModCloth, Dress- Asos, Tights- ModCloth, Scarf- Forever 21.
4. Home for Christmas – *NSYNC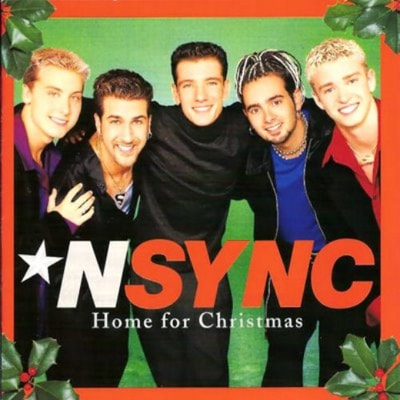 '90s boy band sensation *NSYNC released their "Home for Christmas" album in 1998. Even though the band members have all moved on to other things, I still listen to this CD every Christmas! "Merry Christmas, Happy Holidays" is such a fun song that gets me pumped for the holiday season each year.
This outfit works just as well for holiday parties as it does for New Year's Eve. I chose an outfit with lots of black and sparkly accents to channel the glitz of the '90s band. The silver top looks great paired with a maxi skirt and clog booties. Add a bejeweled clutch, sequined headband, and snowflake bracelet to complete the outfit.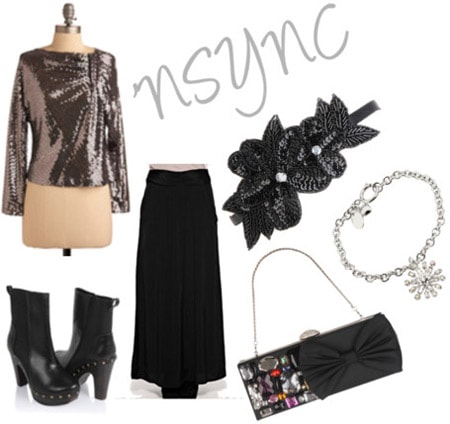 Product Information: Shirt- ModCloth, Boots- Forever 21, Skirt- Asos, Headband- Forever 21, Clutch- Forever 21, Bracelet- Zappos Couture.
5. The Christmas Attic – Trans-Siberian Orchestra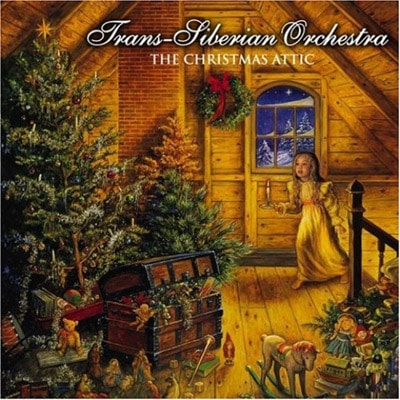 Trans-Siberian Orchestra is a progressive rock band that was founded in 1993 by Paul O'Neill. They combine classical music, poetry, and holiday classics with a rock edge to create a rock opera. The band puts on elaborate concerts featuring lazers, pyrotechnics, and other special effects all synchronized to music. I had the chance to attend one of their concerts a few years ago and would definitely recommend it to anyone who wants to get into the Christmas spirit! Trans-Siberian Orchestra's second album, The Christmas Attic, contains one of their best-selling songs, "Christmas Canon" which adds lyrics to Pachelbel's Canon in D Major.
The album artwork featuring a girl in a white nightgown inspired me to create an outfit based around a flowy white dress. A pine green military coat offers great contrast when paired with a feminine dress and beaded shawl. For the accessories, I found items that look like they could be hidden treasures found in an attic, like the gold bangles and garnet ring. Add a pair of shiny heels and a big white bow for a unique holiday look.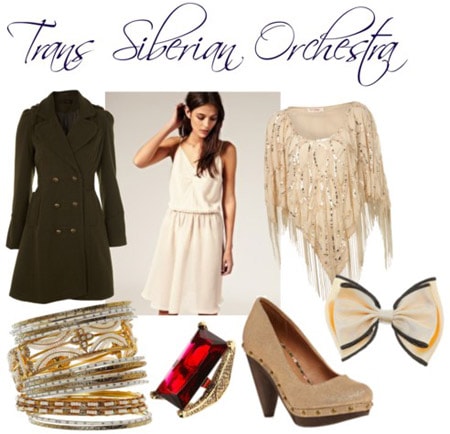 Product Information: Coat- Miss Selfridge, Bangles- Miss Selfridge, Dress- Asos, Ring- Miss Selfridge, Heels- ModCloth, Bow- Miss Selfridge, Shawl- Miss Selfridge.
Fresh Takes on Holiday Classics
In addition to the great albums listed above, check out these other fabulous holiday songs! These artists take on classics and update them with a modern rock edge.
What do you think?
What are your holiday music favorites? Do you love any of the albums above? How does holiday music influence your outfit selections? Let me know with a comment!