This post may contain affiliate links, which means we may receive a commission if you purchase through our links. Please
read our full disclosure here
.
In case you haven't noticed, music festival season is well underway. Each year from March until October, artists and fans of all different genres come together in giant festivals to celebrate music, dancing, and fashion. And no matter what type of music you listen to, or what type of concert experience you prefer, there is a music festival for you. But which one aligns best with your personality and your personal style?
Just take this quiz below to find out which music festival reflects your style! Once you get your answer, find your letter and corresponding result below for a sample outfit based on your personality type.
Quiz: Which Music Festival are You?
Quiz Results – No peeking!
Below are the results of the quiz. Don't look if you haven't taken it yet! I've created one outfit for each result to help give you some ideas for what to wear. Enjoy!
Mostly A's: Coachella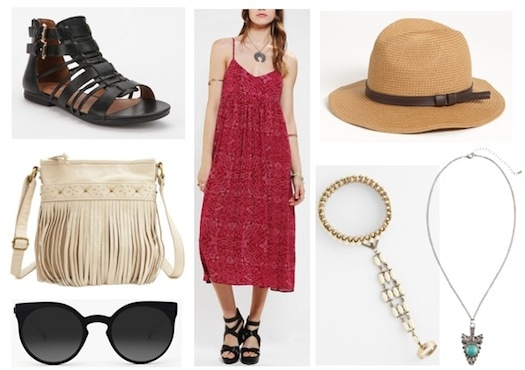 Product Information:Sandals, Dress, Hat, Necklace, Hand Chain, Sunglasses, Bag
Coachella is arguably the most well-known music festival out there. Hosted in Indio, California (that's in the middle of the desert, for those unfamiliar with SoCal geography), this music festival brings together top performers, celebrities, fashion enthusiasts, and fans.
In terms of fashion, this music festival is known for its boho-chic style. To capture this influence while still making a bold statement, go for this printed midi-dress. Next step is to add on the accessories: a panama hat, gladiator sandals, and fridge bag should do the trick. Finish with a turquoise pendant necklace, hand chain, and sunnies.
Mostly B's: Lollapalooza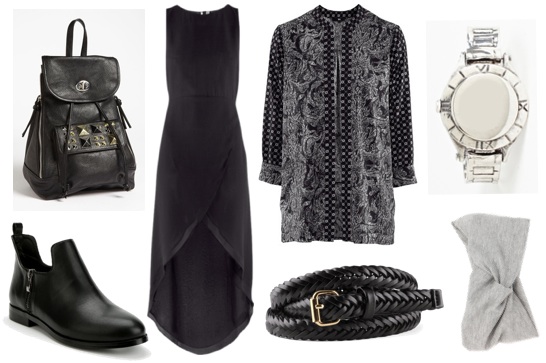 Product Information:Backpack, Dress, Blouse, Bracelet, Headband, Belt, Boots
Lollapalooza is another well-known music festival held in Chicago each summer. Unlike Coachella, there is no camping and it's hosted in the city so the vibe tends to be a little more urban.
For this Lollapalooza-inspired outfit, try wearing this printed blouse belted over a chic black maxi dress. Because this dress features a high-low hemline, you can be certain that these cool cut-out booties will get the attention they deserve. Complete your look with a turban headband, silver bracelet, and studded leather backpack.
Mostly C's: Electric Daisy Carnival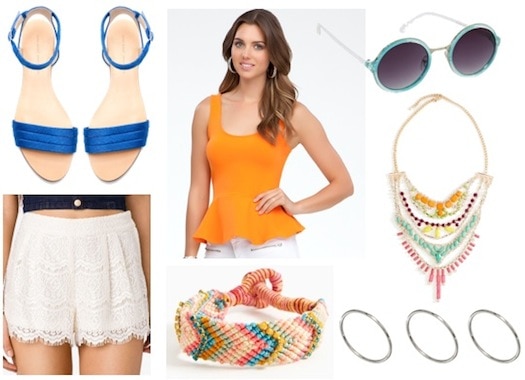 Product Information:Sandals, Top, Sunglasses, Necklace, Rings, Bracelet, Shorts
Electric Daisy Carnival is one of the most well-known music festivals for electronic dance music (EDM). This festival is held in Las Vegas and is filled with bright colors, flashing lights, and hard-hitting sounds.
For an outfit inspired by EDC, go bold with a bright orange peplum top worn over white lace shorts. Next, add on this over-the-top candy jeweled necklace and blue circle sunnies. Finish the look with a friendship bracelet reminiscent of EDM's famous kandi bracelets, some strappy blue sandals, and simple silver rings.
Mostly D's: Warped Tour
Product Information:Sunglasses, Top, Backpack, Socks, Shoes, Shorts
If you're more into the rock scene, Vans Warped Tour is the music fest for you. And because this tour travels around the country, there's a good chance you can find a venue near you, no matter where you're located.
For this look, I paired a daisy print tee with some acid-wash high-waisted shorts. I then added on these cool cutout sneakers worn with simple black socks. Grab lucite sunglasses and a black and white striped backpack to complete your Warped Tour-inspired ensemble.
What do you think?
What was your result? Do you think it fits your personality well? Have you ever been to a music festival? If so, which one? Which music festival are you most looking forward to going to? Do you like these outfits? Please let us know what you think by leaving a comment below!