Wet is a Brooklyn based alt-pop group made up of members Kelly Zutrau, Joe Valle, and Marty Sulkow. They have only been on the scene for a few years now, but they are quickly gaining popularity. Their debut album "Don't You" is sure to garner them a wider fanbase and plenty of praise.
About the Music
Wet's music combines synth melodies, entrancing vocals, and gentle percussion. "Don't You" is calming, sweet, and refreshing, with themes of love, longing, and vulnerability. Kelly Zutrau's voice has an enchanting, echoing quality that washes over you as you listen to the songs. I could wax poetic about this band forever and never truly describe their captivating songs.
The best time to listen to this album: play it in the background while you are hanging out with some friends or listen to it while you are studying in a coffee shop.
Here are three outfits inspired by the songs on Wet's new album "Don't You":
"Deadwater"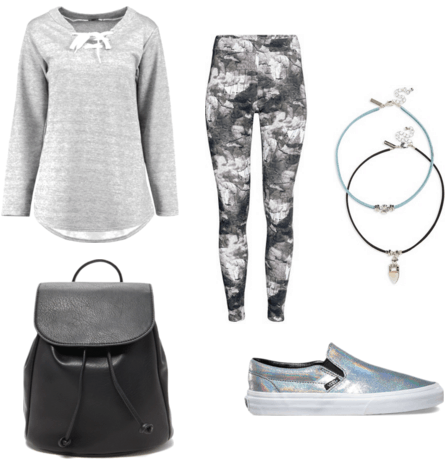 Products: Sweatshirt, Leggings, Chokers, Sneakers, Backpack
This song is about wishful thinking and hoping for better. The bright, clear melodies sweep you away to a place of safety and invite you to daydream about what could be.
Pair an oversized sweatshirt with patterned leggings for ultimate comfort. Iridescent slip-on sneakers add a cool, dreamy effect to your feet. Finish off the look with a mini leather backpack and choker.
"Don't Wanna Be Your Girl"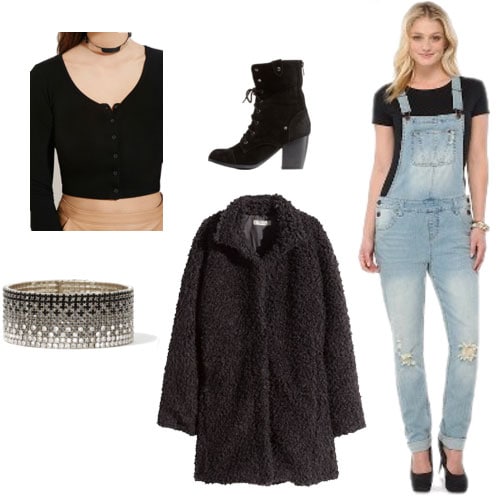 Product: Top, Boots, Overalls, Coat, Bracelet
The song opens with a guitar and flows into a drum beat and intermittent a cappella vocals. It's about getting rid of a toxic relationship and wanting more for yourself.
Fixing your life requires proper work attire, like distressed overalls with a crop top underneath. Black heeled boots give the look edginess and confidence. Keep warm and soften any blows that might come your way with a faux fur coat. Complete the look with a bracelet for a bit of bling.
"You're the Best"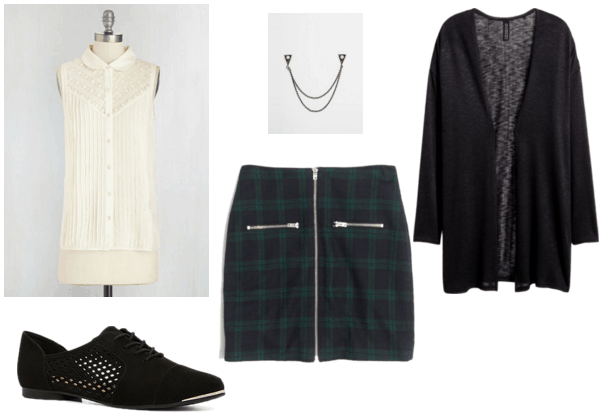 Products: Blouse, Collar Pin, Sweater, Skirt, Shoes
My favorite song on the album is "You're the Best." It's about love and having someone in your life that you think is amazing and makes you feel special. The vocals are haunting in the best way possible and they make you want to play the song on repeat.
I love the idea of modern takes on classic pieces, so for this outfit I chose a plaid mini skirt with zipper details. Add a collar pin to a sleeveless blouse for a quick upgrade. Oxfords are a classic shoe, but this pair takes it to the next level with cutouts on the side and metal hardware on the front. Wrap up in a black cardigan for the final layer.
What do you think?
I really love Wet's music and I hope you will too. Listen to their music here and let me know what you think.
What do you think of the music? What music should I feature in the future? Let me know in the comments!