This post may contain affiliate links, which means we may receive a commission if you purchase through our links. Please
read our full disclosure here
.
Triple threat Troye Sivan is an actor, Youtuber, and singer. This up-and-coming artist has released two EPs, as well as his debut album "Blue Neighbourhood" to overwhelming success and the support of his worldwide fanbase.
Troye is having an amazing year: He has performed on The Ellen DeGeneres Show, starred in movies, won a Teen Choice Award, and is currently on a worldwide tour. The music video for his single "Youth" recently premiered – check it out below:
Troye Sivan's music is a beautiful mix of electropop, sultry vocals, and indie influence. The melodies have this amazing ability to change from chill to vivacious in an instant. Troye Sivan's lyrics give you a glimpse into the heart and soul of the artist with themes like acceptance, love, friendship, and youth. The songs demonstrate the complex thoughts and worries of a young mind while inviting you to share the experience and connect to something outside of yourself.
The best time to listen to this music: when you want to share with your friends, whether it's a meaningful heart-to-heart talk or a random dance party
Here are 3 outfits inspired by songs on "Blue Neighbourhood" by Troye Sivan:
HEAVEN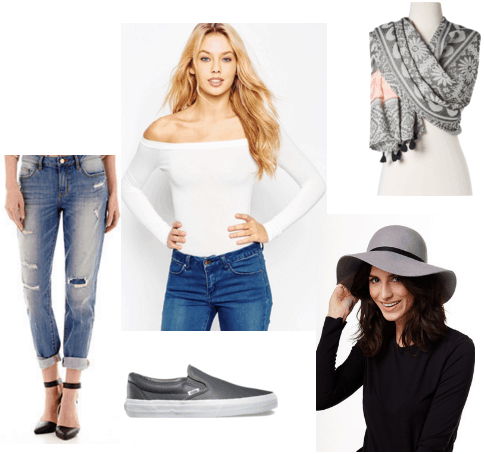 Products: Top, Scarf, Hat, Sneakers, Jeans
"HEAVEN" expresses the insecurities Troye Sivan felt about being gay. In the track, he questions his own worth and has to find the confidence to love himself regardless of other people's opinions. This is a beautiful song featuring an important message and vocals from Betty Who.
Introspection can be scary, so it's best to do it when you are most comfortable. This casual look puts you at ease so you can tackle anything. Boyfriend jeans and slip-on sneakers pair well for comfort. An off-the-shoulder top is simple and on-trend. Confronting your insecurities can be difficult, so wrap yourself in a blanket scarf reminiscent of a security blanket. Finish the look with a felt floppy hat.
YOUTH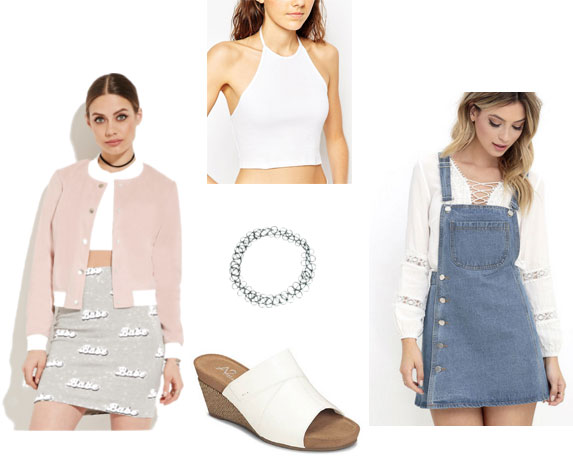 Products: Top, Dress, Shoes, Necklace, Jacket
When you are young the world feels like it's yours for the taking and that's what this song is about. It's about the feelings you experience when you think you can do anything and nothing can go wrong. There are no responsibilities or consequences to answer to – this song describes how freeing that can feel. The melody invites you in and fills you up with its synth beats and entrancing instrumentals.
This outfit has a lot of '90s inspiration to remind you of when you were a kid without a care in the world. A denim overall dress is a great casual piece and a throwback. Wear a halter crop top underneath it, then add a choker and some cute mules. A baseball jacket completes this outfit.
BITE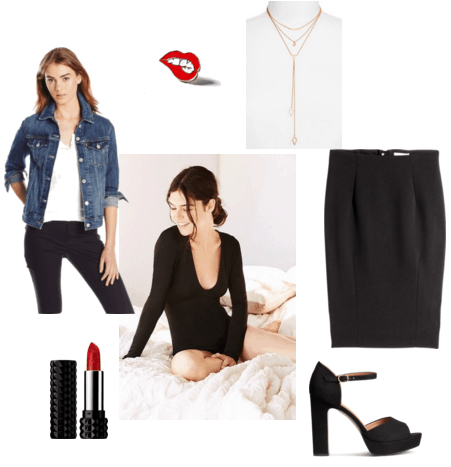 Products: Pin, Necklace, Skirt, Shoes, Bodysuit, Lipstick, Jacket
This song is about allowing yourself to be vulnerable and putting your trust in someone else. In order to find love, sometimes you have to drop your guard and let yourself fall. The melody is scintillating and lures you in with the temptation to give in to your inner desires.
Open yourself up to love with this alluring look. A black low cut bodysuit with black pencil skirt makes monochrome sexy. Platform heels and a denim jacket are excellent additions to the outfit. Little details like the lip-biting pin adhered to the jacket and delicate layered necklaces cascading down the low-cut bodysuit bring cheekiness and elegance to the look. Finish off with a bold red lip.
"Blue Neighbourhood" by Troye Sivan is out now. Listen to it here.
What do you think?
What do you think of the outfits? Do you like Troye Sivan's music? What artist should I feature next? Let me know in the comments!