Elliphant is living her best life and inviting you to do the same with her new album "Living Life Golden." This talented Swedish artist has a strong passion for enlightenment and happiness. She hasn't been on the scene very long, but she is making waves and working with artists like Major Lazer, Azealia Banks, and David Guetta.
Elliphant's music is special because it combines elements from different genres like electronic, pop, dancehall, and hip-hop. She doesn't limit herself to any specific kind of music and that's why her style is so unique. Elliphant really opens up in her music, revealing her experiences and her personality through her songs. She lives life off of the beaten path and that really comes through in her art.
The best time to listen to this music: when you are looking for a change of pace
Here are 3 outfits inspired by songs from "Living Life Golden" by Elliphant:
Everybody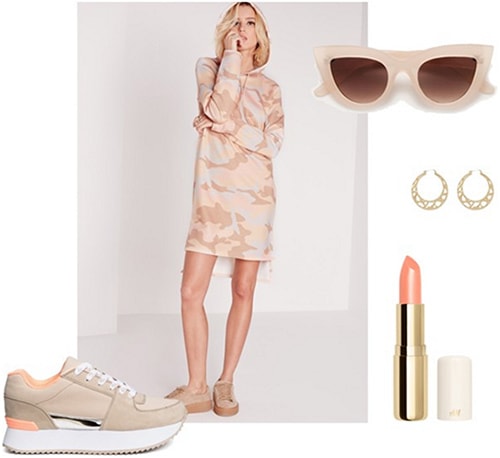 Products: Dress, Sunglasses, Earrings, Lipstick, Sneakers
"Everybody" is a dance hit about how so many people want it all, but don't want to work hard for it. If you wanna play hard, you have to work hard first. This song, with its upbeat tempo and collaboration with Azealia Banks, really drives that message home.
Beige is usually associated with all things boring and safe, but this look upgrades the color to help you stand out in a crowd. A beige camo hoodie dress is the perfect combination of comfy and cute. Cool beige platform sneakers add a bit of pep to your step, while cat-eye sunnies block out the sun and the haters. Geometric hoops and peach lipstick finish the look.
Step Down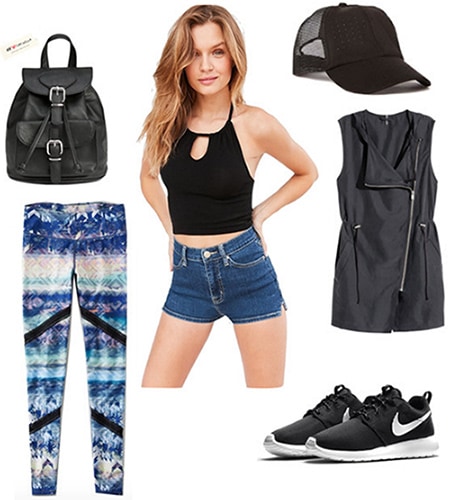 Products: Hat, Vest, Sneakers, Leggings, Backpack, Top
Never take yourself too seriously! Elliphant slows down on this track to remind us to go with the flow and not to get bent out of shape about things we can't change.
Sporty chic is great when you are going for that laid-back kind of vibe. Start with a halter crop top and colorful leggings, then add a hooded vest and black cap. Head out in comfort with some sneakers, and don't forget to grab a backpack on your way out.
Love Me Long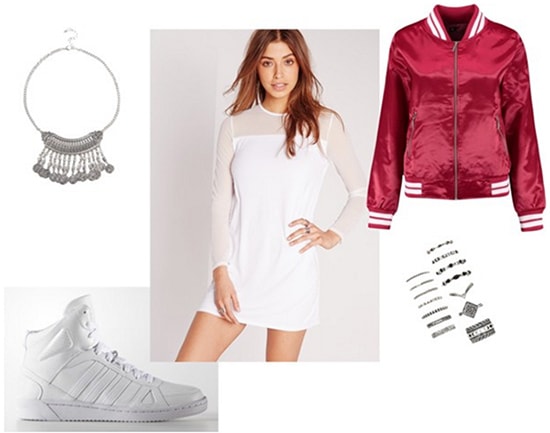 Products: Jacket, Rings, Dress, Sneakers, Necklace
This track is the kind of song that would play in the background of a commercial: A couple is driving down the coast in a convertible, smitten. Radio DJs would surely declare this a summer jam. Indeed, "Love Me Long" is happy, uplifting, and will make you believe in love.
Channel your inner cupid in this outfit. Pair a white sheer-sleeved dress with a ruby red bomber jacket. Add silver etched jewelry, like a coin necklace and a ring set. Finally, strut your stuff in white high-top sneakers.
What do you think?
"Living Life Golden" by Elliphant is out now. Listen to it here.
Do you like Elliphant's style of music? What kind of music inspires you? Let me know in the comments!