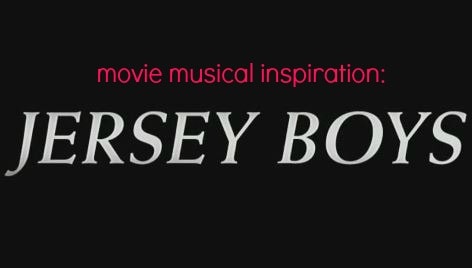 While I'd heard of Frankie Valli (Grease is the word!) and I'd heard of the immense popularity of the Tony Award-winning musical Jersey Boys, for some reason I never quite put two and two together until I watched the recent film version of the hit Broadway show.
Now I'm kicking myself for not going to see the national tour when it passed through my hometown a few years ago. Ah well, while you can't beat live theater, at least with the DVD I can rewind and watch all the musical numbers over and over again.
Be warned, though, even after just one viewing you'll definitely get at least three of the songs stuck in your head! (I've had "Can't Take My Eyes Off Of You" on mental repeat for the past three days…)
About Jersey Boys
Jersey Boys tells the origin story of Frankie Valli and the Four Seasons, a pop/rock group that became internationally famous in the 1960's for their hit songs, such as "Sherry", "Big Girls Don't Cry", and "Walk Like A Man."
The four members of the group offer their different perspectives on what exactly went down during their rise to fame and subsequent disbanding.
If you're a fan of musicals, you should definitely check out the movie. For starters, it's directed by Clint Eastwood (not exactly the first person who comes to mind when you think about movie musicals!).
In a rare deviation from the typical Hollywood tendency to recast movie musicals with big box office names, three of the Four Seasons (John Lloyd Young as Frankie Valli, Erich Bergen as Bob Gaudio, and Michael Lomenda as Nick Massi) are portrayed by actors who actually played those parts either on Broadway or on national tours. The fourth member of the group, Tommy DeVito, is played by Vincent Piazza.
Outfits Inspired By Jersey Boys
Big girls don't cry… but they do dress up in outfits inspired by The Four Seasons!
Sherry
In one pivotal scene, the fledgling group, which has been relegated to a role as background singers for other artists, must prove its mettle to a record label producer so they can start recording hits of their own. During their phone call to the label, they sing "Sherry" for the first time and magic happens. The living room scene gradually changes to the group singing their first #1 hit song on television.
For an outfit inspired by "Sherry", go for playful pieces like a mustard-colored cardigan, a flippy black skirt, and thigh high socks. A pair of monkstrap boots and striped blouse round out the look, while telephone-shaped stud earrings reference the first time the group sings their hit song.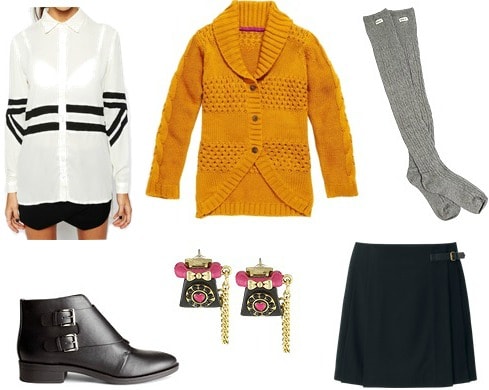 Product Information: Cardigan, Shirt, Skirt, Socks, Shoes, Earrings
Oh, What A Night
As with many stage musicals, the cast emerges at the end of the film in an encore performance of "Sherry" and "December, 1963 (Oh, What A Night)." Illuminated by a single streetlamp and decked out in their snazzy red suit jackets and slick patent shoes, The Four Seasons create a striking silhouette as they dance and sing their way down the street.
For an unforgettable night of your own, take the jumpsuit trend out for a spin. Add a luxe velvet blazer and a quilted purse to give the trendy piece a more classic vibe. A pair of sky-high stilettos and a delicate yet striking cuff complete the ensemble.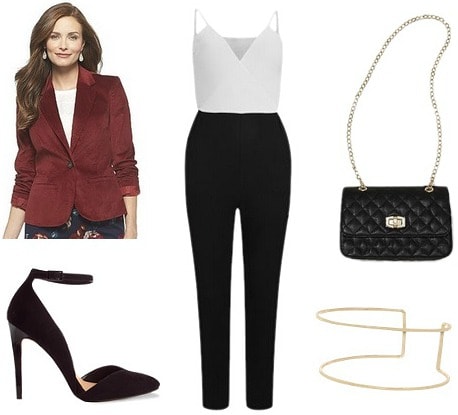 Product Information: Blazer, Jumpsuit, Heels, Purse, Cuff
What did you think?
Would you wear these outfits? Have you seen Jersey Boys? Do you prefer the stage show or the movie? What other movie musicals would you like to see featured? (I'm hoping to go see Into the Woods next week!!)