This post may contain affiliate links, which means we may receive a commission if you purchase through our links. Please
read our full disclosure here
.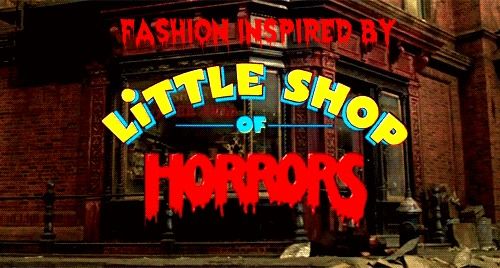 On the 23rd 13th day of the month of September, in an early year of a decade not too far from our own, the human race suddenly encountered a deadly threat to its very existence… a fashion post inspired by one of the greatest, campiest movie musicals of all time, Little Shop of Horrors!
While I love the stage version, the 1986 movie starring Rick Moranis, Ellen Greene, Vincent Gardenia, Steve Martin, Levi Stubbs, and Bill Murray was my first and favorite introduction to this morbid tale of floristry gone terribly wrong.
Don't Feed The Plants: About Little Shop of Horrors
This cult classic got its start as The Little Shop of Horrors, a 1960 black-and-white film directed by Roger Corman. In 1982, Alan Menken and Howard Ashman's musical adaptation premiered off-Broadway. The show features music in the style of 1960's rock-and-roll, doo-wop, and Motown.
The 1986 movie is a film version of the musical and was directed by Frank Oz (of Muppets fame).
Little Shop of Horrors is a black comedy about Seymour Krelborn, a nerdy florist who discovers a mysterious plant that brings him unprecedented success and wealth. The catch? It feeds only on human blood.
Outfits Inspired by Little Shop of Horrors
Get outta Skid Row and go somewhere that's green with these outfits inspired by the characters of Little Shop of Horrors:
Suddenly Seymour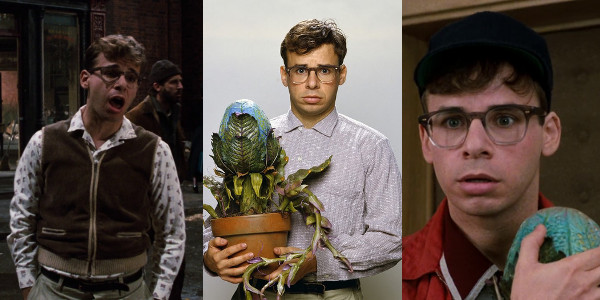 Seymour Krelborn, played by Rick Moranis, is the hapless assistant at Mushnik's Flower Shop. He's constantly berated by his grumpy boss, Mr. Mushnik, and harbors a secret crush on his co-worker, the beautiful Audrey. In his free time, he enjoys cultivating rare and exotic plants.
During a sudden solar eclipse, he acquires his newest project, a strange plant he dubs the "Audrey II." To Seymour's surprise, not only can Audrey II talk, it also has the power to make his wildest dreams come true… at a price.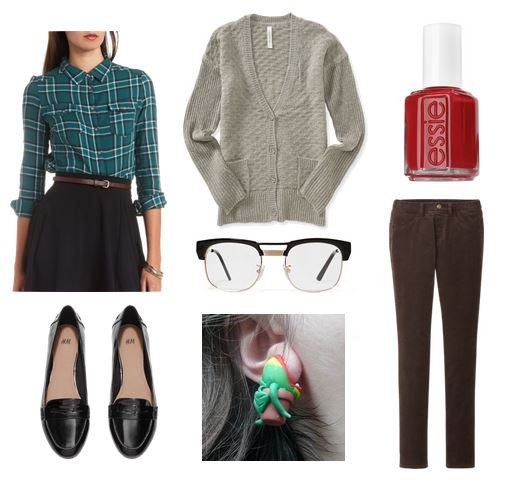 Product Information: Cardigan, Top, Corduroys, Glasses, Earrings, Shoes, Nail Polish
Poor Seymour's far from a fashion icon: his wardrobe seems to consist mainly of ill-fitting synthetic shirts and unkempt khakis. Nevertheless, his "1960's nerd" look is easily adapted to today's trends.
Tuck a button-down into a pair of fall-appropriate corduroys, then slip on a textured boyfriend cardigan. Simple black loafers and retro glasses similar to Seymour's add to the bookish but put-together look. In lieu of pricking your fingers to feed a carnivorous plant, brush on a glossy coat of crimson nail polish. Finish it all off with a quirky pair of Audrey II-inspired earrings!
Somewhere That's Green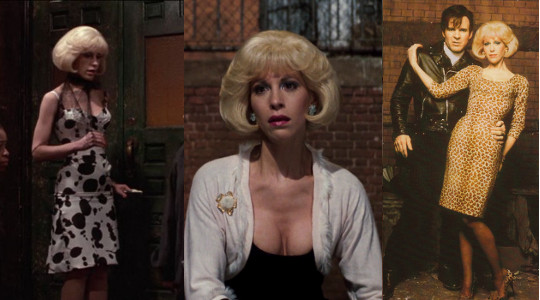 Audrey, played by Ellen Greene, is a rather stereotypical ditzy blonde. She has a heart of gold and a fondness for the kind-hearted Seymour, but she's stuck in an abusive relationship with the sadistic motorcycle-riding dentist, Orin Scrivello D.D.S. (played to perfection by Steve Martin). She secretly dreams of an idyllic future in the suburbs as Seymour's loving wife, but both she and Seymour are too timid to voice their feelings for one another.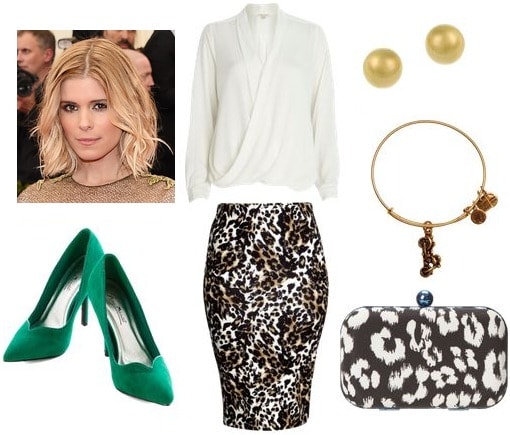 Product Information: Top, Skirt, Heels, Clutch, Bangle, Earrings | Hair Photo: ELLE
Audrey's style is heavy on leopard print, cleavage, and serious helmet hair. While her gutsy approach to fashion is admirable, try out a more modern and sophisticated take on her wardrobe choices with a chic leopard-print pencil skirt and a white faux-wrap blouse.
Jazz it up with colorful pumps for "something that's green" and a boldly patterned clutch. A motorcycle charm bracelet references Audrey's relationship with Orin. Bob haircuts have never gone out of style, but opt for the trendy "lob" over Audrey's gravity-defying 'do.
Da-Doo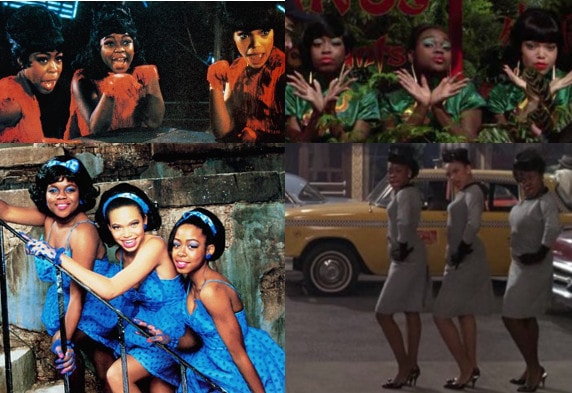 The film is narrated by a chorus of three street urchins: Crystal, Ronette, and Chiffon (named after popular girl groups of the '60s). They're dressed to the nines in glamorous matching costumes. If this is what street urchins wear on the regular, sign me up! Granted, these spectacular wardrobes also exist in a world where regularly bursting out in song and dance on the street is no big deal.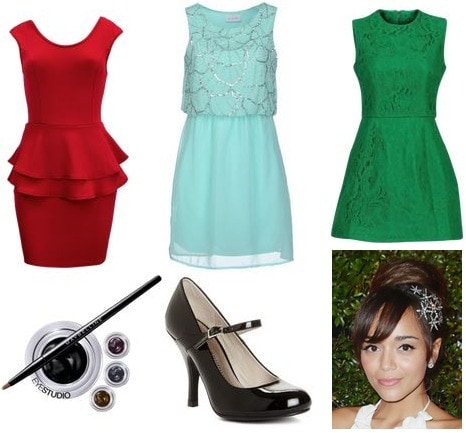 Product Information: Red Dress, Blue Dress, Green Dress, Eyeliner, Shoes | Hair Photo: ELLE
Get inspired by Crystal, Ronette, and Chiffon's collection of chic 1960s-inspired dresses. Whether you go mod with a shift dress, sweet with an empire-waisted frock, or sexy with a fitted peplum dress, make sure to complement the look with dramatic winged eyeliner, a pair of Mary Jane pumps, and a voluminous hairdo. While it's not necessary to grab two friends to dress up with you and engage in some flawless harmonizing, it certainly wouldn't hurt!
What did you think?
Would you wear these outfits? Do you love Little Shop of Horrors? What other movie musical/musical theater inspirations would you like to see? Let me know in the comments!