This post may contain affiliate links, which means we may receive a commission if you purchase through our links. Please
read our full disclosure here
.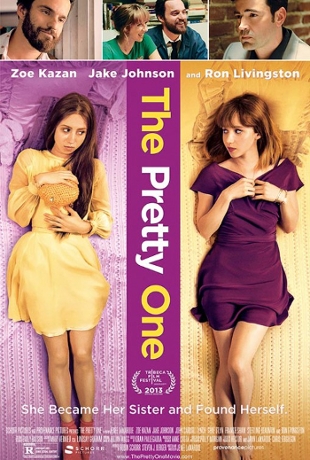 Official Movie Poster
The Pretty One is a light, comedy-drama film that revolves around Laurel and her identical twin sister, Audrey. When the two very different sisters get in a car crash, Laurel suffers from post-traumatic amnesia. It is not until her sister's funeral when she realizes who she is and who she decides to be.
This post (as requested by one of our readers, Ivana!) will focus on Laurel's style throughout the film. Laurel, played by Zoe Kazan, wore a mix of girly and retro pieces that were comfortable and colorful. Below are three recreations of Laruel's outfits that are perfect for class or for more dressed-up occasions. Scroll down to see them all!
Mustard and Teal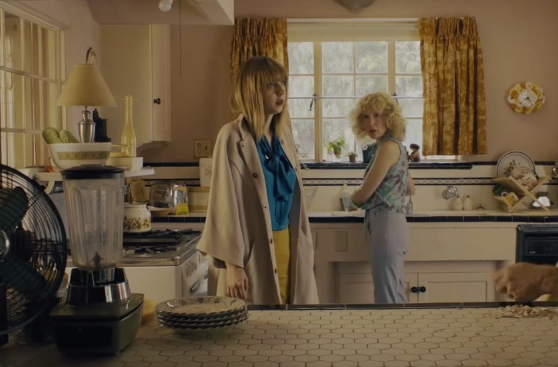 Official Promotional Image
This mustard and teal ensemble was worn by both Laurel and her sister Audrey. The outfit combines two unexpected colors to create a fun yet sophisticated look. These are two bold hues, but the classic silhouette and neutral-colored coat keeps the combination from looking too over-the-top.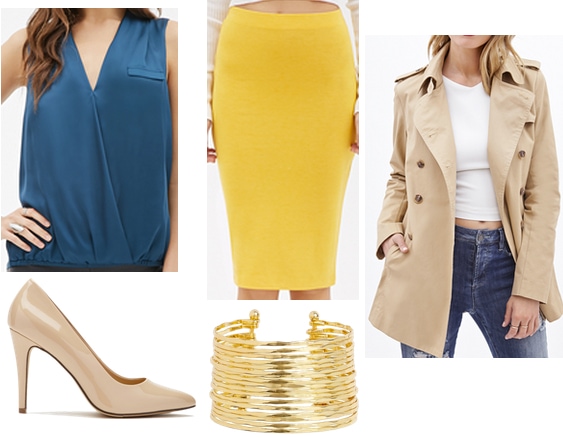 Top, Heels, Skirt, Bracelet, Coat
To recreate this look, pair a flowy teal top with a mustard yellow skirt. Although Laurel and Audrey wore yellow pants, a skirt ups the sophistication and may be easier to find. Tone down the bright colors with a beige trench coat and a matching pair of pointy-toe pumps. Finish the look with a sleek gold bracelet.
Pattern on Pattern
Official Promotional Image
This next outfit mixes patterns to create a causal and comfortable ensemble. The key to mixing patterns is to choose pieces in the same color family, and the outfit above is the epitome of a cute and cohesive mixed prints look.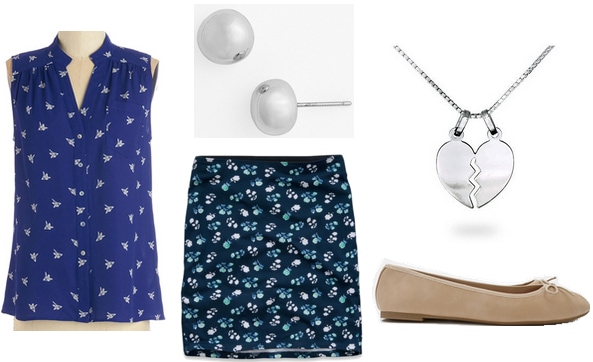 Top, Earrings, Skirt, Necklace, Flats
Start by tucking a sleeveless blue patterned top into a blue floral pencil skirt. Along with sticking to a similar color palette, keeping the pattern subtle on either the top or skirt makes the outfit even more cohesive.
Wear neutral-colored flats or heels and a pair of silver stud earrings. Finish the look with a broken heart necklace that's similar to the one Laurel wore throughout the film.
Forest Green and Maroon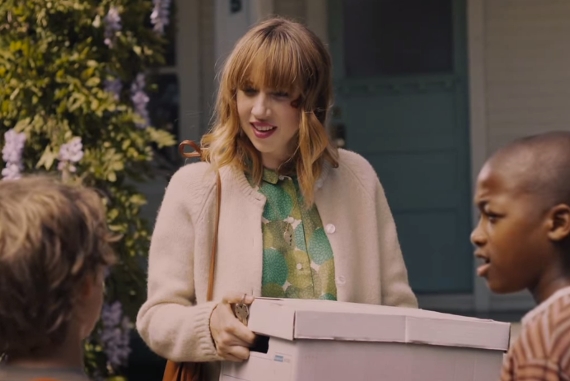 Official Promotional Image
This last look has a similar concept as the first one, since it also mixes two different colors. This time forest green and maroon are paired together, and these dark, less vibrant colors complement each other nicely. Since the colors are not very vibrant, it keeps the outfit from looking like a holiday or Christmas ensemble.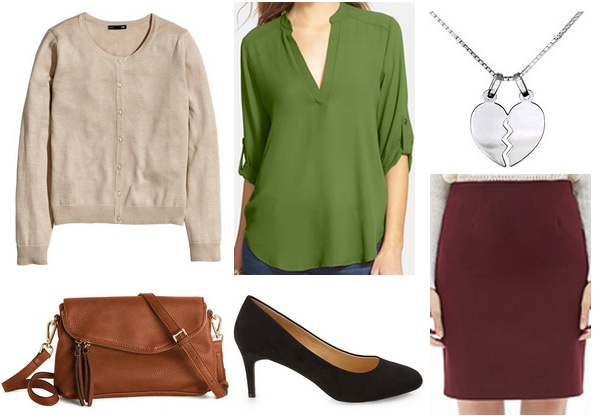 Cardigan, Bag, Top, Heels, Necklace, Skirt
To recreate this outfit, tuck a forest green blouse into a maroon pencil skirt. While Laurel wore a patterned top, it may be easier to find a solid-colored blouse in a similar hue (a pricier, but more similar alternative to the top shown above can be found here).
Keep the rest of the look neutral with a beige cardigan, a brown crossbody bag, and black heels, then accessorize once again with a broken heart necklace.
What are your thoughts?
Have you seen The Pretty One? What do you think of the movie and our inspired outfits? What films would you like to see featured in future Movie Inspiration posts? We would love to read your thoughts in a comment below!