This post may contain affiliate links, which means we may receive a commission if you purchase through our links. Please
read our full disclosure here
.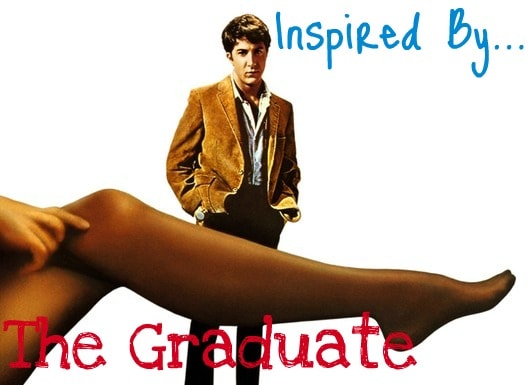 The Graduate is a classic film that tells the coming-of-age story of a recent graduate who struggles to start "the rest of his life" after college. The closer I get to graduation, the more and more I can relate with this film — it's a must-see for any college girl, especially seniors!
Benjamin Braddock, played by Dustin Hoffman, returns to California after graduating from an Ivy where he excelled in sports, academics, and extra curricular activities. He hits somewhat of a quarter-life crisis, and spends his days floating around in his family's swimming pool instead of working at the family business. Meanwhile, he starts a secret affair with Mrs. Robinson, the wife of his father's business partner. Mr. and Mrs. Robinson's daughter Elaine visits home from Berkeley, and she and Benjamin fall in love. I don't want to spoil the rest of the film, but it's well worth catching next time you're in the mood for a good movie. (Plus, it's now on Netflix Instant!)
My favorite part of the whole film is its final scene — every time I see the film, I argue with myself over what the expressions on Benjamin and Elaine's faces represent. Despair? Hope? Apathy? Shock? The Graduate is thought-provoking, funny, and — of course — features some truly inspiring fashion choices. Want to steal a little bit of Mrs. Robinson's seductive style? Read on!
Mrs. Robinson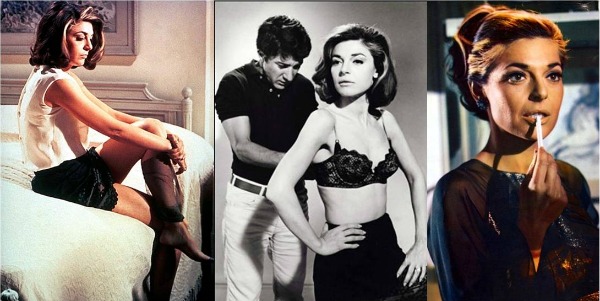 Anne Bancroft plays the iconic Mrs Robinson, a middle aged woman who is unhappy with her life. Mrs. Robinson's style is all about subtle sexuality — she often wears lacy pieces reminiscent of lingerie, sheer blouses and dresses, and always rocks her signature pair of hose.
Steal Mrs. Robinson's look without looking trashy by incorporating just a taste of scandal — a frilly camisole tucked into a proper pencil skirt creates the right amount of contrast. A sheer dress with adequate undergarments will give you the right look as well. Finish with classic accessories — nude pumps, a pearl necklace, a menswear watch, a simple headband, and of course, red lipstick.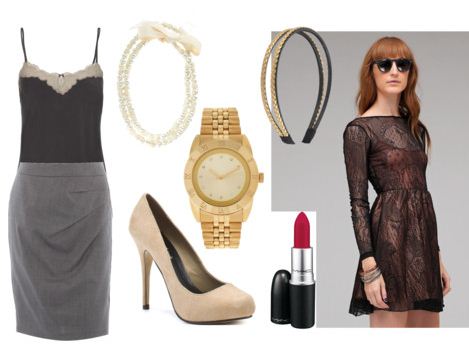 Camisole, Pencil Skirt, Watch, Necklace, Headband, Heels, Lipstick, Sheer Dress
Sound of Silence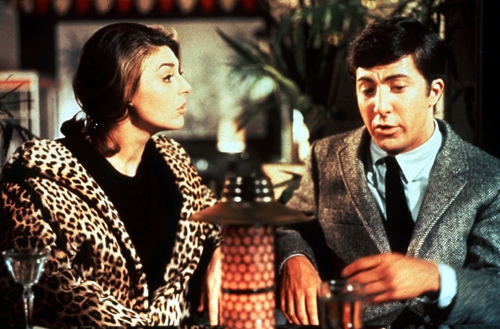 Mrs. Robinson dresses a little more conservatively while around her husband and peers. Leopard print is one of Mrs. Robinson's signatures — she is often seen wearing two different leopard coats and a leopard pillbox hat as well.
I know it's a little too toasty outside to wear fuzzy outerwear yet, but it's not a bad time to begin saving up for a divine leopard print coat like the one Mrs. Robinson wears. I purchased a leopard coat over two years ago, and it is my favorite piece in my entire closet! Tame the coat by pairing it with a simple black Jackie-O dress, earrings, hose (if you dare!), black pumps, and a simple red clutch.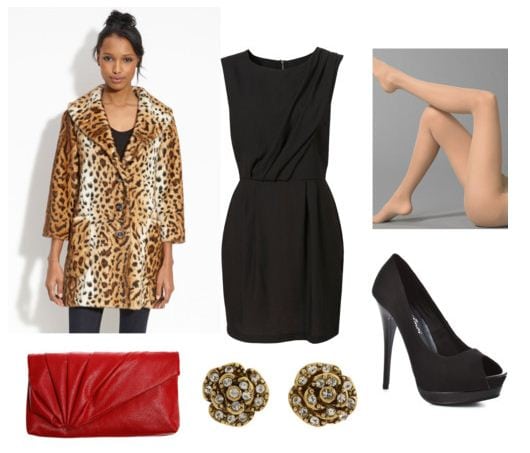 Coat, Dress, Clutch, Earrings, Heels, Hose
Elaine Robinson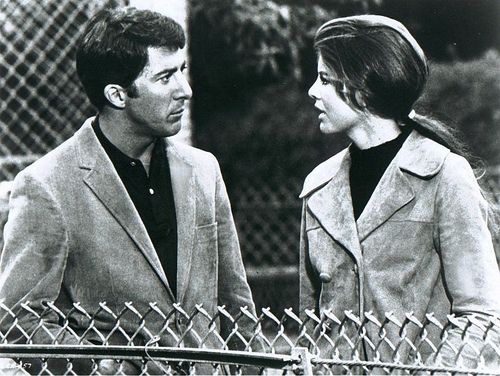 Katherine Ross plays Elaine Robinson, Mr. and Mrs. Robinson's daughter who falls in love with Benjamin, despite her plans to marry someone else. Her wardrobe is made up of classic, tailored pieces that will never go out of style. She is seen wearing button-down dress shirts, trousers, trench coats, basic sweaters, and chic ballet flats.
Any one of her costumes in the film would be perfect for a business casual occasion. Take a tip from Elaine and try pairing all of your basic investment pieces together (like a blouse, some chinos, flats, and a trench coat for when it gets chilly) for a sophisticated look.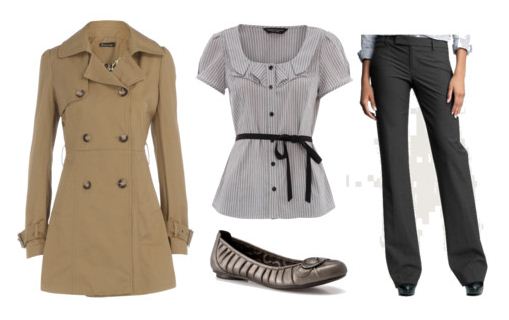 What Do You Think?
Have you seen The Graduate? Do you like the outfits that Elaine and Mrs. Robinson wear? What do you think the ending means? What other movies do you love? What movies would you like to see CF cover? Leave a comment and tell us what you think!