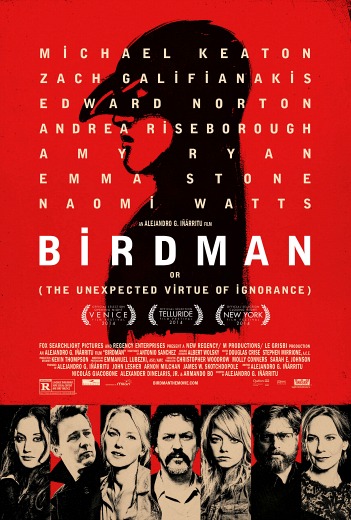 Official Movie Poster
The film that won several awards at this year's Oscars, including Best Picture, was Birdman or (The Unexpected Virtue of Ignorance). The movie follows the life of a once famous actor, Riggan Thomson, whose life is taken over by the role of Birdman that he played decades earlier. Throughout the film, Riggan begins the reinvent himself by reestablishing his career and mending broken family bonds.
This post will feature outfits worn by Riggan's daughter Sam, who was played by the lovely Emma Stone. Throughout the film, Sam had a casual but slightly edgy look, and incorporated more muted, dark colors into her outfits. Scroll down to see three outfits inspired by looks from the film.
Graphic Tee and Plaid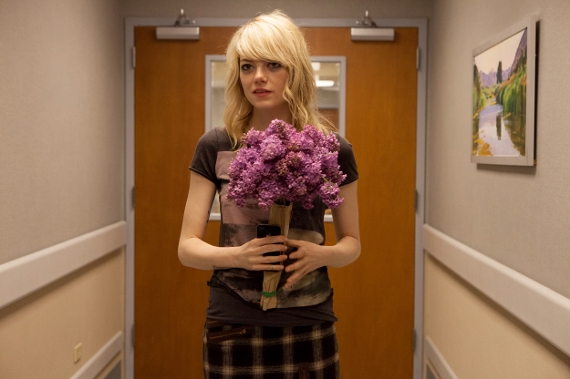 Official Promotional Image
This first ensemble incorporates different patterns and textures into one casual and comfortable outfit. A look like this perfect for those who are not huge on colorful pieces and like to keep their outfits less bold but still want to look cute.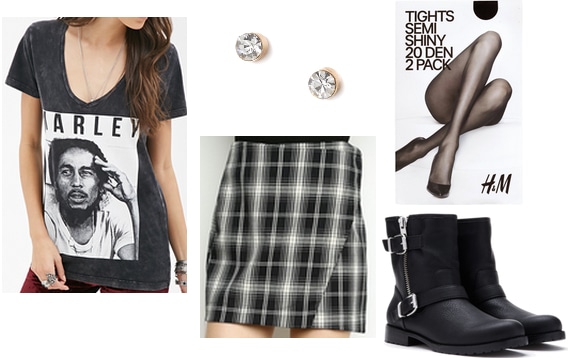 Shirt, Earrings, Skirt, Tights, Boots
The key to this look is the combination of a graphic tee and plaid, so recreate Sam's outfit by tucking a dark gray graphic tee into a plaid skirt. Next, add sheer tights and a pair of black boots to complement the top and skirt. Although it is hard to see in the photo above, Sam was also wearing a small pair of earrings, so finish the look with your favorite studs.
Grunge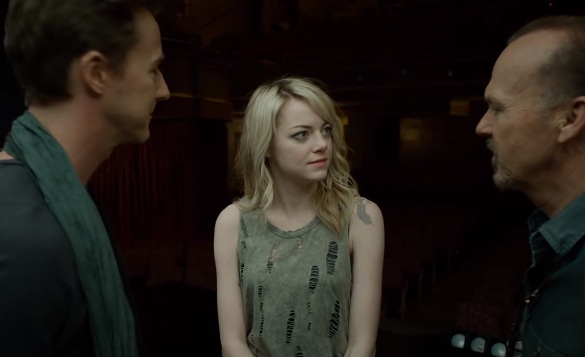 Photo Credit: Screenshot
The next outfit includes many grungy pieces, such as a torn top and tights. This ensemble is a great option if you're looking to edge up your look a bit. If distressed clothing pieces aren't your style though, you can always replace the top and tights below with pieces that aren't ripped.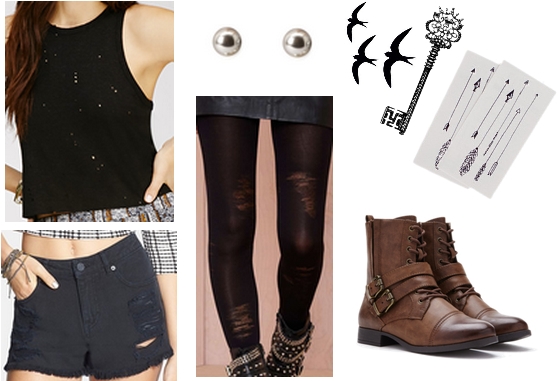 Top, Shorts, Earrings, Tights, Bird Temp. Tattoo , Key Temp. Tattoo, Arrow Temp. Tattoo, Boots
For this Sam-inspired look, wear a gray or black distressed tank with a pair of ripped black shorts. Continue the grungy, distressed look with torn black tights tucked into a pair of brown combat boots.
Keep the accessories simple with a low-key pair of silver stud earrings. If you want to mimic the exact look and don't want to commit to any ink, try out a few temporary tattoos (such as birds or a key) on your arms or shoulders, similar to the ones Sam had in the film.
Army Green and Gray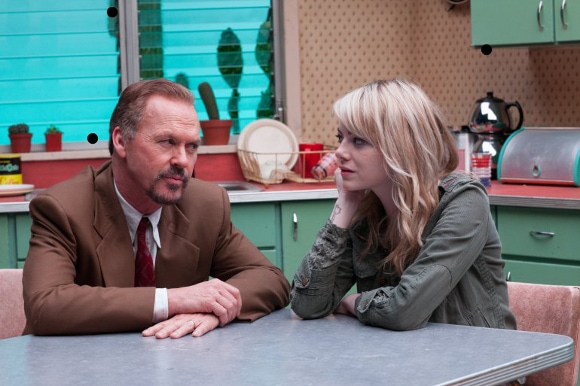 Official Promotional Image
This last getup is perfect for those of you who don't have an edgy look, but still want to incorporate Sam's style into your outfit. Not only does this look incorporate many wardrobe staples, but it's also comfortable and ideal for class or a causal weekend.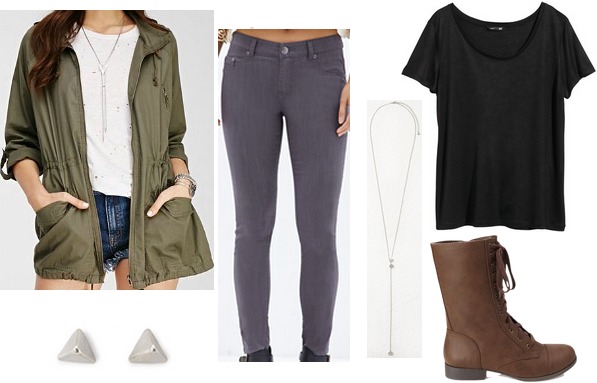 Jacket, Earrings, Jeans, Necklace, Top, Boots
To recreate this ensemble, wear a black tee with a pair of gray skinny jeans, then layer on an army green jacket. Again, Sam went with a pair of stud earrings, so accessorize with those. We also love the idea of adding a long silver necklace; it will stand out against the black t-shirt. Finish the look with a pair of brown combat boots.
What are your thoughts?
Have you seen the movie Birdman? What are your thoughts on the film and the outfits featured in this post? What movies would you like to see in future Movie Inspiration posts? We would love to read you thoughts in a comment below!