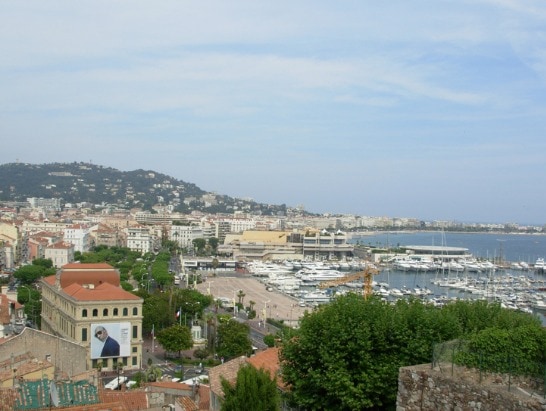 It would be easy to mistake the Cannes Film Festival for a fashion event. With celebrities and models running around from party to party sporting one enviable ensemble after the other, it sometimes seems like Lincoln Center is simply transported to the south of France every year.
And as we see during Fashion Week, the stylish looks at Cannes aren't confined to the catwalks or red carpets. In fact, some of the most inspiring and definitely the most relatable fashion appears when these celebrities and models, like the three models below, are wandering the sunny French streets on their own.
Here, models Anja Rubik, Bar Refaeli and Karolina Kurkova show off easy-to-imitate sidewalk styles from their days at the festival.
Anja Rubik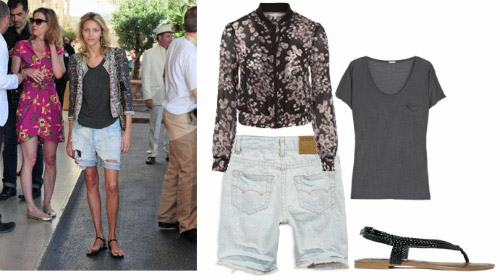 Photo Credit | Jacket, Shorts, T-shirt, Sandals
Anja sported a new take on jean shorts at Cannes this year. Wearing destructed light-wash denim shorts longer, almost to the knee, seems effortlessly cool and is a refreshing break from the tight, booty-baring styles we're seeing everywhere.
To top off the shorts, Anja picked an embroidered Isabel Marant jacket, and while it's gorgeous, it's hardly an affordable option for most college girls. That's why I've picked out this alternative printed jacket from Debenhams that is equally intriguing but comes in at a much lower price point. Pair the jacket with a basic crew neck tee like this one from J. Crew and a pair of black sandals and consider yourself Cannes ready!
Bar Refaeli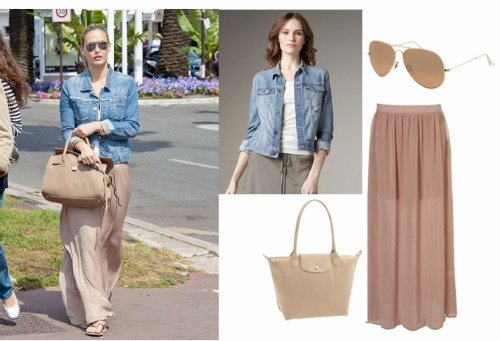 Photo Credit | Jean Jacket, Sunglasses, Skirt, Bag
A dedicated fan of the jean jacket, Bar Refeali continues to show us why this denim staple is so practical – it can really be paired with almost anything (even jeans if you're daring enough to try denim-on-denim).
At Cannes, Bar paired her jacket with a flowing maxi skirt in a neutral shade, like this one from Topshop. Then, she kept the laid-back neutral vibe going with her own Birkin bag in a luxurious tan color similar to that of the Longchamp bag I featured above. Lastly, in classic Bar style, the look wouldn't be complete without a trusty pair of aviators.
Karolina Kurkova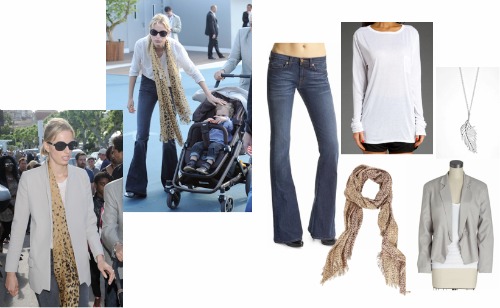 Photo Credit | Jeans, Shirt, Necklace, Jacket, Scarf
She may be a top model vacationing in one of the most gorgeous areas in Europe, but that doesn't mean Karolina Kurkova isn't still on mom duty. Rocking the latest trend in denim, flared jeans that fit like skinnies until the knee, Karolina was seen out and about with her son Tobin.
On top, she wore a loose-fitting basic white long sleeve shirt and a grey menswear-inspired blazer, that she appeared to have taken on and off as the French sun grew hotter. This simple outfit was made even more stylish with the help of accessories including a lightweight leopard print scarf and silver feather necklace.
Thoughts?
What do you think of these outfits? Would you wear them? Were there any other model-off-duty looks at Cannes that caught your eye? Let me know!