This post may contain affiliate links, which means we may receive a commission if you purchase through our links. Please
read our full disclosure here
.
Hello ladies! I hope everyone enjoyed their Christmas celebrations and had time to spend with family and friends. It's so important to take advantage of this time of year to love and appreciate those we care about!
When I think of 2018 fashion, one name comes to mind: Meghan Markle. From having her fairytale wedding to Prince Harry to announcing her pregnancy, it's been a very important year for the new Duchess of Sussex. Despite all the pressure from her newfound roles and positions, Meghan Markle's style is always on point. And now that she's pregnant, she's remained just as stylish as ever.
Now I know what you ladies must be thinking: how could maternity style be useful for us college girls? Though most of us aren't pregnant or mothers at this stage in life, her elegant pieces and timeless style are worth appreciating — and getting inspired by! So for this post I'll be taking my favorite Meghan Markle maternity looks and creating outfits we can wear around campus.
Outfit 1: British Fashion Awards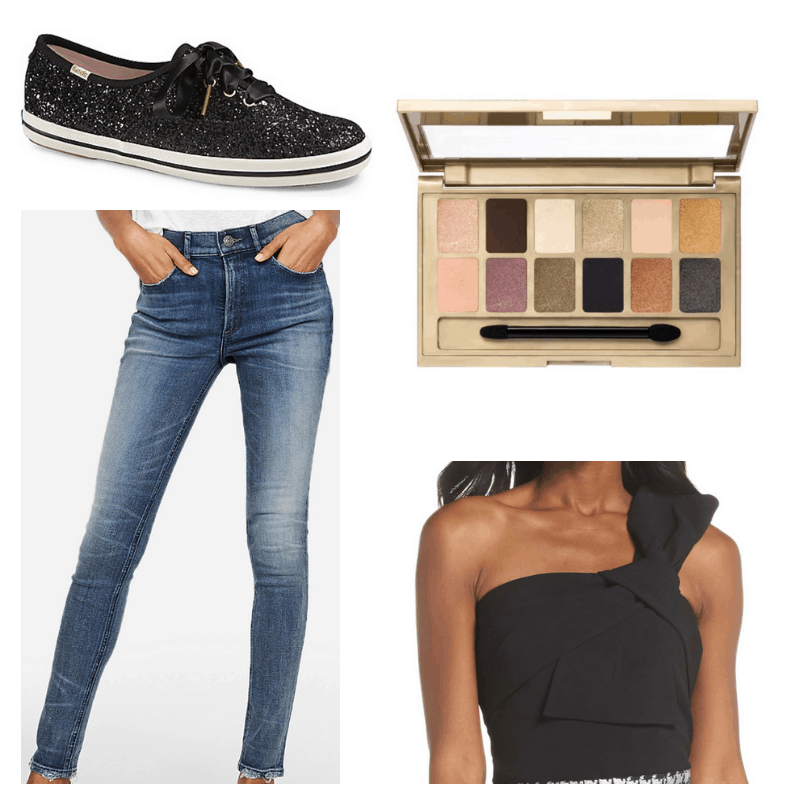 Products: Jeans – Express, Top – Eliza J (Nordstrom), Eyeshadow Palette – Maybelline (Target), Sneakers – Kate Spade x Keds
The Givenchy gown Meghan wore to the British Fashion Awards was legendary. Not only did it show off her growing bump, but it was simple and elegant. While Givenchy may not be calling to dress us, we can still take some styles cues from them.
The one shoulder bodice is gorgeous and so flattering. You can take that part of the gown and snag a top with a single shoulder. It would be great for springtime paired with jeans (as seen above), or you could rock it for a night out now under a cool jacket.
Outfit 2: Redwood Treewalk Visit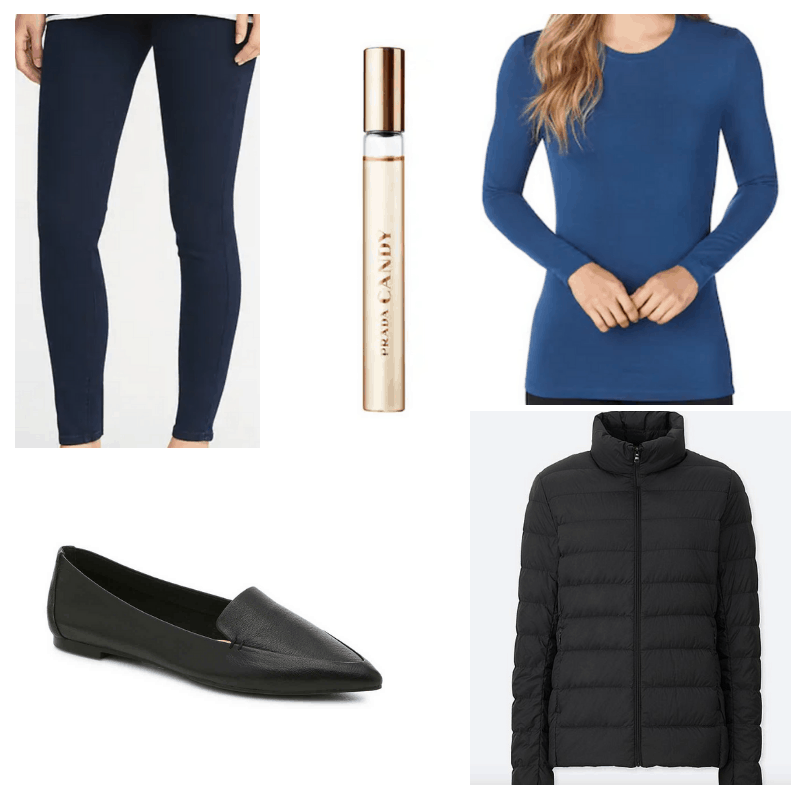 Products: Shirt – Kohl's, Perfume – Prada (Sephora), Loafers – Essex Lane (DSW), Jeans – Old Navy, Jacket – Uniqlo
Here, Meghan shows us that a casual looks can be classy, too. This is the perfect outfit to wear on cold winter days to class or maybe to spend all evening at the library. Uniqlo does a great job with their down jackets and they're so cozy and affordable.
The Duchess of Sussex also loves loafers. They're such underrated shoes that are so comfortable and work for all seasons and occasions. Whether you have a job interview or are heading to lunch with friends or a meeting with your professor, loafers are the perfect footwear.
Hubb Community Kitchen Visit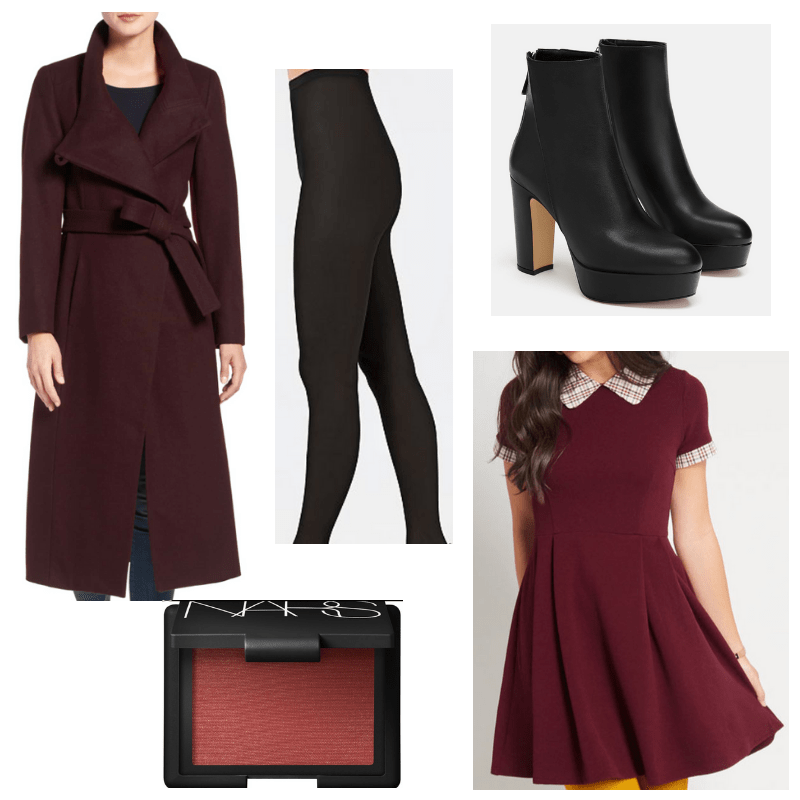 Products: Dress – Smak Parlour (Modcloth), Tights – Wolford (Macy's), Blush – NARS, Boots – Zara, Coat – Kenneth Cole (Nordstrom)
This Meghan-inspired outfit is perfect for a nice brunch with friends or maybe a family event over break. From the elegant collared dress to the leather boots, you'll look put together and stylish in this look.
My favorite piece in this outfit is the coat. Not only is the color stunning, but the bow tie and v-neck cut are amazing. It's very sophisticated and you'll wear it for years to come.
The Queen's Commonwealth Canopy Unveiling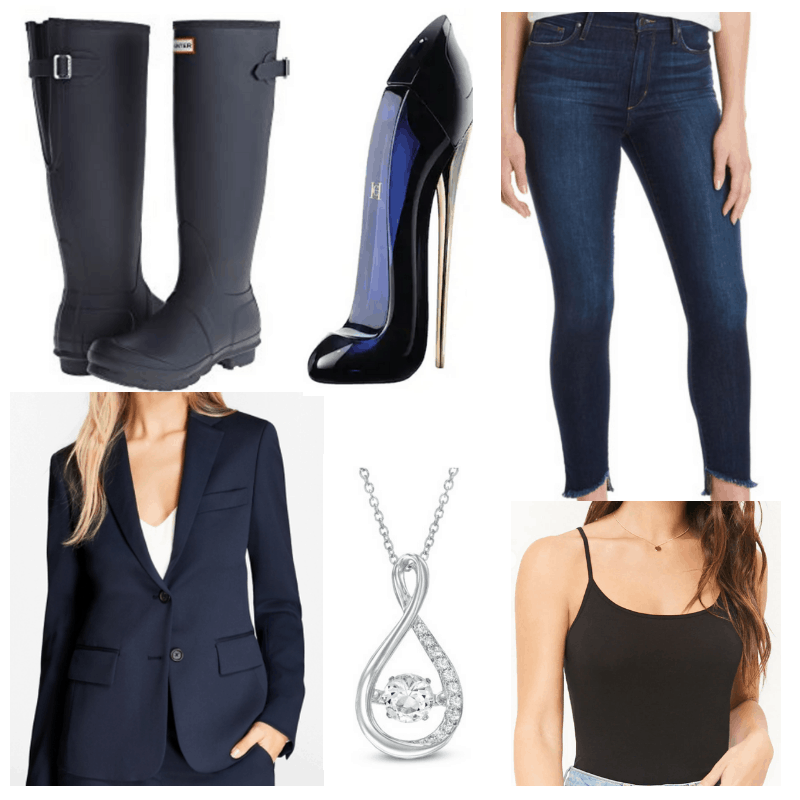 Products: Blazer – Brooks Brothers, Necklace – Zales, Jeans – Joe's Jeans (Century 21), Tank Top – Forever 21, Perfume – Carolina Herrera (Sephora), Boots – Hunter (Zappos)
Meghan also shows us that she can pull of preppy SO well. As a preppy enthusiastic myself, I love this outfit. Hunter boots are a must for college girls. Not only are they incredibly durable, but they are perfect for the whole academic year!
I'm also a huge fan of the blazer. Most people associate Brooks Brothers with men's clothing but they have a beautiful women's line as well. Their pieces are always clean cut and masterfully tailored. Be sure to check out their professional wear!
Does Meghan's pregnancy style inspire you?
Are you loving the Duchess of Sussex's outfits as much as I am? Do you find her style inspiring? Tell us in a comment.