Welcome to the latest edition of Looks from Books, which aims to prove that you can look smart, while still being book-smart, too. Fashion inspiration can be found between the pages of your favorite stories, on well-designed book covers, and in your favorite characters… if you read closely enough.
This week, I'm winding down after a quick Disneyland vacation with my family before school gets back in session. And what better way to come down from a Disney trip than with a reality check on Fantasyland? Here's Linda Rodriguez McRobbie's Princesses Behaving Badly: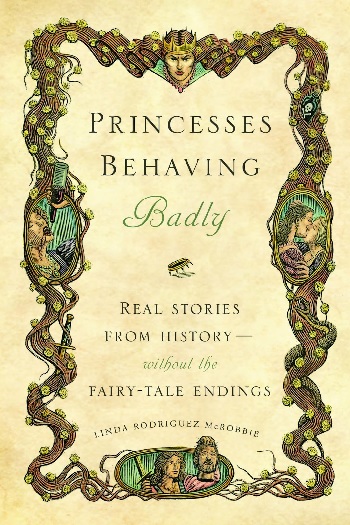 Cover via Amazon
Inside Cover
Princesses Behaving Badly is a work of nonfiction, written by Lina Rodriguez McRobbie and published in November 2013.
The book details some of history's most infamous – as well as some lesser-known, though nonetheless notorious – princesses, empresses, duchesses, and other assorted forms of female monarchs vying for power, position, and a place among their male counterparts. Among them stand usurpers, bohemians, warriors and traitors, yet all of them carry the distinction of being worthy of cultural note by making their mark on what has been primarily the men's club of the monarchy.
The book has enjoyed positive critical reception since its release this past November.
A Fashionable Literacy
Fashion has always looked towards royalty for inspiration; especially in today's world, where blogs follow every move the modern-day monarchs make. Such sartorial stalking enables the spread of an outfit from one picture on social media to the entire Internet, and easy attire acquisition at the touch of a retailer's website's "check out" button.
In fact, one much-loved British royal, the Duchess of Cambridge, has even been responsible for an interesting trend in Britain's fashion dubbed "the Kate Effect." This is when her outfit choices sell out in stores within minutes of her being photographed wearing them!
However, it's not just Kate that's great in the fashion world: Monaco's Princess Charlotte Casiraghi makes headlines and turns heads every time she steps out of the house, while Thailand's Princess Sirivannavari Nariratana was a fashion student who can often be found in the front rows of Paris Fashion Week.
How to Add Royalty to Your Wardrobe
By integrating key elements from some of the most enthralling tales within the collection, you, too, can have a look fit for a princess!
Pope's Princess Lucrezia Borgia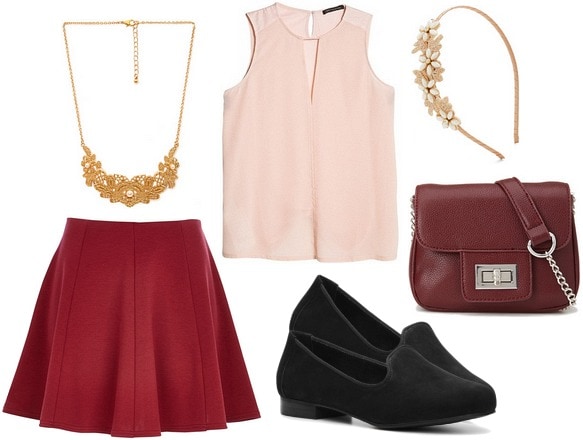 Product Information: Necklace – Forever21, Top – Mango, Headband – Modcloth, Purse – Forever21, Loafers – DSW, Skirt – River Island.
Lucrezia Borgia may have been the daughter of Pope Alexander VI, but don't let that pious title fool you: she was infamous during her time, and in the centuries since her death, has been defamed by many as a notorious murderess. Her purported crimes include a career as a prolific poisoner, and an incestuous relationship with her brother Cesare, which – though absent from most historical records, and of questionable veracity in their claims – have been repeated through the likes of Victor Hugo's works on stage in Lucrece Borgia, to screens across America in Showtime's The Borgias.
Culture has cast her as the original, Machiavellian femme fatale… but did she really do any of the things of which she was accused? Or was it just that her detractors had hold of the history books?
A mix of fiery red and demure pink call to question the true nature of Lucrezia's attitude, with a feminine flair that all historians can agree the refined beauty would have adored. A sweet blush pink top, a gold floral statement necklace, and a floral headband are contrasted against a maroon skater skirt, a burgundy crossbody bag, and black loafers.
Faux Princess Mary Baker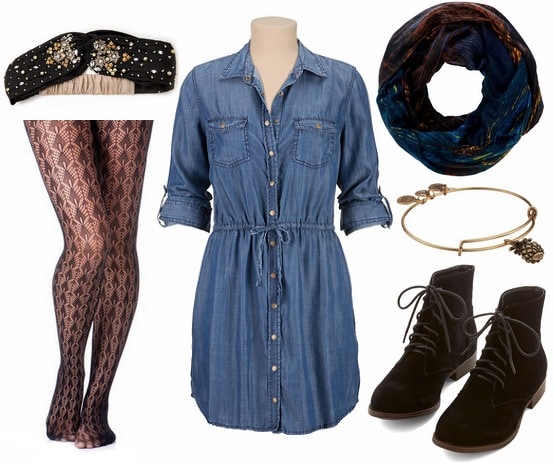 Product Information: Headband –ShopBop, Shirtdress – Maurices, Scarf – Nordstrom Rack, Bangle – Zappos, Shoes – Modcloth, Tights – Francescas.
While all the princesses detailed within the book are based off the lives of real people, that doesn't necessarily mean they were real princesses.
Living under the psuedonyn of "Princess Caraboo," and claiming to have come from the fictitious East Indian kingdom of Javasu, Mary Baker hoodwinked British society into believing she was a princess stolen from her native land by building her story with the "exotic" descriptions used in attempts by others to understand her culture… kind of like a fortune teller using clues to "read" their client. None would have guessed she was really the wandering daughter of a Devonshire cobbler!
Take inspiration from Mary Baker's tall tales by putting together an attention-grabbing outfit all your own. Wear princess-worthy pieces contrasted against minimalist basics a little more suited to Mary's background. A denim shirtdress and plain black boots provide a sturdy background for luxe embellishments, like a velvet turban headband, peacock-print tights, a colorful scarf, and a bangle outfitted with one of the fruits "Caraboo" claimed grew in her country… a pineapple!
American Princess Clara Ward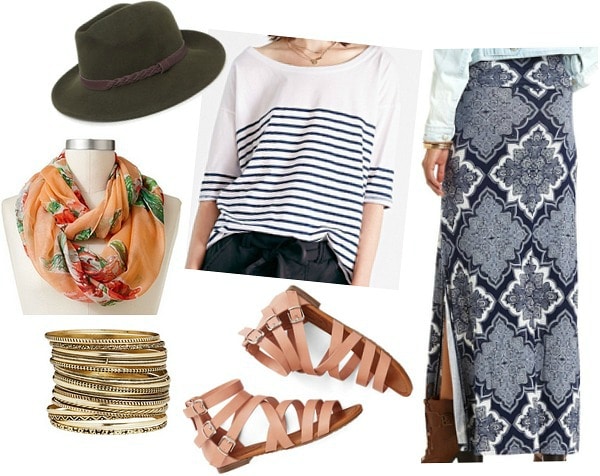 Product Information: Hat – PacSun, Shirt – Urban Outfitters, Skirt – Charlotte Russe, Sandals – Modcloth, Bangles – H&M, Scarf – Kohls.
The daughter of an American shipping tycoon dubbed "Michigan's first millionaire," Clara Ward grew up with headline-making parents. This might have incited a little more rebellion in their daughter than they would have liked, as she was bumped around several finishing schools after being kicked out of each one… until, that is, her mother set her up in the polite society of Europe.
With her substantial fortune and popular Victorian figure, she was a hit, catching the eye of Belgian's Prince Joseph de Caraman-Chimay almost immediately. He was a man who just happened to be in the market for a new wife with a lot of cash, despite the fact that she was only 17 years old (and about 15 years his junior!). However, she was quickly discontented with court life, and a quick move to Paris finally gave her the freedom she wanted… as she ran off with a gypsy violinist!
Channel the globe-trotting vibrance and her romantic bohemian lifestyle with mixed prints and flowy fabrics. A printed maxi skirt bumps against the staid stripes of the t-shirt and bright florals of the scarf, but still manages to fit together with bohemian essentials, like a felt hat, bangles, and strappy sandals.
What Do You Think?
Have you read Princesses Behaving Badly, or any similar tongue-in-cheek historical works? What do you think of the way the fashion world follows modern-day monarchs? Who do you think was the most stylish princess? What do you think of the outfits and styling tips? Let me know in the comments below!