This post may contain affiliate links, which means we may receive a commission if you purchase through our links. Please
read our full disclosure here
.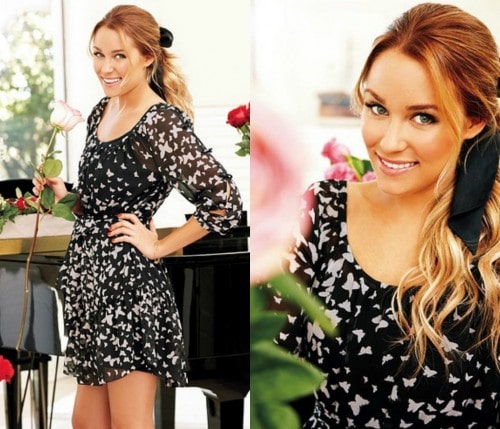 From interning at Teen Vogue to becoming a fashion designer herself, The Hills star Lauren Conrad is no stranger to the fashion world. Her clothing line for Kohl's reflects her fabulous sense of style while remaining affordable for fashionistas on a budget. LC Lauren Conrad features chic and classic looks with a girly twist. The Spring 2012 Lookbook for the line continues her signature girly appeal while playing with fun, conversational prints and bold colors.
Lauren's Spring 2012 line is perfect for anyone looking to update their wardrobe for the season. Below, I've created a series of outfits inspired by the Spring 2012 Lookbook for the LC Lauren Conrad collection at Kohl's. Scroll down to view them all!
Pretty In Peach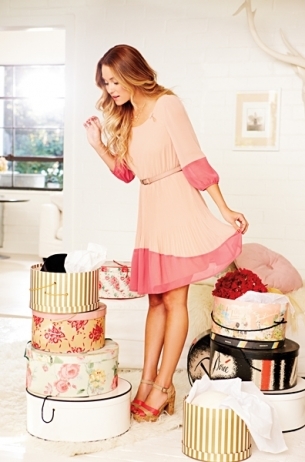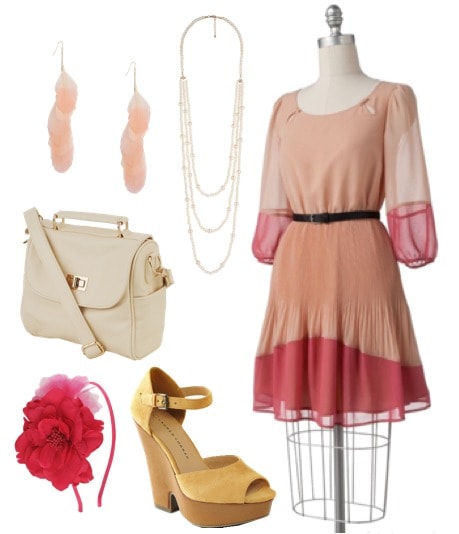 Dress, Wedges, Bag, Headband, Earrings, Necklace
Embrace a girly aesthetic with this pretty look. Wear this LC Lauren Conrad colorblock dress with a pair of wedge sandals in a bold color. For accessories, grab a faux-leather crossbody bag and add a floral headband in a bold color to contrast with the neutral tones. Finish the look off with a pair of blush-colored feather earrings and a pearlescent layered necklace.
Effortless Elegance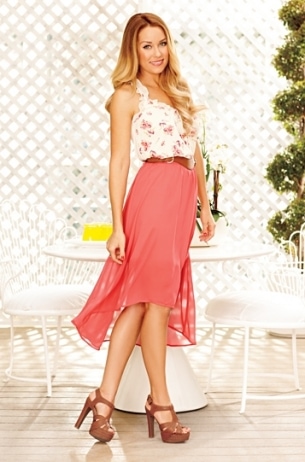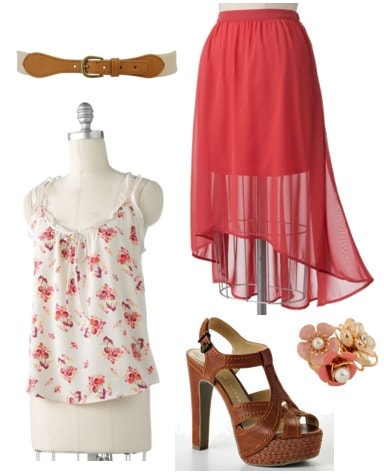 Top, Skirt, Sandals, Belt, Ring
Combine the best of the spring trends in this pretty outfit. A chic floral blouse paired with a hi-low maxi skirt in a bold red color is a simple way to make a big statement. Wear with a pair of platform sandals and add a belt to the skirt for a classic appeal. A pretty floral cluster ring completes the look.
Lovely Lace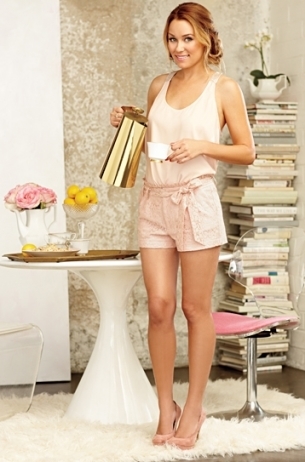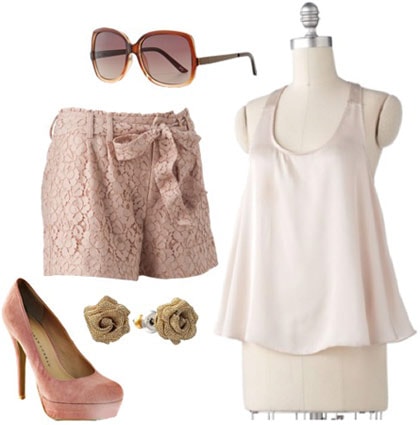 Top, Shorts, Pumps, Earrings, Sunglasses
For a more understated look, wear a simple cream-colored tank with bead-embellished straps tucked into a pair of lace shorts. Blush-colored pumps dress the look up a bit, and rose studs add cute, feminine charm. Grab a pair of rectangle sunglasses for sunny spring days!
Feminine Edge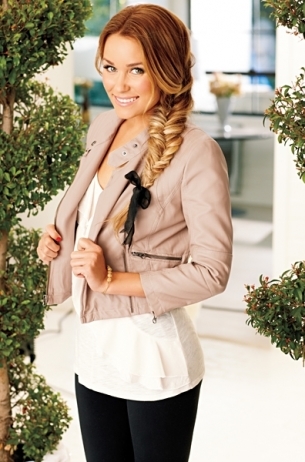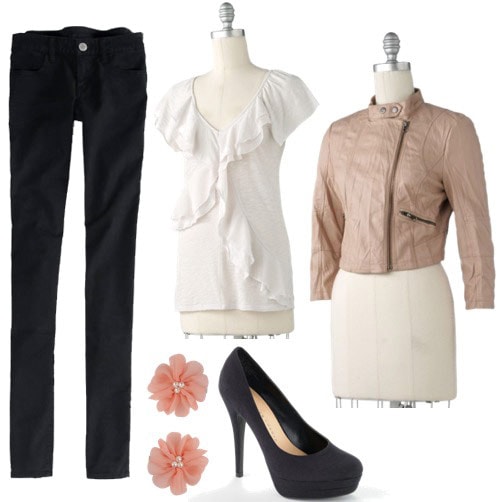 Top, Jacket, Jeans, Pumps, Hair Clips
Achieve a blend of feminine and edgy styles with this look. Wear an LC Lauren Conrad ruffle-accented top with some simple black jeggings. For extra edge, put on this LC faux-leather motorcycle jacket and slip on a pair of black pumps. Floral hair clips add a touch of spring to finish the outfit.
Flirty Florals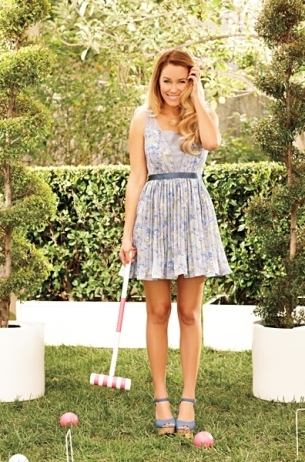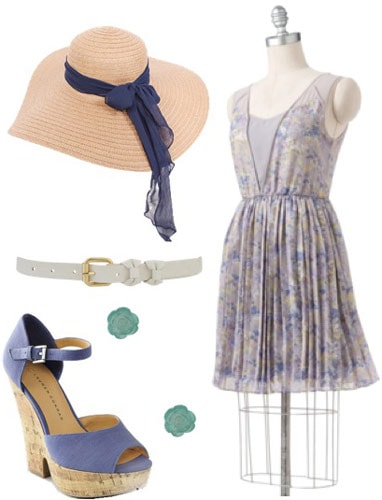 Dress, Sandals, Belt, Hat, Earrings
When the flowers are blooming, step out in a pretty floral dress with a pair of peep-toe wedges. Add pretty accessories like a bow-accent belt, a floppy sunhat, and rosette earrings to complete the ensemble.
Classic & Chic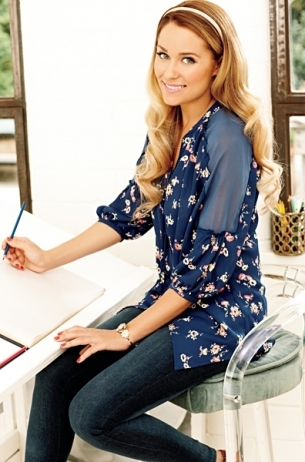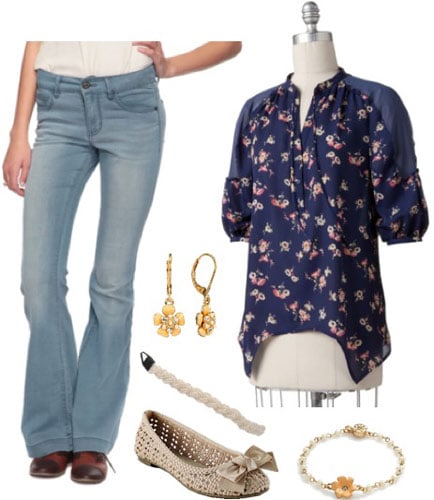 Top, Jeans, Flats, Headband, Earrings, Bracelet
Capture a boho chic vibe with this LC look. A navy floral blouse, paired with light-wash jeans and bow flats, is a simple but stylish look for spring. Keep the understated elegance going with minimal accessories such as floral drop earrings and a matching floral and pearl bracelet. Finally, wear a pretty braided headband in your hair.
What do you think?
Do you look to Lauren Conrad for fashion inspiration? Do you own any items from her previous collections for Kohl's? Would you wear any of the looks above? Which one is your favorite? Would you like to see more posts like these in the future? Let me know in the comments!