College Fashion: Tell us a little bit about yourself.
Madison Ottenbacher: I'm a junior at Drake University in Iowa, currently studying abroad in Australia at Bond University. I'm a graphic design and magazine journalism double major at Drake, and studying event planning at Bond U. Above all, I have a love for all things fashion!
CF: Have you had any previous work in the fashion industry?
MO: Yes, I worked for a campus blog, writing and documenting street style. It was a great way to meet new people. I also helped style some runway shows at my local shopping center. I dealt with brands like Michael Kors, Calvin Klein, Jessica Simpson, and other similar brands.
Now, I'm a Social Media intern for Better Homes and Gardens Magazine. I started last summer, and am continuing my position while I'm studying abroad.
CF: What's your favorite part about working at Better Homes and Gardens?
MO: I love that it's different everyday with new challenges. It's a great working environment because I get to talk to home and food bloggers all he time and we can bounce ideas off of each other. I get to work on Facebook, Pinterest and Instagram and I have the unique opportunity to write blog content and learn marketing strategies. The blogs I write for are Dish (food) and Style (home decor and fashion).
I honestly do a bit of everything, and my role can change from marketing to journalism to graphic design to photographer to event planner on any given day. It's important if you're going into media to have a well-rounded education, because oftentimes your responsibilities can vary like that.
CF: How will this job help you in your future career endeavors?
MO: BHG has taught me all sorts of communication skills that will be helpful in any professional work environment in my future. I know how to interact with co-workers to complete tasks, plan events, and brainstorm ideas. Creating a final product is all about teamwork, and you can't learn how to be a team player without field experience.
CF: How would you describe your style? What are some go-to items in your closet?
MO: I would describe my style as really feminine-boho. I love flowy pieces, sundresses, and accessorizing. In my price range, I love Zara, Topshop and Urban Outfitters. If I had all the money in the world, I'd be shopping at Fendi, Chanel and Prada. (laughs)
CF: Do you have any fashion role models, or any role models in any industry?
MO: She may not be a role model necessarily, but I love Lou Teasdale. She's a super-fashionable DIY hair and beauty social media mogul. I love her Instagram, and I'm looking forward to reading her books!
CF: What advice would you have for a college student who wants a job like yours?
NETWORK. Network, network, network. It's all about who you know. Everyone wants that internship, and it's not just going to fall in your lap. You have to work for it, and networking is just as important as studying. You have to be able to go above and beyond to stand out from the crowd, and it helps if you know someone in the business who has contacts or can offer career/resume advice.
Another note of advice – don't burn any bridges. Keep things professional and follow through with things you promise to do. You will gain respect in your industry this way and create a good reputation for yourself.
Get Madison's Look
Autumn Style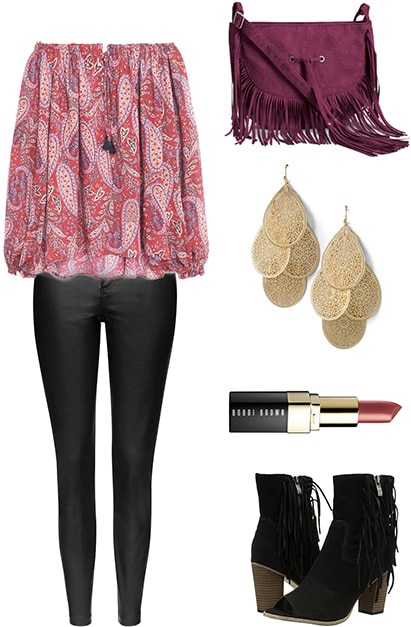 Products: Jeans, Top, Boots, Bag, Earrings, Lipstick
Winter Chic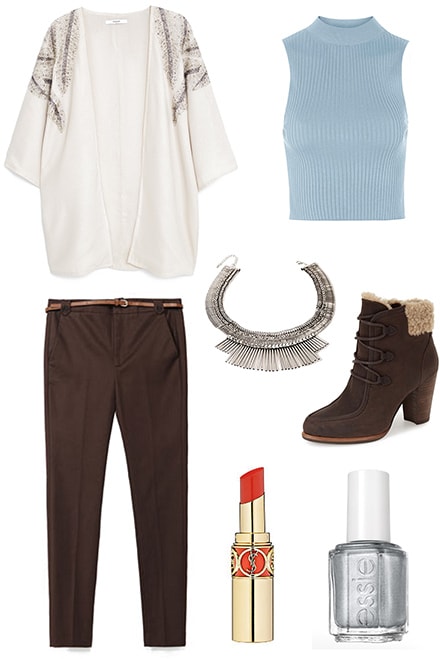 Products: Kimono sweater, Trousers, Sweater, Boots, Lipstick, Necklace, Nail polish
What do you think?
Would you like a job like Madison? What do you think of her style? Which internships are you looking at right now? We love to hear from you, so don't forget to leave your questions and comments below!