This post may contain affiliate links, which means we may receive a commission if you purchase through our links. Please
read our full disclosure here
.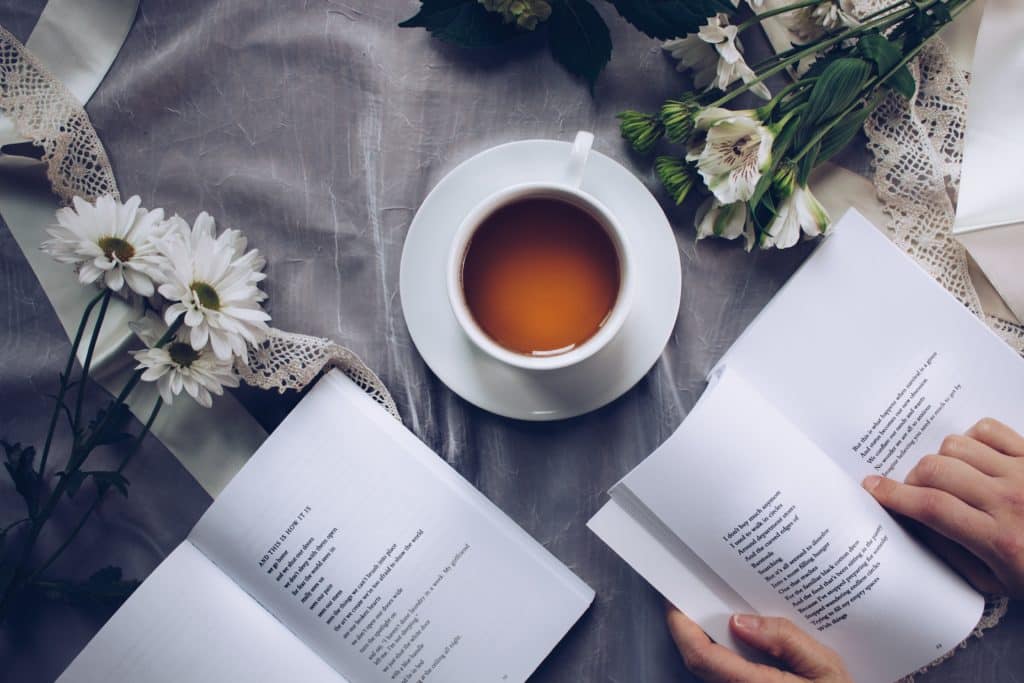 Over the past few years, Instagram has demonstrated itself to be a great platform for artists. There, they can showcase their work and share it with the rest of the world.
Poetry is no exception, and as a matter of fact, many Instagram poets, such as R.H Sin, Atticus, and Samantha King Holmes, started out sharing their words on Instagram and then went on to become successful published authors. (With some of them, such as Atticus, never even having to reveal their identity!)
I had always loved poetry, but for a long time, I struggled to relate to it on a deep, personal level. This was because most of the authors I was reading wrote their poems decades, or even centuries ago.
About two years ago, I discovered R.H Sin's words of wisdom on Instagram, and that changed. I got hooked on those simple, yet powerful words. His words really spoke to me, and they helped me through many heartbreaks and difficult situations.
I went on to discover other poets such as Atticus and K.Y. Robinson, and again, their words helped me look at my issues with some perspective. They helped me to realize my worth as a young woman in this world.
Instagram poetry topics can vary a lot, ranging from friendships to relationships, family, how to figure out what you want out of life, how and why to leave toxic relationships, and even some very interesting reflection on what it means to be a poet nowadays.
Here at CF, we believe art and fashion are intricately linked. Therefore, I wanted to celebrate Instagram poetry with some fashion inspiration.
Below, I chose three poems that gave me vivid images of three different kinds of girls, and I created some outfits inspired by them.
1. Brown Liquor Girl – R.H Sin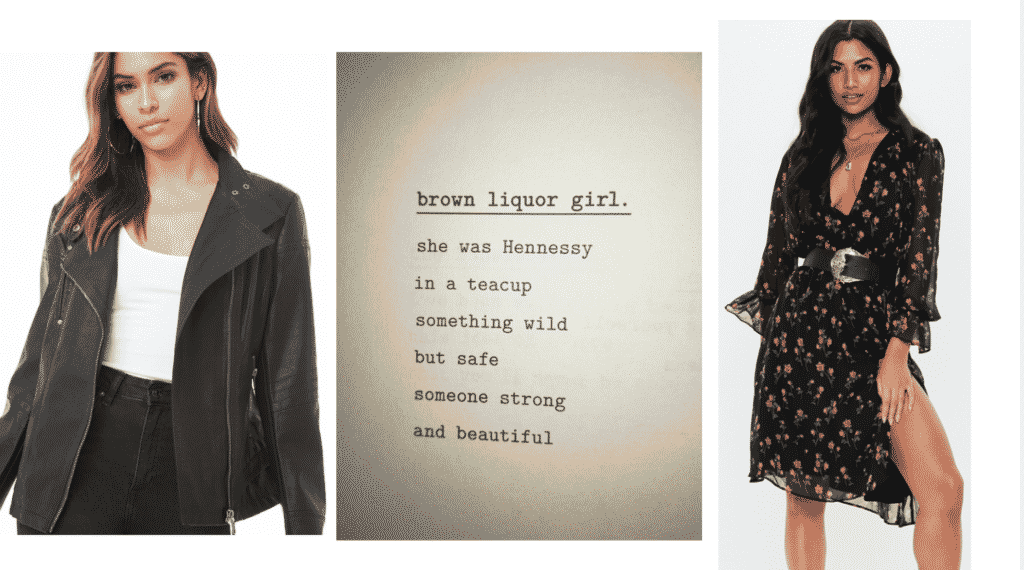 Products: Faux Leather Jacket – Forever 21, Midi Floral Dress – Missguided
For me, this poem is about a girl who is fierce, adventurous, and strong-headed, but who has a sweet side.
This outfit, which features a bold split midi dress and a faux leather jacket, is edgy, yet sweet, thanks to the floral print. This is a great outfit if you're looking to add some edge to your wardrobe, and it would look great for day or nighttime events!
2. Rose Quartz – K.Y Robinson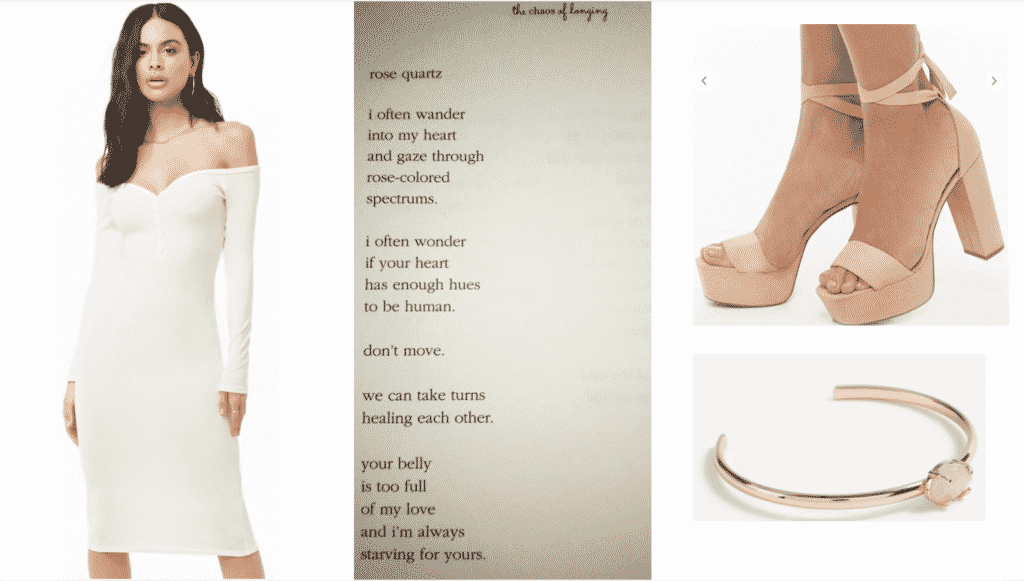 Products: White Dress – Forever 21, Nude Heels – Forever 21, Rose Quartz Bracelet – Topshop
I see this poem as bittersweet. It seems to be dealing with one-way love, yet there is hope with the verse ' we can take turns healing each other'.
As soon as I read the first line, I thought about rose quartz jewelry, which I then paired with an off-white body-con midi dress and nude platform heels.
I can picture the type of girl in the poem — she's on a date, looking like she's happy and has everything together at first glance, but it doesn't mean she feels that way on the inside.
3. It Took Me a Long Time – Atticus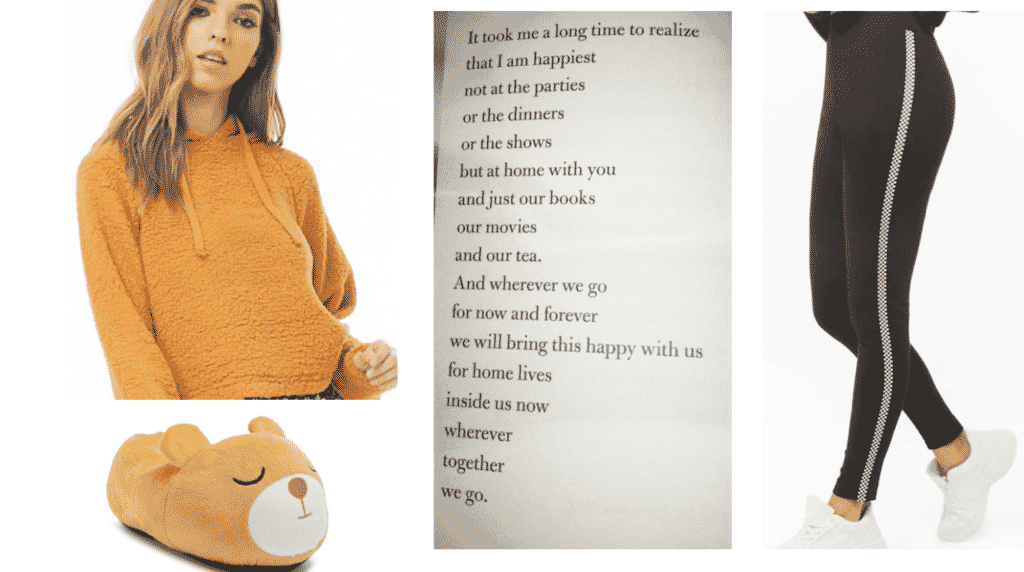 Products: Sweater – Forever 21, Leggings – Forever 21, Slippers – Forever 21
Finally, a cute, feel-good poem about a cozy kind of love. It's a nice reminder that being happy in love doesn't have to mean going somewhere (and posting about it on social media). It can be lying on the couch, reading on a rainy Sunday afternoon.
Here's a perfect outfit for staying in and Netflix-ing, namely a fuzzy hoodie, comfy slippers, and a pair of cute leggings.
What do you think of Instagram poetry?
Do you read Instagram poetry? Who's your favorite poet? Let us know in the comments section.