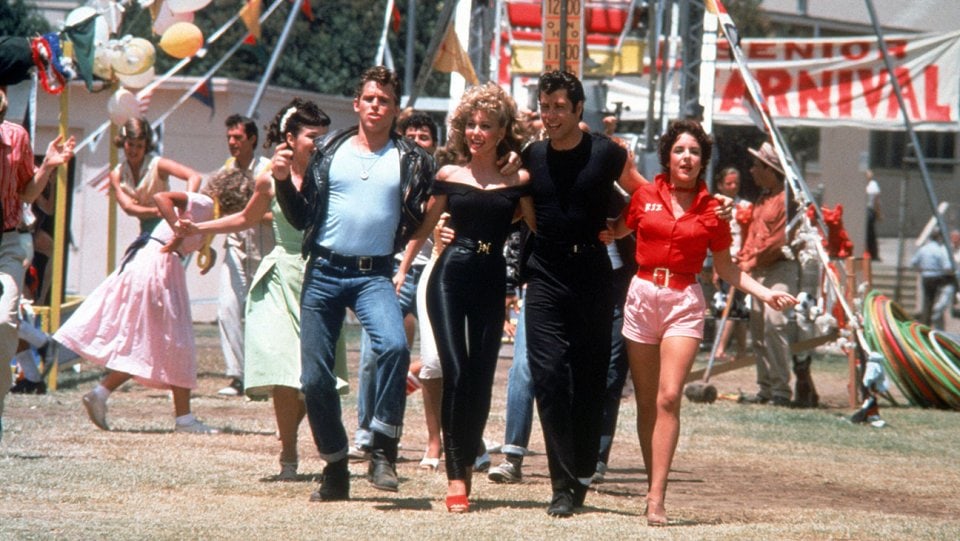 In this week's installment of 10 More Movies for Fashion Inspiration, we'll be looking at the fashion from the film Grease.
Although it was filmed in 1978, this movie musical is set in the 1950s, and features fabulous '50s fashion. The film follows good girl Sandy (Olivia Newton John) and bad boy Danny (John Travolta), two teenagers who fall in love over the summer. Come fall, after discovering they now attend the same high school, the two have to decide if they should rekindle their romance or go their separate ways.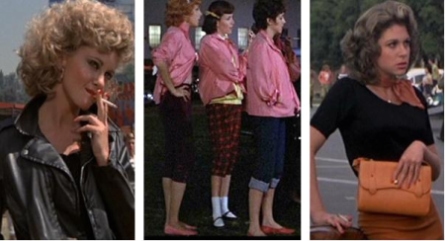 What Style of Clothes Did Sandy Wear in Grease?
Sandy's style in the film starts out sweet and innocent, with full skirts and sweater sets, but turns bad girl chic by the ending credits. Her look is definitely inspiring! However, Sandy is not the only one with great style in this film — the four Pink Ladies each have their own individual look. Their style is a little bolder with fitted pencil skirts, cropped pants, cat-eyed glasses and, of course, their signature pink jackets.
If you want to try and copy the fun outfits found in Grease, check out these three outfits inspired by the film:
Outfit #1: Summer Lovin'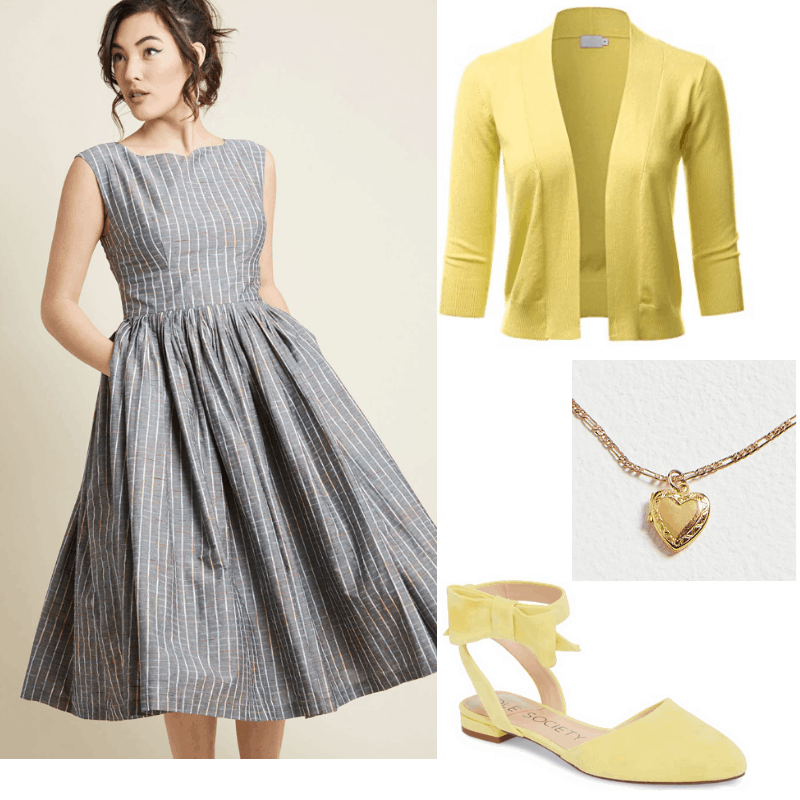 Products: Dress – ModCloth, Cardigan – Amazon, Necklace – Urban Outfitters, Shoes – Sole Society
This outfit captures the innocent look Sandy has in the beginning of the film. The '50s-inspired fit-and-flare dress has a conservative, classic vibe, yet is still ultra-feminine and figure flattering. A yellow sweater provides a cheerful pop of color, while coordinating, bow-adorned flats and a golden heart locket finish the sweet and girly look.
Outfit #2: Pink Lady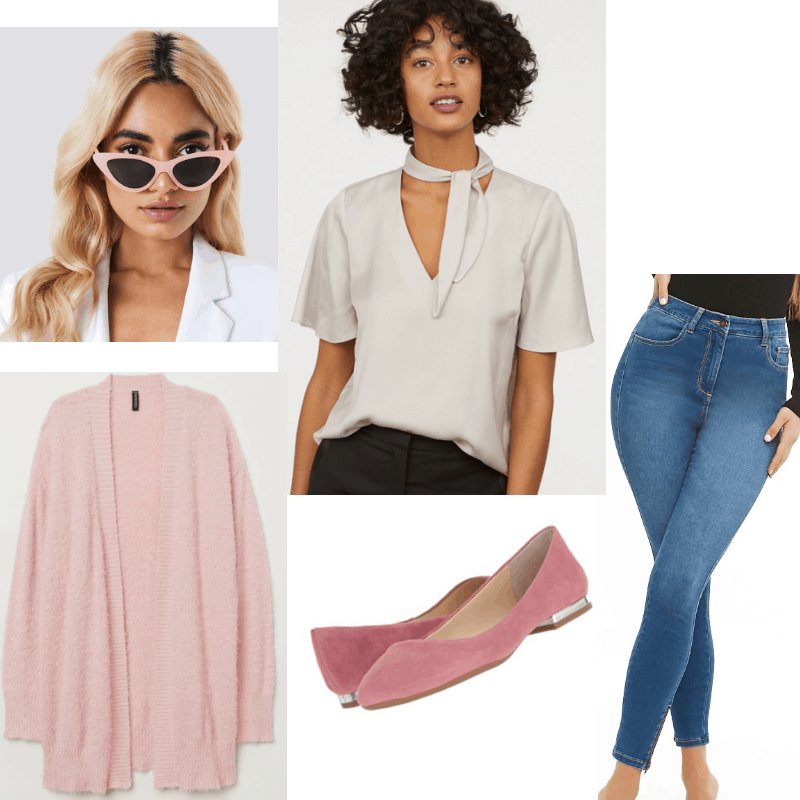 Products: Blouse – H&M, Jeans – Forever 21, Cardigan – H&M, Shoes – Jessica Simpson, Sunglasses – NA-KD
Instead of going with a literal pink jacket, I chose a cardigan in a soft pink color to recreate the Pink Ladies look in a more subtle way. A simple yet chic blouse with a tie-neck detail and a pair of cropped jeans capture 1950s casual style. Slip on these adorable pink flats and matching cat-eye sunglasses and you'll fit right in with Rizzo, Frenchy, and the rest of the Pink Ladies.
Outfit #3: You Better Shape Up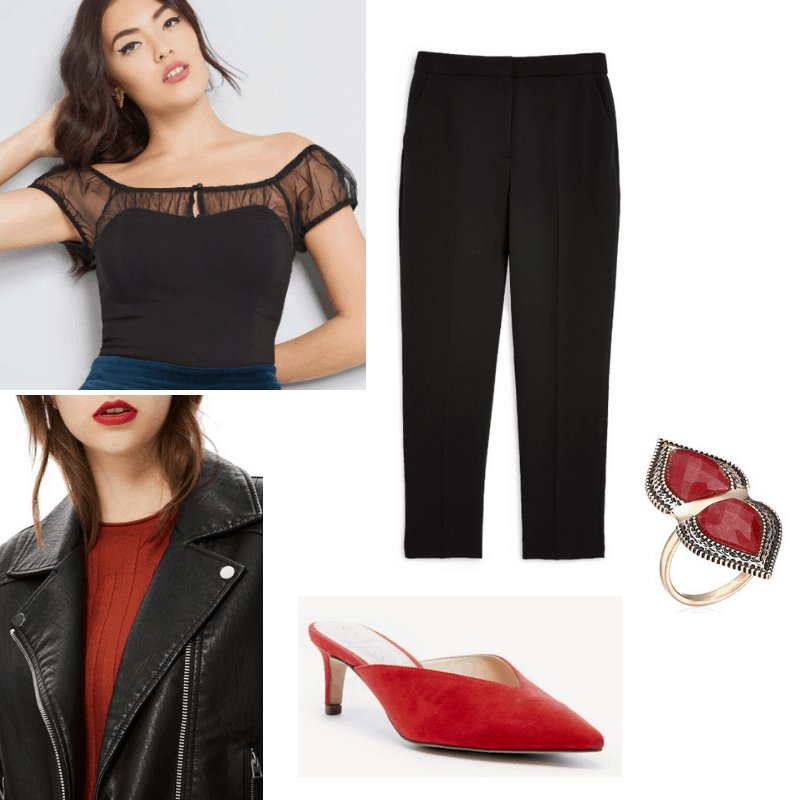 Products: Top – ModCloth, Pants – Topshop, Jacket – Nordstrom, Shoes – Sole Society, Ring – Barse
By the end of the film, Sandy's style has changed from good girl to badass bombshell. This look is an interpretation of the last outfit she wears in the movie. This black off-the shoulder top shows just enough skin in a fun shape. Cigarette pants, which were popular in the '50s, really showcase these red heeled mules. Add a tough, faux leather moto jacket and accessorize with a bold ring to complete the look.
Feeling inspired?
What do you think of the different styles found in Grease? Do you like Sandy's style? Who is your favorite Pink Lady? Do you think the outfits capture the look and feel of the film? Leave a comment and let us know!
Editor's note: This post was originally published in 2010; it was updated and revamped in 2022 with new information.

Relates posts: