This post may contain affiliate links, which means we may receive a commission if you purchase through our links. Please
read our full disclosure here
.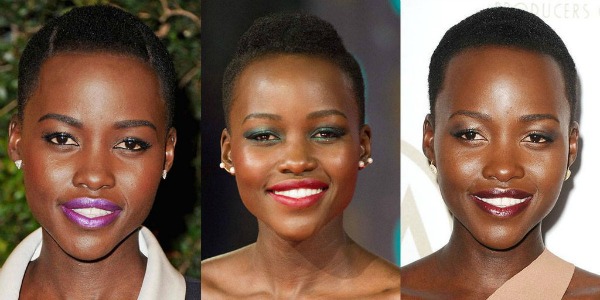 Photo Credit: ELLE
Be patient as I state the obvious: Lupita Nyong'o is a fashion queen.
This it-girl broke out in last year's film 12 Years a Slave (for which she nabbed an Oscar for Best Supporting Actress) and has been slaying red carpets and roles ever since. The most buzzed-about fashionista last awards season, her game has stayed strong, from becoming a face of Miu Miu to looking great as a presenter at this year's awards shows.
The amazing thing about Lupita is that she's fearless. Most newcomers just want to fit in, and take a while to warm up to flawlessly-fitted, trendsetting red carpet fashion. Not Lupita. From the moment she made her red carpet debut, she has taken risks with trends, colors, and prints and worn a wide variety of designers. She'll never fall into a fashion rut.
Sure, her glamorous ensembles are super-pricey, formal, and one-of-a-kind. But you can let her style inspire you and make it work for your real life and budget. Here's how to snag three of her all-time best looks – for less!
Pastel Prada at the 2014 Oscars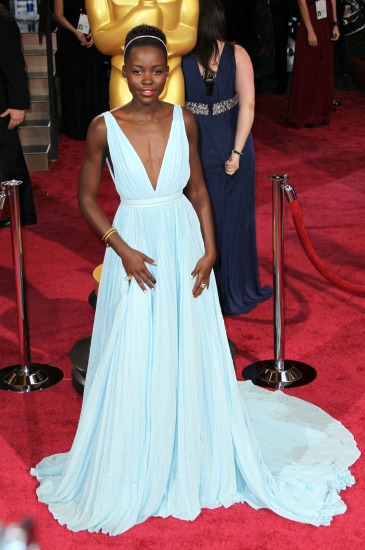 Photo: Pacific Coast News
Lupita may have rocked this dress a full year ago, but pastel blue (or, as Lupita dubbed it, Nairobi blue) is now one of the hottest colors for 2015. Don't have an occasion to wear a plunging pastel gown coming up? Rock a shorter version to next weekend's dance.
The plunging neckline and color of this dress are so unique, and you could style it several different ways, including edging it up with black tights and booties or pairing it with other pastels. But to take a cue from Lupita, keep it pretty and playful with stacks of sparkly jewelry and an outfit-making headband. Even the simplest one is a unique choice for evening, as long as it has some shine.
Don't be afraid to mix vibes – the dress may be super-girly, but Lupita accented her version with a trendy snake cuff. Little studs, a few stacked rings, an updo and nude heels finish the look.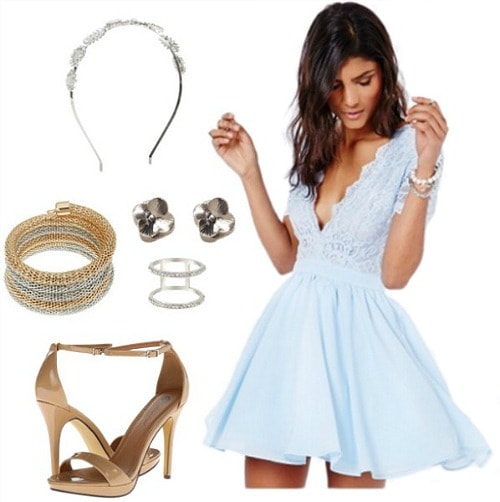 Product Info: Dress–Missguided, Shoes–Zappos, Headband–Monsoon, Earrings–The Limited, Ring–Nordstrom Rack, Bracelet–Lord & Taylor.
Floral Giambattista Valli at the 2015 Golden Globes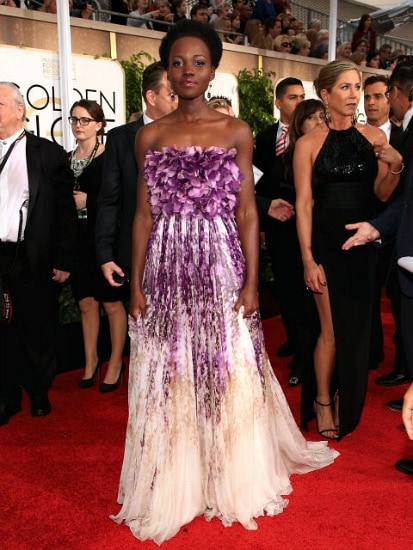 Photo Credit: ELLE
This powerful purple gown landed Lupita on CF's Golden Globes best dressed list this year. While this Giambattista Valli number is totally unique, we can take away two major style lessons to use in our own looks:
1) Don't shy away from prints for evening.
When I see a celeb wearing a printed gown on a red carpet, they immediately earn my respect. Too often, black-tie occasions are dominated by solids – particularly red and black. In the right fabric and fit (think dressy, flowy materials or thick fabrics with lots of structure), prints, especially florals, are a bold risk that pays off.
I LOVE the (much more affordable) purple floral dress from ASOS below, and think Lupita would also approve.
2) Go matchy-matchy once in a while.
My favorite thing about this look is the way it's styled. It would have been easy for Lupita to keep the rest of her look neutral, with a metallic clutch and diamonds. But no – she takes it up a notch by matching her clutch, earrings, and eyeshadow to the purple flowers on her gown.
Once you've risen to the challenge of a dressy print, don't back down. Go all out by echoing the colors in your accessories. This doesn't just apply for formalwear – it's my favorite way to style prints for daytime, too.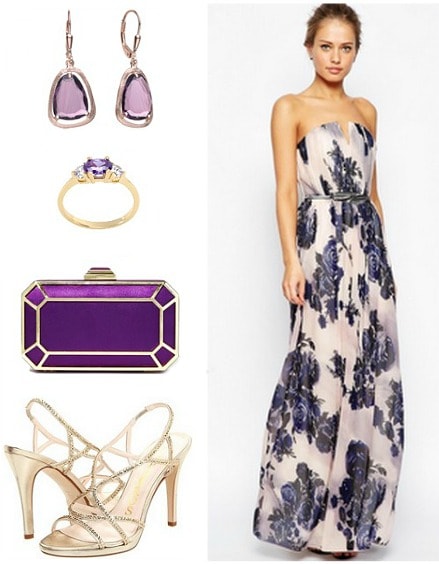 Product Info: Dress–ASOS, Shoes–6PM, Clutch–Charming Charlie, Earrings and Ring— Overstock.
Head-to-toe Miu Miu at the Fall 2014 Miu Miu Show

Photo Credit: ELLE
I melt a little bit looking at the styling perfection of this look (check out more pics here). It's all so genius and unexpected and beautiful… sigh.
Okay I'm back. How do you attain this perfection, you ask? By mixing solid separates in different textures but from the same color family, then using them as a base for knockout accessories.
The contrast between Lupita's dressy, shiny skirt and more conservative knit jacket is key. Far from not making sense, it actually makes the look more versatile – you could look at it as dressing up the sweater for a date or toning down the evening skirt for brunch, since we don't all get invited to sit front row at the Miu Miu show.
Even with the awesome accessories, all solids could get a bit boring, so Lupita was smart to let an embellished collar peek out, starring as the focal point of the ensemble. An embellished collar top is a great basic to have in your wardrobe. It looks just as chic alone with jeans and ballet flats as it does creatively peeking out from under all your sweaters and dresses.
Lupita could have stopped there and had a great outfit – but instead she realized the solid colors and clean lines were a perfect canvas for a few statement accessories. Her big, dark, cranberry-hued sunglasses are chic and match the rest of the look. Dangly gemstone earrings complement, but don't compete with, her blinged-out collar. A snake-print bag adds a new texture to the already eclectic mix (it's more like a neutral texture than a print), while white pumps are neutral but still unexpected. Perfection.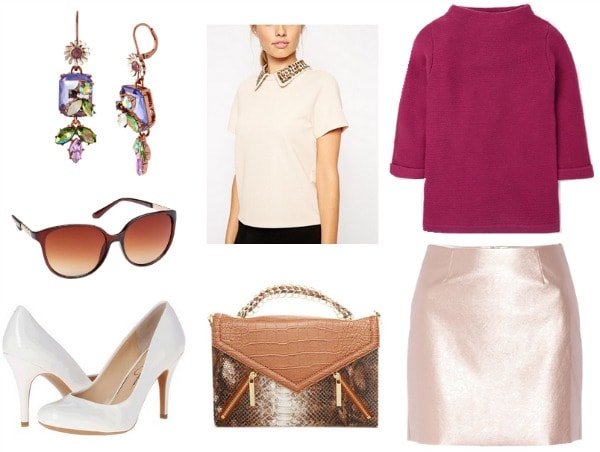 Product Info: Sweater–Boden, Top–ASOS, Skirt–House of Fraser, Shoes–6PM, Bag–Macy's, Sunglasses–Charlotte Russe, Earrings–Betsey Johnson.
What do you think?
Do you love Lupita's style as much as I do? What are some other looks of hers that you love? Would you wear these outfits? Do they work for your life? Let me know in the comments!