This post may contain affiliate links, which means we may receive a commission if you purchase through our links. Please
read our full disclosure here
.
Okay, so one thing I've discovered while writing this travel blog is that most potential destinations are gritty and terrifying. That's okay! With Halloween right around the corner, a wild ride can be fun. However, I've realized that almost all the trips I've planned involve some sort of intense peril, and I think it's time I give you all a break.
So tell me. Are you stressed out from your classes? Do you need a soothing vacation where you can relax and blow off some steam? Look no further than the sunny, temperate Mushroom Kingdom. A colorful, chipper land with a crew of friendly and adorable residents, it's the perfect place to take a break from it all.
Reasons to Love the Mushroom Kingdom:
You'll meet the best people. Some of the famous residents that you should look for are Mario, Princess Peach, Luigi, Toad, and Yoshi!
It's probably the most chipper place in the universe. In addition to the bright colors and excessive use of polka dots, the kingdom has catchy, upbeat music constantly playing in the background. No matter where you go, you can't escape it.
There are a few villains like Bowser and his Koopas that you'll have to contend with, but don't worry. Nobody takes them seriously at this point.
Yoshi-Back Riding
To start off your vacation, try out one of the most popular activities in the kingdom. It's like horseback riding except with a mini dinosaur, so it's way better.
Yoshis come in a rainbow of shades and don't seem to mind if you use them for free transportation. The most famous Yoshi, whose name is…also Yoshi (I don't really get it either), is a companion of Mario's, but there are lots of others to meet and explore with. Try a scenic ride through the bouncy Mushroom Gorge.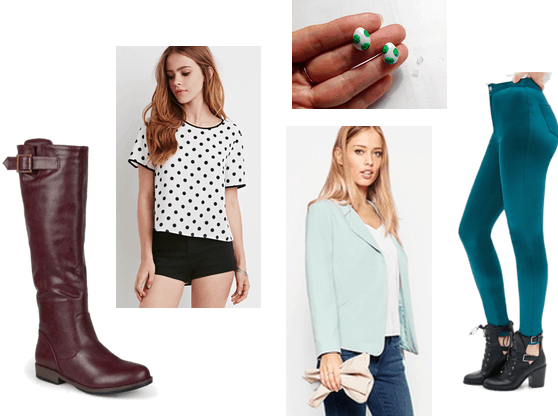 Products: Boots, Top, Earrings, Blazer, Bottoms.
Wear a twist on traditional equestrian style by pairing riding boots with a bright blazer and pants. You don't want your Yoshi to steal all of the attention, so go for eye-catching colors. A polka-dotted shirt will help you fit right in, and these Yoshi egg earrings will pay homage to your generous ride.
Rainbow Road
If you're a fan of Mario Kart, then it's time to step up and try the real thing. Racers in the Mushroom Kingdom compete on intricate track with infinite drops, hair-pin turns, and banana peels that can trip you up. Also, you can throw flying turtle shells at people, so there's that.
Don't worry, though! It's actually a family-friendly activity. If you fall off the road, you'll be instantly transported back up without a scratch on you.
Products: Dress, Driving Gloves, Heels, Earrings, Bag.
Probably the most famous (and definitely the most fun) course is Rainbow Road, a multicolored space course full of scary corners. This dress is on the pricier side, but it'll look fantastic with your holographic surroundings. Silver accessories, like these funky driving gloves, will help you match the undeniable glam of the floating byway.
Defeating Bowser
I know I said no danger, and I meant it. That doesn't mean you won't get a little adventure, though. It's likely that the evil Bowser will do something to mess with your vacation, like kidnapping Peach. But rescue missions in the Mushroom Kingdom are actually a great exploring opportunity!
If he asks, definitely head out with Mario to stop Bowser. Think of it as a hiking tour with a low-risk fight at the end. Seriously, I can't stress this enough. You're going to be fine. Mario's always got this under control.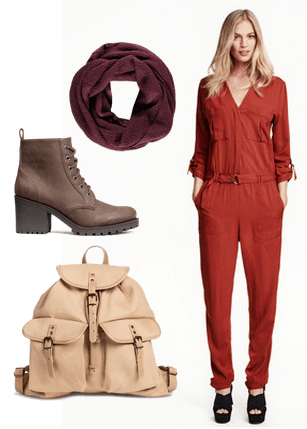 Products: Boots, Bag, Jumpsuit, Scarf.
Wear something comfy for your trip. Mario usually goes for overalls, but you can try a loose jumpsuit and a pair of lace-up boots. The circle scarf will keep you warm if you find an ice flower, and the backpack will help you carry any other power-ups or shells you collect.
What do you think?
If you could visit the Mushroom Kingdom, where would you go? What do you think of the outfits? Let me know!