In case you've lost track, it's time to start getting ready for Halloween. That means picking a pumpkin, drinking PSLs, and getting prepped to haunt a village or two.
What? Isn't that everyone's fall ritual?
Halloween is the time for nice, innocent people to pick costumes for trick-or-treating, but it's also the ideal time of year for monsters to terrify the nation.
To all you perspective Draculas and Frankensteins trying to get your big break: I know it can be overwhelming. Making it in the terrorizing humans industry takes a lot of hard work.
It's okay if you're struggling to find your way to iconic monster status. We're here to help you look extra-spooky as you haunt creaky old houses or chase irresponsible teenagers through the forest. You'll be all anyone talks about this All Hallows' Eve.
Helpful Tips for the Sensible Ghoul:
Monster looks are all about the statement pieces. Every iconic horror villain has their memorable cape/clown wig/mother's clothing. If you want the fame and fortune, you need that eye-catching element that's instantly recognizable.
Though you'll surely be engaged in lots of supernatural battles, practicality and movability aren't major priorities. You can just use whatever evil magic skill you have to make up for your ridiculous shoe or dress choices.
This may seem obvious, but there are too many mediocre monsters out there, so it's worth saying: It's all about the fear. You can be refined scary, gross scary, sexy scary or any other kind, but be scary!
The Vintage
You can't go wrong with the Stoker-era monster look. There's a reason that these are the staples we go back to year in and year out. You won't be the most groundbreaking monster on the block, but the look is tried and true, and the classics never go out of style.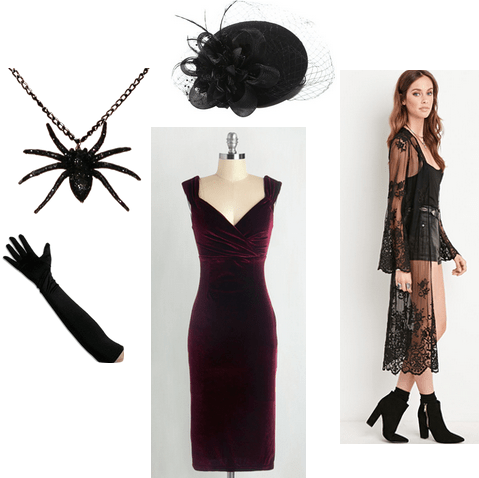 Products: Dress, Gloves, Necklace, Hat, Lace Cardigan.
Channel the elegance of a monster era gone by with a blood-colored dress, dark gloves, and lacy black fabric. Add a giant spider pendant that may or may not come to life.
The Campy
Muted and sophisticated are nice for the office, but when it comes to picking a monster outfit, it's time to turn up the dial. Wild, campy, and extreme are all more than okay.
After all, you're an evil, supernatural monster hellbent on the destruction of humanity. You're already at the campy place. Embrace it.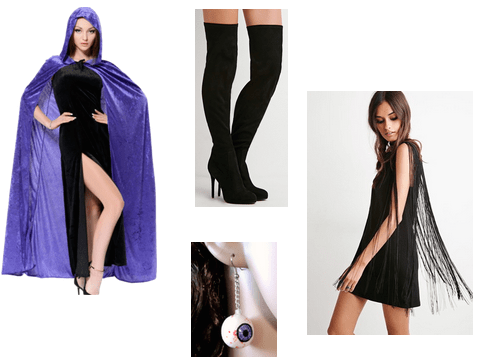 Products: Cape, Boots, Earrings, Dress.
Fringe that trails like eerie fingers or spiderwebs? Check. Velvet purple cape? Check. Knee-high boots that you may or may not be able to move in? Check. Earrings shaped like eyeballs? CHECK, CHECK. This uninhibited monster leaves nothing on the rack, and they're always the life (or death) of the party.
The Modern
Some purists might say that the flare and aesthetic of golden age horror villains has been lost in modern times. Dramatic capes and green skin have been replaced by Freddie Kruger's lazy sweater chic. Don't listen to those haters. A relaxed, modern style can be comfortable, hip and actually even scarier! What's more disturbing about Freddie? His six-inch claws or his alarmingly casually fedora?
Okay, maybe the claws are scarier. But an understated outfit can be unexpected and therefore creepy.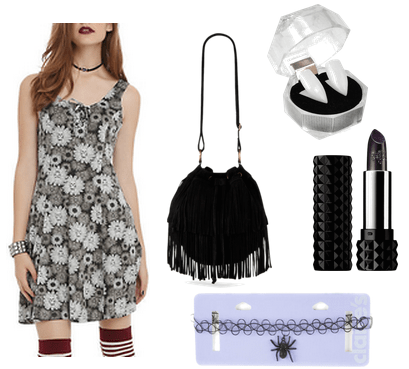 Products: Dress, Bag, Necklace, Fangs, Lipstick.
This flower/skull dress is a great subtle but terrifying piece. You can't tell they're skulls until it's too late to escape! You'll look far more effortless and cool than your try-hard counterparts as you stalk the night looking for humans to eat.
What do you think?
Are you ready to take your place in the ghostly hall of fame? Do Would you wear any of these looks this Halloween? Let me know.