This post may contain affiliate links, which means we may receive a commission if you purchase through our links. Please
read our full disclosure here
.
Every week, I scour the web to find inspiring outfits on your favorite celebs and help you recreate their looks! This week, I was inspired by Hailey Bieber, who loves to rock bright colors.
We've covered Hailey Bieber's style before on CF, so read that post for a guide to her look. Then read on below to see how to get some of her recent looks.
Here's our guide to getting Hailey Bieber's outfits for yourself:
Hailey's Colorful Chic
Hailey Bieber is a street style queen, and her looks often feature bright, bold colors.
Last week, Hailey wore an oversized mustard yellow blazer with a light blue ruched crop top and turquoise mules for a playful yet chic look.
She also sported a pair of asymmetrical fly straight-leg jeans, angular black sunglasses, and chunky gold hoop earrings.
Hailey Bieber Outfit #1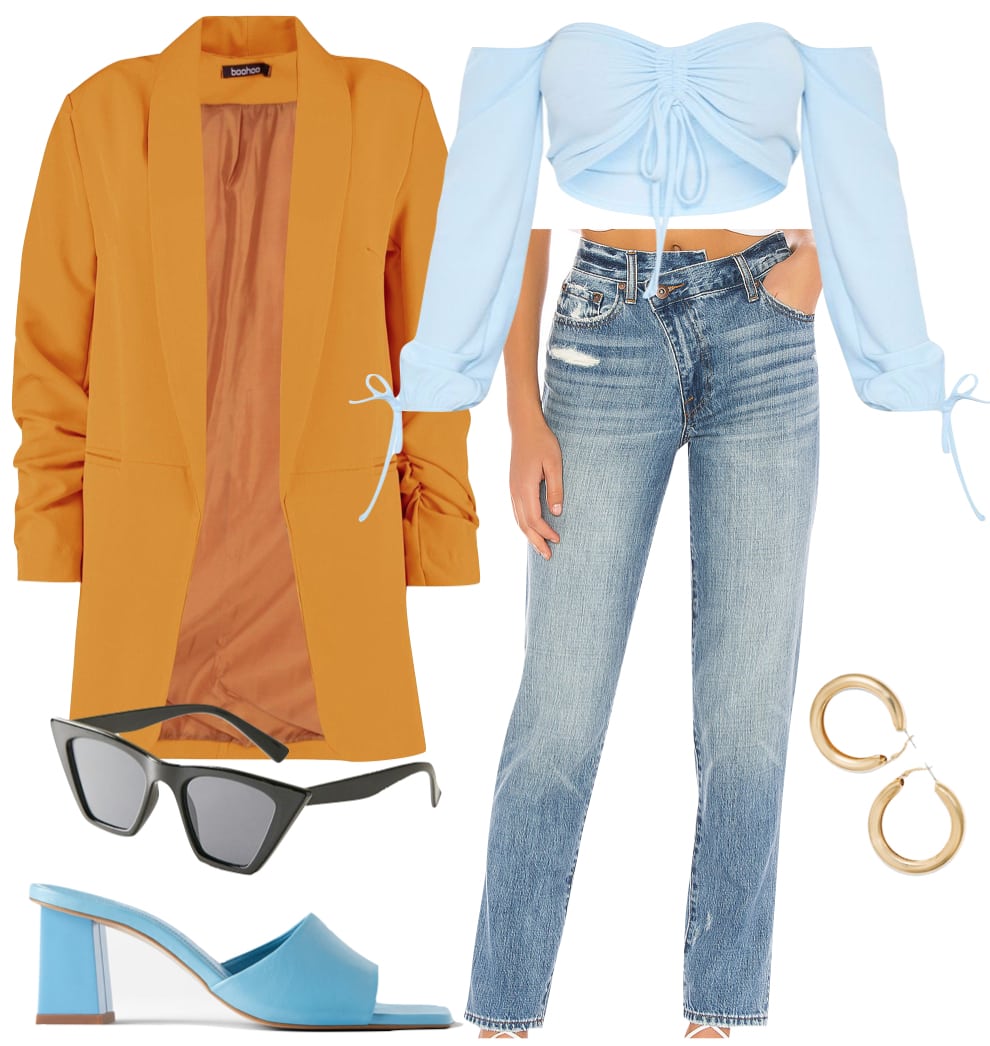 Products: Blazer – Boohoo, Top – Pretty Little Thing, Jeans – Revolve, Earrings – Target, Sunglasses – Urban Outfitters, Mules – Zara
Take a cue from Hailey and have fun pairing colors together that you wouldn't normally think of, like blue and yellow.
A mustard yellow oversized blazer gives a more polished vibe to a baby blue ruched crop top.
While regular straight-leg jeans work, these jeans with a crisscross fly are similar to Hailey's and add extra trend appeal to the ensemble.
Add one more pop of color as Hailey did with some fun turquoise mules.
Finally, accessorize with some of Hailey's favorite pieces: thick gold hoop earrings and angular black sunnies.
Hailey's Colorblock Cool
In the same week, Hailey went out and about with her hubby Justin Bieber wearing another look featuring contrasting colors.
Hailey rocked an orange and turquoise blue colorblock crop top with some loose-fitting jeans and her turquoise mules.
She also wore some orange lens metal sunglasses and her signature chunky gold hoop earrings.
Hailey Bieber Outfit #2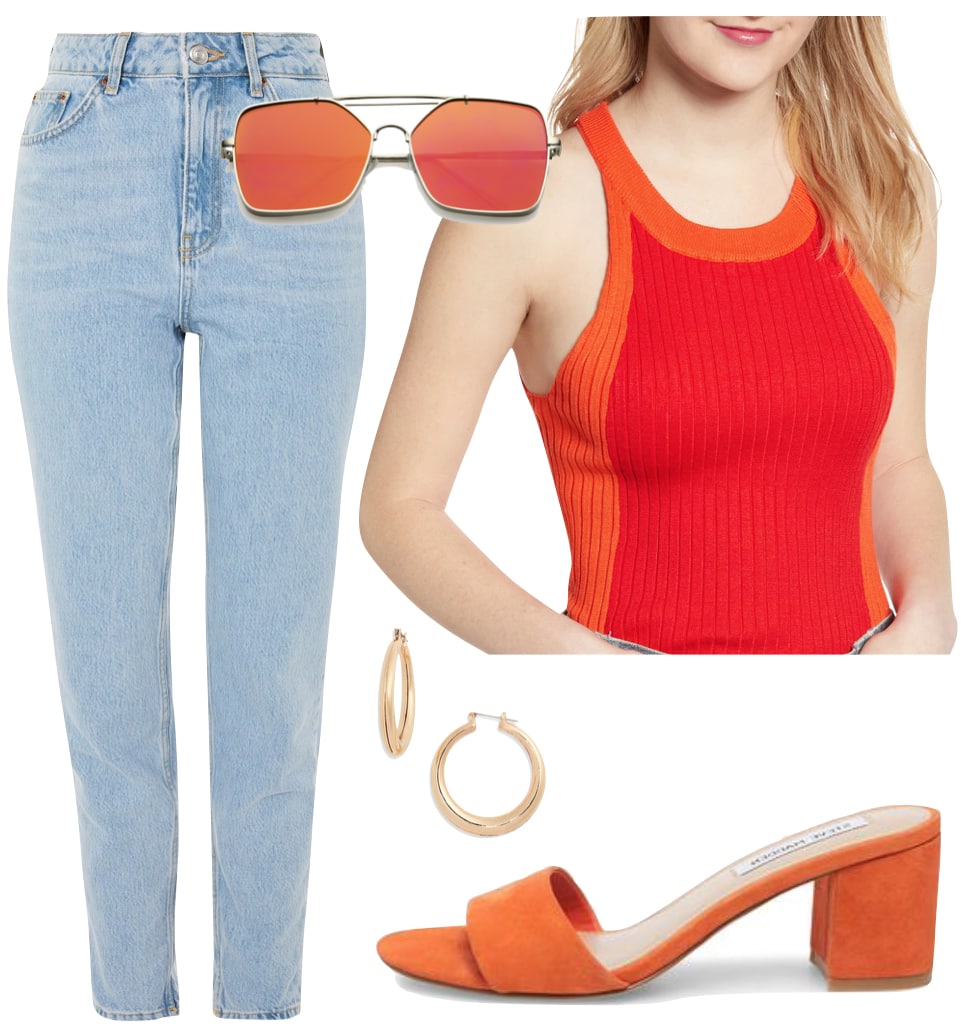 Products: Jeans – Topshop, Top – Nordstrom, Sunglasses – Zero UV, Earrings – Nordstrom, Mules – Steve Madden
Hailey's eye-catching ensemble is perfect for the end of the summer season.
To get her look, opt for a colorblocked tank top featuring bright hues. This ribbed red tank features orange paneling with a similar design to Hailey's top.
Pair it with some light wash mom jeans and single-strap mules which feature a color from the top (in this case, orange).
The color doesn't stop there: don't forget a pair of orange lens sunglasses to achieve Hailey's vibe, plus some chunky gold hoop earrings.
Hailey's Casual Color Clashing
Hailey's colorful outfits did not stop there: that week, she was also spotted wearing a casual look complete with neon green Gucci shades.
Hailey wore a mustard yellow ribbed tank top with some black floral print straight-leg jeans, black Vans low-top sneakers, and Chanel drop earrings for a cool, unexpected look.
Hailey Bieber Outfit #3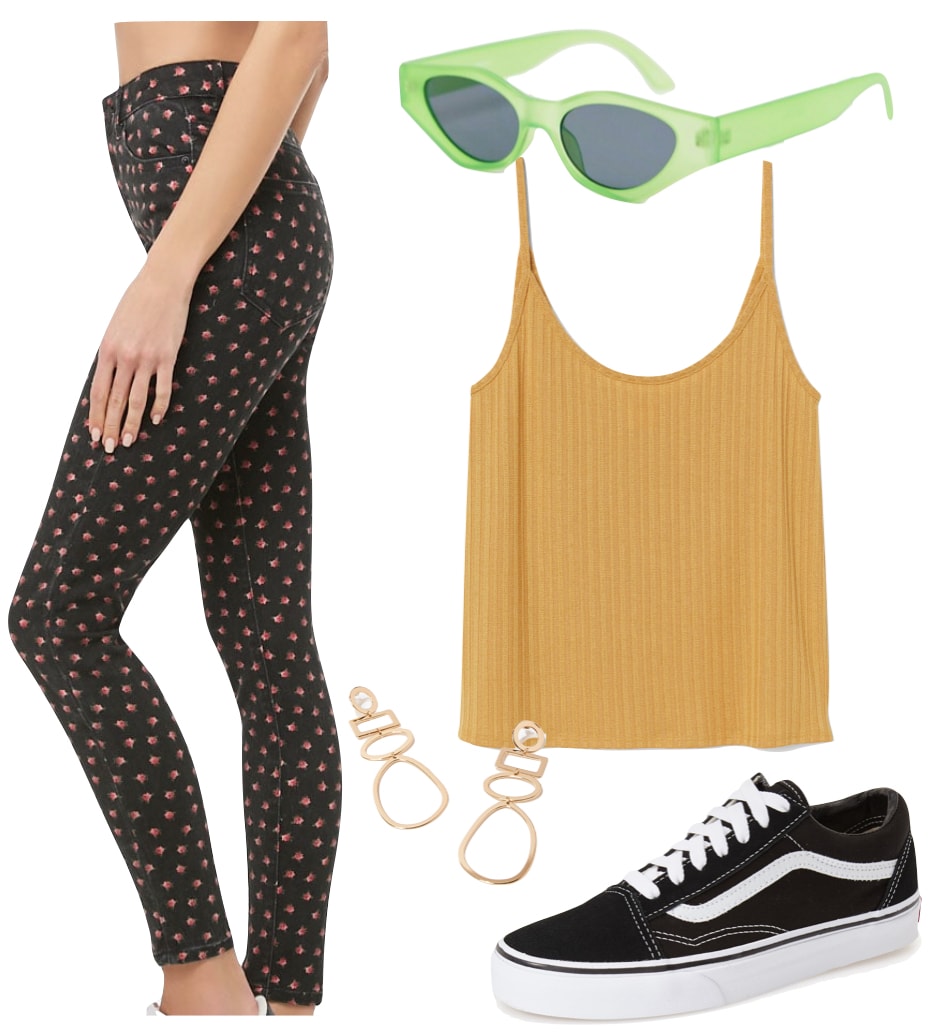 Products: Jeans – Forever 21, Top – H&M, Sunglasses – Asos, Earrings – Forever 21, Sneakers – Nordstrom
Mix and match like Hailey by wearing some black floral print jeans with a mustard yellow ribbed tank top.
To keep the outfit super laid-back, wear some skate-inspired low-top sneakers like a pair of Vans Old Skools.
While Chanel drop earrings aren't the most attainable, you can get achieve a similar vibe by wearing some geometric drop earrings.
Complete the outfit with some fun neon green oval sunglasses for that bold, Hailey-inspired contrast.
What do you think?
Which outfit would you be most likely to wear? What other celebs would you like to see featured? Leave a comment and let us know!