This post may contain affiliate links, which means we may receive a commission if you purchase through our links. Please
read our full disclosure here
.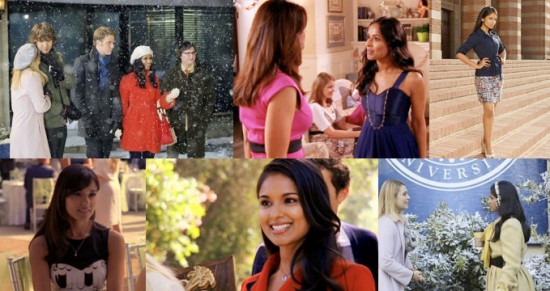 Over the last two weeks, we've covered the styles of both Casey Cartwright and, her best friend, Ashleigh Howard, from ABC Family's hit show Greek. This week, a third ZBZ sister, Rebecca Logan is the focus!
In the early seasons, Rebecca was very guarded, sarcastic and cold to her sisters, but over the years she has gone through a major transformation, finally letting her true warmth and humor come through. She ended the series on much better terms with the other Greek girls than when she first enrolled at Cyprus-Rhodes University.
Rebecca's Style
Over the years, Rebecca's style has transformed and matured along with her character. The daughter of a senator with an unnervingly strong personality, Rebecca's style is a perfect mix of conservative, edgy and feminine. Polos, oxfords and dresses are all staples of her wardrobe, and her looks are always pulled together with a headband and a classic string of pearls. In keeping with her perfectly put-together looks, Rebecca's hair and makeup are always flawless.
Nautical Prep
Although Casey and Rebecca both love adding a cardigan to most outfits, Rebecca's looks are always a bit more unique than Casey's classic blouse-and-cardigan combinations. This particular look pairs bright yellow, classic navy and unique jewelry and embellishments to really make a statement.
This ensemble is a great inspiration, not just for the crisp color palette but also for Rebecca's modern, layered take on a pearl necklace. Look for styles with multiple strands, a brooch or flower, or multicolored beads – perfect updates to an old favorite!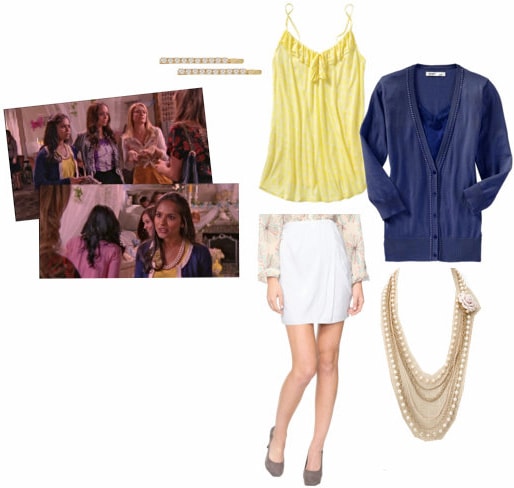 Product Information: Bobby Pins – Forever 21, Tank – Old Navy, Cardigan – Old Navy, Skirt – Forever 21, Necklace – Charlotte Russe
The Classic Polo
In keeping with Rebecca's preppy side, this is another look combining bright colors and classic pieces – but with a twist. Rather than pairing a polo with a pair of khaki shorts or a skirt, Rebecca opts for dark wash flared jeans and wooden wedges to complete the look.
Not a polo kind of girl? If the top is too preppy for your style, pair dark flares and wedges with any other top for a stylish but casual look! Wedges will give you height without seeming too dressy, and a great pair of long flares will perfectly elongate your legs (and play to this season's '70s trend).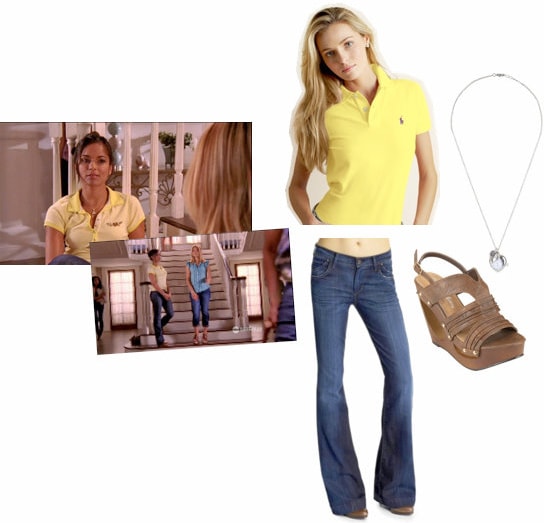 Product Information: Polo – Ralph Lauren, Jeans – Piperlime, Necklace – Forever 21, Shoes – Tilly
Menswear with a Twist
This is by far one of my favorite Rebecca Logan looks. The look is perfectly pulled together with a cardigan, skinny belt and flats, but it's also much trendier than her normal outfits. A romper and a sleek ponytail may seem over-the-top for a senator's daughter, but the neutral colors help keep this look preppy and classic.
This look also fits Rebecca's chic style because the romper is well tailored – it isn't ill-fitted, baggy or sloppy looking. To get this look, when shopping, look for styles in sturdy fabrics that fit you well from top to bottom. Adding a belt will also pull everything together and give you great waist definition.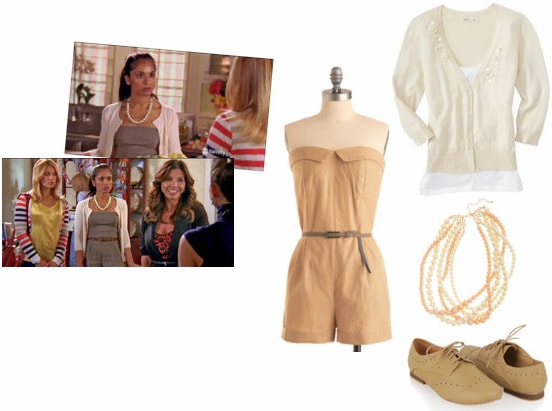 Product Information: Romper – ModCloth, Cardigan – Old Navy, Necklace – ModCloth, Shoes – Forever 21
Pretty Purple
Purple, pink, navy, ruffles – doesn't get much more "feminine prep" than this. With a cardigan and closed-toe shoes, this is also a perfect look for the transition from winter to spring. The color palette is unexpected and stylish, and the white ruffled shirt adds some fun and whimsy to the normally bland cardigan-and-skirt combo.
Chances are, you don't have the cardigan collection that Rebecca does (it is pretty impressive). However, hopefully you have some pieces in your closet in these colors. Instead of black or brown, remix your favorite looks by using navy blue as the neutral – an instant wardrobe update!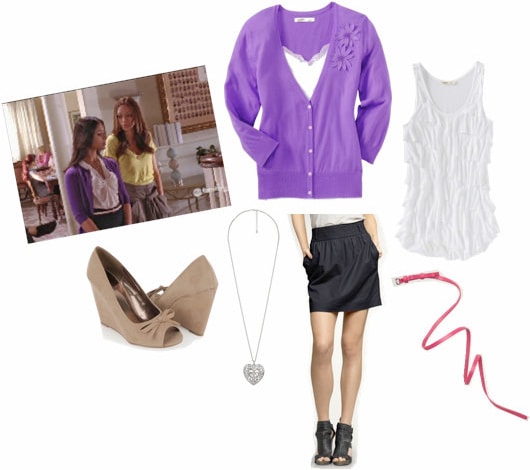 Product Information: Cardigan – Old Navy, Tank – Old Navy, Belt – Gap, Skirt – Gap, Neckalce – Forever 21, Shoes – Forever 21
Tying it All Together
It's obvious that Rebecca's style is fitting for her life as a senator's daughter, sorority sister and privileged college student. Her looks are a mix of preppy classics like polos, pearls and cardigans – but they always have a hint of edge or modernity. Whether it's a high pair of wedges, a borderline military-inspired romper or unique color combinations, Rebecca's outfits always incorporate something unexpected and fun, making them perfect for college students.
Your Thoughts?
What do you think of Rebecca's style? Some of her looks may be more adventurous than Casey's, but she certainly doesn't take as many fashion risks as Ashleigh does. I love to hear your comments and feedback each week – be sure to leave a comment!