This post may contain affiliate links, which means we may receive a commission if you purchase through our links. Please
read our full disclosure here
.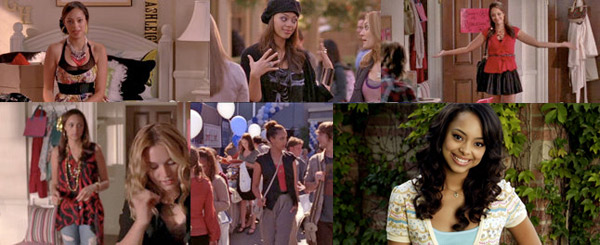 Today, we continue our series on fashion from the TV show Greek. After spotlighting Casey Cartwright's style last week, it seems only fitting to turn our attention to her BFF this week. Ashleigh Howard was Casey's best friend for all four years at Cyprus-Rhodes University, also serving as the President of the (fictitious) ZBZ sorority house. Ashleigh is flirtatious, bubbly and loves to socialize – a perfect complement to her best friend's more conservative personality and style.
Ashleigh's Style
Mirroring her outgoing personality, Ashleigh's outfits are always unique and stylish. She isn't afraid to experiment with different fashion trends or pile on bright accessories. Throughout the seasons, Ashleigh's style has definitely matured, but one thing has stayed the same – she always makes a statement with her clothes!
While normally I'd break down Ashleigh's wardrobe into a few staple pieces, her outfits are always so different that I thought I'd instead create a few specific ensembles inspired by her style. Although her looks are sometimes over-the-top, they're all super simple to recreate on a college budget.
How to Dress Like Ashleigh – For Work
Whether going to class, work, or an event, Ashleigh is always able to dress professionally, while still staying true to her personal style. Granted, she doesn't work for a company that requires her to wear a suit every day, but her outfits can be easily integrated into most work wardrobes!
Outfit 1 – Jacket and Pencil Skirt Combo
A pink blazer, gray skirt and printed blouse? Work attire doesn't get much more fun and feminine than that. This look is so inspiring, not only because of its spring-appropriate color palette, but also because of its unexpected proportions. Grays and pinks are perfect colors for the winter-to-spring transition, and an oversized blazer paired with a mid-length pencil skirt is really unexpected and flattering.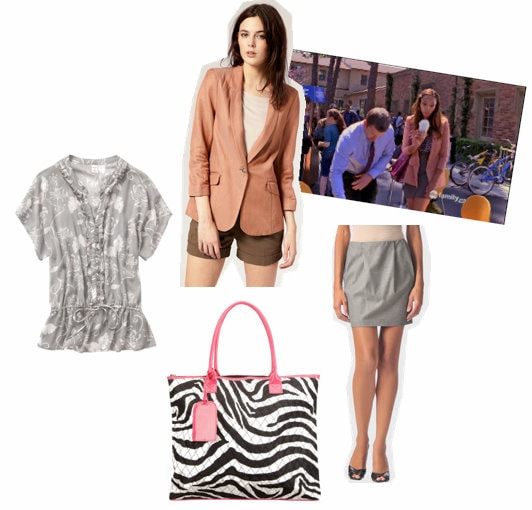 Product Information: Blazer – ASOS, Blouse – Old Navy, Skirt – Yoox, Purse – Nordstrom
Outfit 2 – Red Dress with an Edge
If you aren't a fan of the young, feminine look seen above, this second Ashleigh look screams woman-in-charge. For work or play, a red dress and pumps will always exude confidence. Although this look is meant to grab attention, keep the hemline modest and the neckline high to keep the look office-appropriate, and add a cardigan if it's chilly. (As always, office dress codes will vary, and this look won't be right for every workplace!) The best part about this outfit? It is so easy to wear from day to night – just switch out your cardigan for a great motorcycle jacket.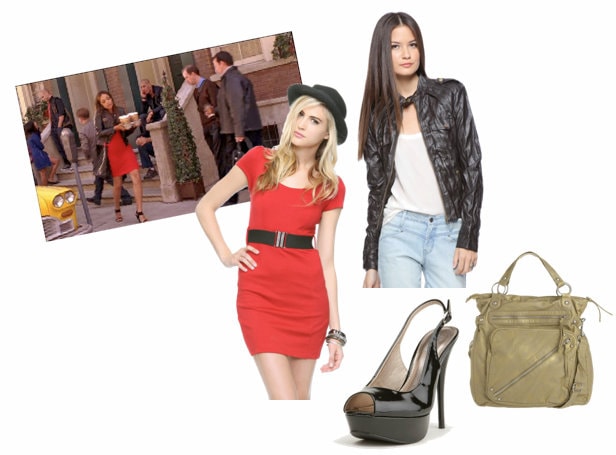 Product Information: Dress – Forever 21, Jacket – Forever 21, Pumps – Charlotte Russe, Purse – Nine West
How to Dress Like Ashleigh – For Play
Ashleigh has a great sense of style, and it shines through the most when she's dressing for a day out on campus. She isn't afraid to add accessories, mix different prints or try different hairstyles – a perfect inspiration for fashion-obsessed college students like us!
Outfit 1 – Pretty Printed Blouse Look
One of Ashleigh's most over-the-top looks, which definitely takes a certain mix of fashion-savviness and courage to pull off, is the one below. Ashleigh took a pretty printed top and made it her own by adding a gold headband, long necklaces, a belt, and distressed jeans. The overall look is fun, young and perfectly reflects Ashleigh's outgoing personality.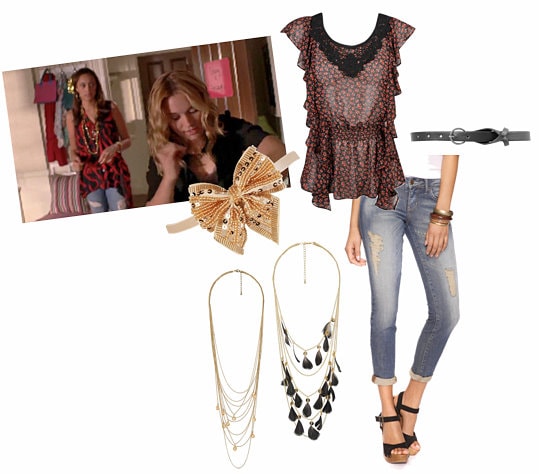 Product Information: All Forever 21 – Headband, Top, Belt, Jeans, Black Necklace, Gold Necklace
Outfit 2 – Harem Pants and a Vest
If the above look is a little too over-the-top for your style, the one below is much more modern and minimal. Ashleigh wore a pair of harem pants with a bright tank and sleeveless vest for a stroll through campus. With a high bun as a finishing touch, the look is sleek and sophisticated. Like the look but unsure about the harem pants trend? Check out Would You Wear… Harem Pants? and Rethinking the Harem Pants Trend for tips on wearing these trendy bottoms!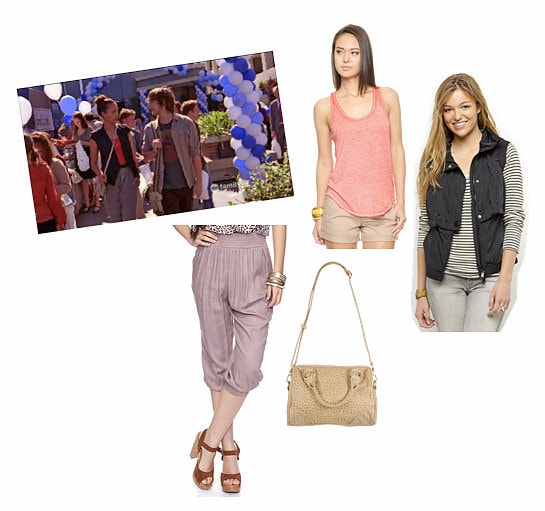 Product Information: Vest – Roxy, Tank – Forever 21, Harem Pants – Forever 21, Purse – Forever 21
Tying it All Together
Ashleigh is confident, opinionated and a social butterfly. Over her four years at Cyprus-Rhodes and in the ZBZ sorority, her style has evolved and matured, without losing its unique qualities. Ashleigh's outfits are always special and she is unapologetic about her over-the-top looks. She's a great inspiration for any college student.
Overall, Ashleigh's style is proof that fashion is meant to be fun – don't be afraid to mix and match different styles, try controversial trends or let your unique sense of fashion shine through!
Your Thoughts?
What do you think of Ashleigh's style? Although she and Casey are best friends, their styles couldn't be more different – which Greek girl's style do you like better? I love to hear your feedback each week, and what characters you'd like to see next, so be sure to leave a comment!