Giorgio Armani's Fall 2015 collection has just the right mix of work wear and warmth. Armani filled the runway with suit pants, blazers, turtleneck sweaters, pointy-toe flats, and bold pops of color to create a welcome departure from typical fall ensembles. This collection is perfect inspiration for a fall/winter internship, or anytime you'd like to look chic in cold weather.
Do you have your eyes on pieces from Armani's Fall 2015 collection? Keep reading for three college budget-friendly outfits inspired by looks from the runway:
1. Sweet Escape
I love a good monochromatic outfit, and this one is so unique. Here, Armani mixes navy blue, sea green, grey blue for a wintery seaside vibe. For a hint of contrast, there's a pop of pink on the handbag.
Get the Look: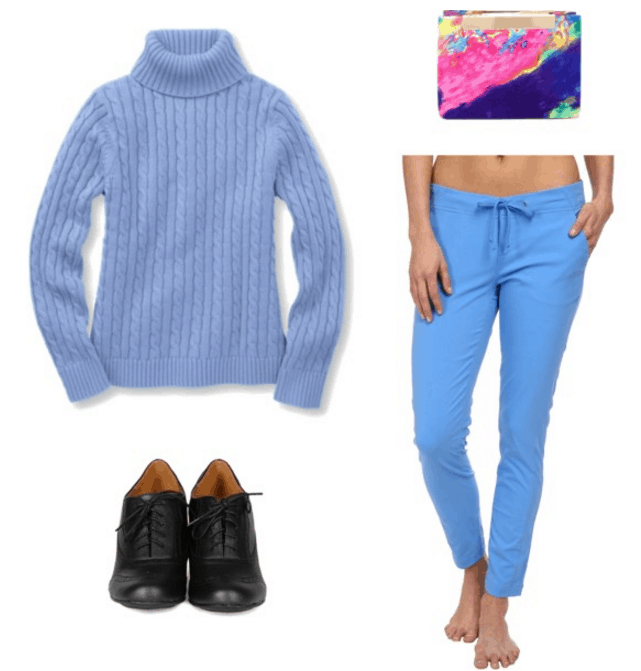 Products: Sweater, Shoes, Purse, Pants
Replicate this look with a bright blue cable-knit sweater. Add harbor blue-colored outdoor ankle pants – they're perfect for almost any weather condition or environment. Step into a pair of lace-up oxford booties, then finish the look with a color burst in the form of a watercolor clutch.
2. All About the Business
This is one of my favorite looks from the collection, the perfect twist on classic workwear. Instead of pairing matching suit pants and a blazer, Armani adds a blue patterned blazer to complement navy satin pants. The additional collar accessory adds femininity to this bold ensemble.
Get the Look: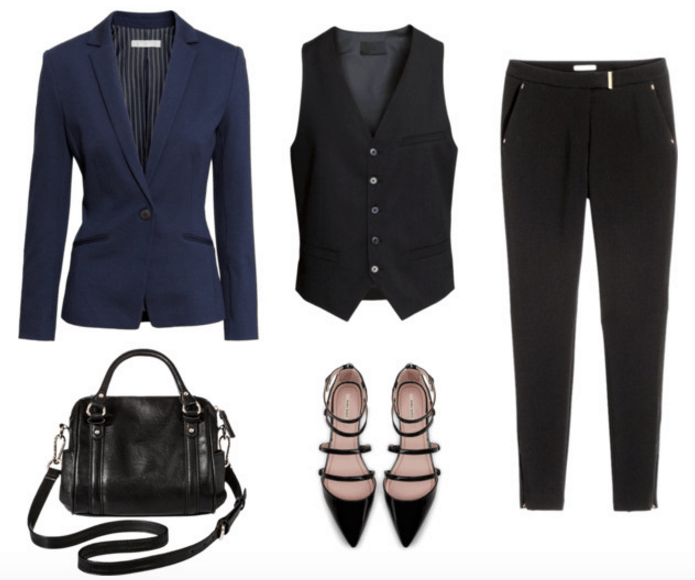 Products: Blazer, Vest, Pants, Bag, Shoes
Channel this look by mixing your existing business professional pieces with a few new purchases. Start by grabbing a clean, tailored vest from the men's section. Slip into fitted black pants with gold accents, then add classic navy blazer. To accessorize, grab a pair of pointy-toed flats with strap detailing, then the look together with a polished mini satchel.
3. Color Crazy
What's not to love about this look? This outfit is so unique and bold; it's sure to draw all eyes your way. I love the beaded print top, which is complemented by the ever-so bold black pieces and choice metallic accents.
Get the Look:
Products: Blouse, Clutch, Shoes, Pants
For this ensemble, start with a v-neck paisley print blouse. Slip into gold-detailed black pants and add matching strapped pointy-toed flats. Complete your outfit with a vintage-inspired clutch.
Your Thoughts?
What do you think of Giorgio Armani's Fall 2015 collection? Are you coveting any of these looks, too? Which one is your fave? Remember to share your thoughts in the comments section below!