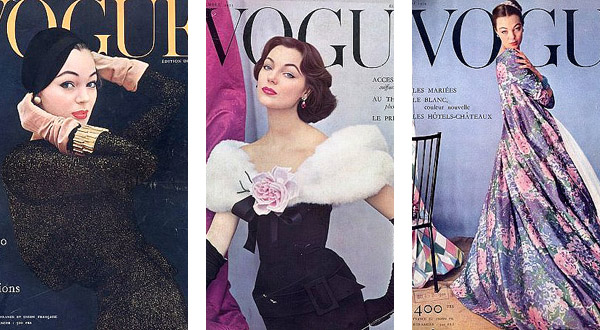 We all know the stereotype: French women are commonly thought to have impeccable style. Though this may just be a vast generalization, it's certainly true that many French women have become fashion icons due to their unique, effortless senses of fashion. French women just seem to have that extra little something – or should I say, that je ne sais quoi – that sets them apart from the rest, style-wise.
Below, I've listed six of the most famous French fashion icons (aside from Ms. Coco Chanel, who we've already featured here many times) sure to inspire you to add that little extra something to your own wardrobe. Without further ado, here are six influential French women that are notable, in part, for their trendsetting looks:
Françoise Hardy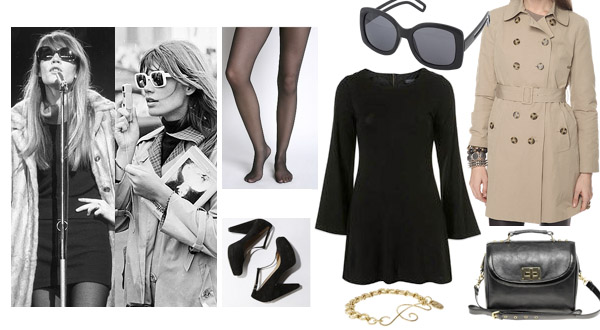 Product Information: Tights – Urban Oufitters; Shoes – Urban Outfitters; Sunglasses – Forever 21; Dress – Topshop; Bracelet – ASOS; Trench – Forever 21; Bag – ASOS. Photo Credit.
Françoise Hardy is a French singer/actress who found success creating French pop music in the 60s. Her style has greatly influenced everyone from Nicolas Ghesquière – head of fashion label Balenciaga – to current it-girls such as Alexa Chung.
To nail Francoise's look yourself, keep it simple – she wore lots of turtlenecks, mini dresses and skirts, oversized sunglasses, breton tops and knits, and was heavily influenced by the British mod trend. Francoise managed to look effortless and chic no matter what she was wearing; she's basically the epitome of French style! Francoise never looked too made up, so if you're going for her look, be sure you keep it natural (though she was rather fond of the cat eye look).
Audrey Tautou (as Coco Chanel)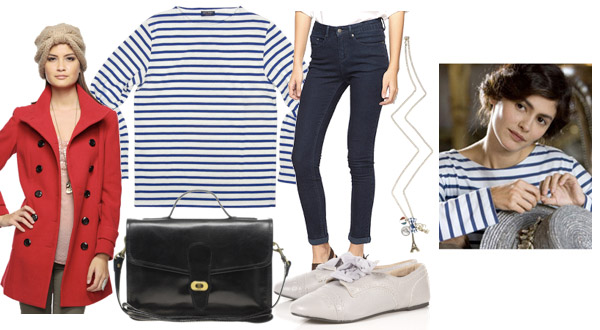 Product Information: Coat – Forever 21; Shirt – Saint James; Bag – ASOS; Jeans – Forever 21; Shoes – Topshop; Necklace – ASOS. Photo Credit.
Audrey Tautou is a French actress; you may know her from films such as Le Fabuleux Destin d'Amélie Poulain, The Da Vinci Code, A Very Long Engagement, or Dirty Pretty Things. Most recently, she starred in Coco Before Chanel, which is actually where this outfit inspiration is from!
Breton tops are a staple for anyone inspired by French fashion. Though you can find a stripey shirt at pretty much any store, you really can't go wrong with a classic from Saint James. Since Coco Chanel was heavily inspired by menswear, try incorporating a masculine touch into your outfit, such as these cute brogues from Topshop or a structured leather satchel. Finish off your outfit with an eye-catching red pea coat and you're ready to go – classic and stylish, yet simple and casual!
Charlotte Gainsbourg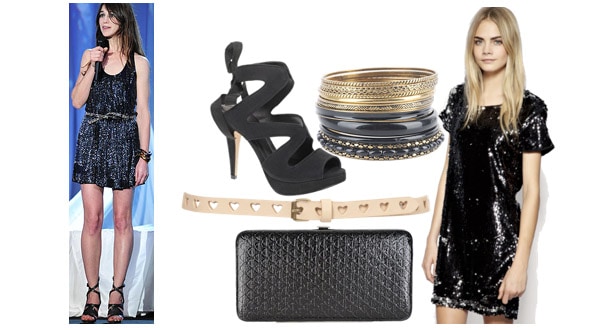 Product Information: Shoes – ASOS; Bangles – Forever 21; Belt – Topshop; Clutch – Forever 21; Dress – Minkpink. Photo Credit.
Charlotte Gainsbourg is the daughter of Serge Gainsbourg and another fashionable femme on our list – Jane Birkin! She's also a singer/actress; you may know her from films such as The Science of Sleep, I'm Not There or Antichrist. In the music realm, she's already released three albums, the most recent of which was produced by Beck. And, like Françoise Hardy, Charlotte's style has been a great influence on Nicolas Ghesquière – she's even the face of Balenciaga's newest perfume!
Like all the other women on this list, Charlotte never looks too put-together but usually ends up looking absolutely perfect anyway. Leave your hair natural and make up fresh, and throw a belt around this awesome sequin dress paired with low-key accessories and strappy sandals for a perfect night out look.
Clémence Poésy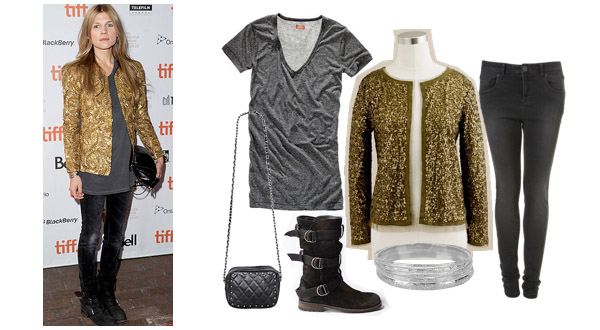 Product Information: Bag – Forever 21; Shirt – Madewell; Boots – Urban Outfitters; Jacket – J. Crew; Bangles – Forever 21; Jeans – Topshop. Photo Credit.
If you haven't seen Clémence Poésy in In Bruges or 127 Hours or in an ad campaign for a Chloé perfume, you probably know her anyway through her roles in Harry Potter and Gossip Girl!
To get Clémence's youthful look, focus on natural-looking makeup and unfussy hair. (By the way, can you believe she's nearly 30?!) She often wears rather girly outfits, but I actually prefer it when she mixes feminine and masculine pieces as seen here. A sparkly jacket like this one from J. Crew offers a fun way to enhance what would otherwise be a pretty basic outfit. Pair it with skinny pants, masculine-inspired shoes and a classic quilted bag to get an outfit perfect for any occasion.
Jane Birkin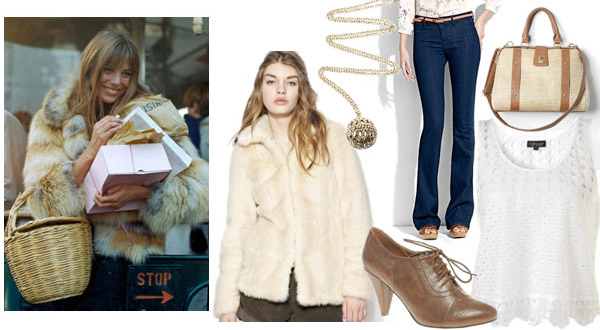 Product Information: Coat – ASOS; Necklace – ASOS; Jeans – Madewell; Shoes – ASOS; Bag – Urban Outfitters; Top – Topshop. Photo Credit.
Though Jane Birkin is technically a Brit by birth, she is so immersed in French popular culture from the late '60s on that it felt silly not to include her. She is famous for songs such as Je t'aime… moi non plus ("I love you… me neither"), a collaboration with her former husband and famous French musician, Serge Gainsbourg. Jane has starred in many French films and has recorded several albums of her own. Today, she continues to collaborate with a variety of musicians and donates much of her time to humanitarian work.
If none of that is ringing a bell, don't worry! You probably know her name thanks to an insanely expensive and iconic bag named after her – the Hermès Birkin bag! If you can't afford to shell out over $9,000 for a purse, never fear; you can still seek inspiration from her, at a much more reasonable price. Stay true to '70s style and try a pair of flare jeans – I still prefer skinny legs myself (though flares are coming back into fashion!), so this slightly flared pair from Madewell seems like the perfect compromise. If you want to go all out and carry around a wicker basket like Jane, Etsy is a great place to look.
Anna Karina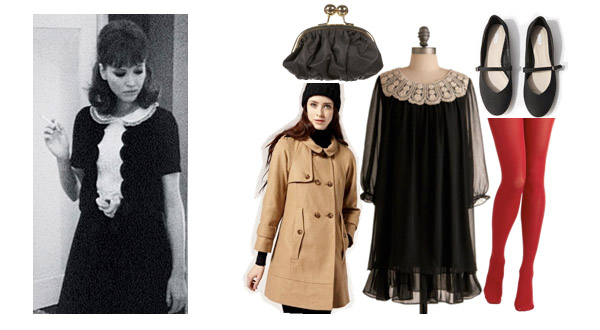 Product Information: Purse – Topshop; Coat – Warehouse; Dress – Modcloth; Shoes – Urban Outfitters; Tights – Modcloth. Photo Credit.
Anna Karina, like Jane Birkin, isn't technically French (she was born in Denmark), but she spent most of her career working in France and seems so stereotypically French that I felt she should be included as well. If you know anything about French New Wave film, you should know her: she was the muse (and former wife) of famous French director Jean-Luc Godard and starred in many of his movies.
Anna Karina's style was very whimsical yet classy, and continues to inspire fashionistas even today (including a recent Milly ready-to-wear collection). Her looks commonly included vibrant pops of color, especially shades of blue and red, so Modcloth's lace-collared dress paired with bright red tights would have been right up her alley!
What do you think?
Will you be recreating any of these looks? If so, who are you going to draw inspiration from? Do you aspire to look as put together as a French girl, or is that just a dated stereotype? Were any of your favorite French style icons not included in this list? Let us know!