This post may contain affiliate links, which means we may receive a commission if you purchase through our links. Please
read our full disclosure here
.
You'd think I'd be pretty much all geeked out after attending last weekend's San Diego Comic-Con, but the four days of convention madness have, if anything, fueled my fandom obsessions. (C'mon, you know you're excited for the new Star Wars!)
As some of you might know, I love cosplaying! This year, I dressed up as Silk/Cindy Moon and as Ty Lee from Avatar: The Last Airbender. In honor of the latter costume and all of the other avid Avatar fans I met at the convention, I decided to put together a Geek Chic post with outfits inspired by everyone's favorite Fire Nation friends.
Never seen Avatar: The Last Airbender? Get yourself to Netflix and watch it immediately… or check out our previous Geek Chic article for a brief summary of what the show's all about.
Outfits Inspired by the Fire Nation
Everything will change when the Fire Nation attacks your wardrobe… with inspiration!
Princess Azula
Yes! We defeated you for all time! You will never rise from the ashes of your shame and humiliation!
Princess Azula, voiced by Grey DeLisle, just can't wait to be Fire Lord. Although she's an incredibly talented firebender, she's also got a serious mean streak and loves taunting her disgraced brother, Zuko.
For an Azula-inspired look, pair a glittering turtleneck tank with a basic black pencil skirt, then top it off with a burgundy blazer. A metallic embroidered clutch adds a regal air, while lightning-shaped earrings allude to Azula's special bending skills.
Last but not least, you can almost always tell if a character is a baddie by how fierce their eyebrows are (Spock is a notable exception), so get those brows on fleek with your favorite brow pencil.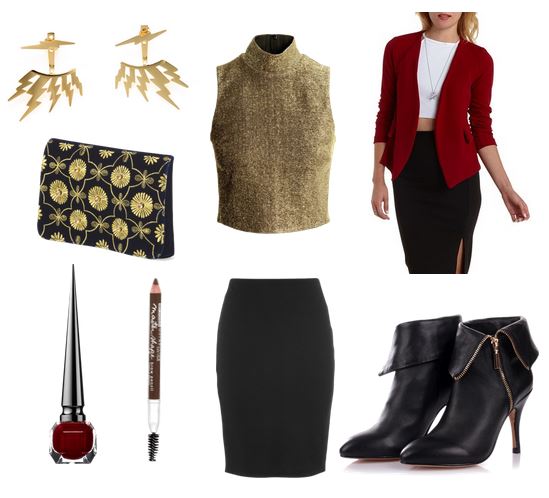 Product Information: Blazer, Top, Skirt, Heels, Earrings, Clutch, Nail Polish, Brow Pencil
Ty Lee
My aura has never been pinker!
Ty Lee, voiced by Olivia Hack, is as cheerful and good-natured as Azula is malicious and calculating. Nevertheless, Ty Lee adores and admires Azula and is her most loyal friend. Her bubbly personality belies her impressive combat skills: in addition to being a circus gymnast, she also has the ability to paralyze her opponents or temporarily prevent them from bending by hitting certain points on their bodies and blocking their chi.
Like Elle Woods and Professor Umbridge, Ty Lee is a big fan of pink. For a sweet and girly take on her acrobat costume, pair a lacy blush top with a crisp fuchsia midi skirt. Add bright ankle strap flats and a maroon belt to emulate Ty Lee's accessories. Tone down all that pink with a neutral gray satchel, then try out a cool take on her high braid.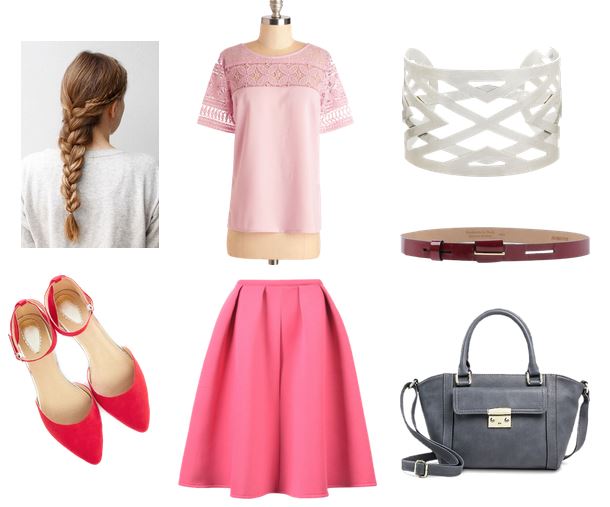 Product Information: Top, Skirt, Shoes, Cuff, Belt, Satchel, Braid Tutorial
Mai
There really is no fathoming the depths of my hatred for this place.
Mai, voiced by Cricket Leigh, is the dour daughter of a Fire Nation nobleman. Nothing pleases her and it's rare to see her smile. Along with Ty Lee, Azula recruits Mai and her lethally precise knife-throwing abilities on her quest to find the Avatar.
For a modern version of this gloomy yet surprisingly romantic girl, play with volume by pairing a drapey red top with a black waterfall coat. With all that fabric on top, go for a pair of skinny jeans and cool ankle boots. Add a pair of dagger earrings and a slouchy beanie reminiscent of Mai's hairstyle to complete the look. You won't hate it.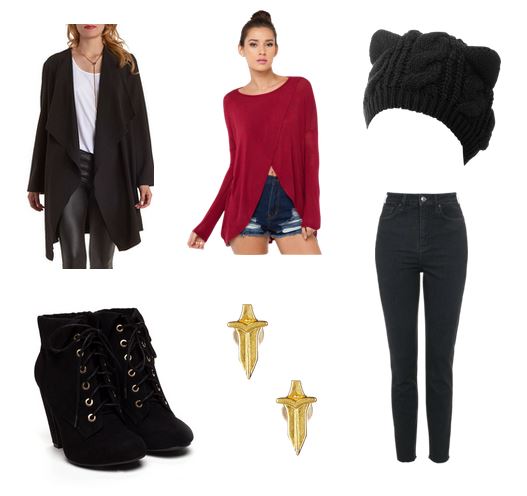 Product Information: Coat, Top, Jeans, Boots, Beanie, Earrings
Prince Zuko
HONOR!!!
Prince Zuko, voiced by Dante Basco, is the disgraced son of Fire Lord Ozai. Accompanied by his wise Uncle Iroh, he's dispatched on a journey to find the Avatar and restore his honor. Fueled by rage and shame, Zuko struggles to find inner peace until he starts to question his motivations and loyalties.
I decided to go with a look more inspired by long-haired Zuko than by bald+ponytail Zuko, since the latter would basically be a rehash of the Azula outfit. Channel the slightly more mellowed-out version of everyone's favorite Fire Nation prince with a textured tunic and slouchy boyfriend jeans. Slip on a patterned wrap cardigan and braided sandals.
Finally, a tea set-shaped ring alludes to Uncle Iroh's true calling, while you can help Zuko find what's he's looking for by putting on this pendant with the Chinese characters for– you guessed it– honor!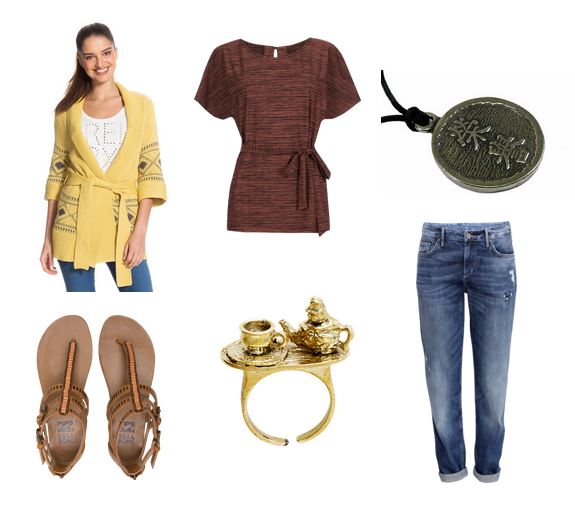 Product Information: Cardigan, Top, Jeans, Sandals, Pendant, Ring
What did you think?
Would you wear these outfits? Have you watched A:TLA? What kind of bender would you want to be? Would you like to see outfits inspired by the other nations? (A Legend of Korra article is in the works!) Let us know in the comments!