This post may contain affiliate links, which means we may receive a commission if you purchase through our links. Please
read our full disclosure here
.
Over the last year, I've been hearing awesome things about the new Ms. Marvel, aka Kamala Khan, so I couldn't wait to get started on reading her series.
The verdict? You'd better believe the hype! This girl kicks bad-guy butt, stays true to herself, and on top of all that, she writes Avengers fanfic. What's not to love?
For more Marvel-inspired Geek Chic articles, check out our previous posts about Silk/Cindy Moon, Guardians of the Galaxy, Loki, and the Avengers.
Know Your Geek: About Kamala Khan/Ms. Marvel
Kamala Khan is a sixteen-year-old Pakistani-American girl growing up in Jersey City. Although she appreciates her heritage, she sometimes chafes under the pressure of her strict but loving parents and wishes she could be "normal."
When a strange blue mist rolls through town, Kamala suddenly develops shape-shifting powers. She takes the name of her idol, Carol Danvers (currently known as Captain Marvel) and starts to fight crime.
With the help of her friend Bruno, she revamps a burkini swimsuit so it can stretch with her as she switches between shrinking to the size of a beetle and growing big enough to throw a car.
The first issue of the new Ms. Marvel was published in February 2014. The series is written by G. Willow Wilson and drawn by Adrian Alphona.
Ms. Marvel has received widespread praise in the comics community, not only for being the first Muslim character to headline a Marvel series, but also for her relatability and general awesomeness.
Outfits Inspired by Ms. Marvel
Take your style-shifting powers for a spin with these outfits inspired by Kamala Khan/Ms. Marvel.
Jersey Girl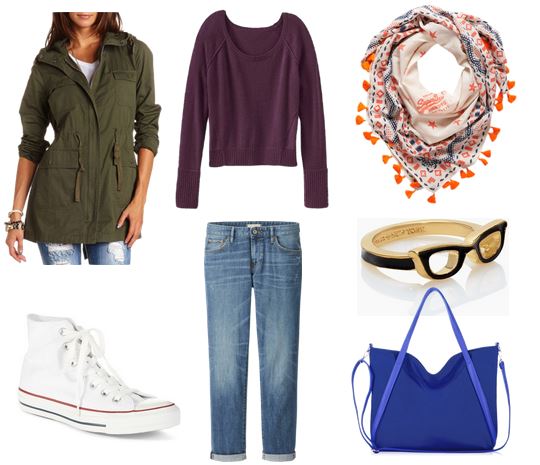 Product Information: Jacket, Sweater, Jeans, Sneakers, Bag, Scarf, Ring
Kamala's civilian fashion sense is pretty eclectic, featuring hot pink tights and trapper hats. Get inspired by her laid-back layers by pairing a soft purple sweater with slouchy boyfriend jeans. A lightweight anorak is the perfect spring outerwear, while high-tops add to the casual vibe. (Roll up those jeans cuffs!)
Add an eye-catching scarf to the otherwise neutral outfit, then sling a cobalt blue messenger bag over your shoulder. Last but not least, add a quirky ring that references Kamala's mask.
I Want To Be You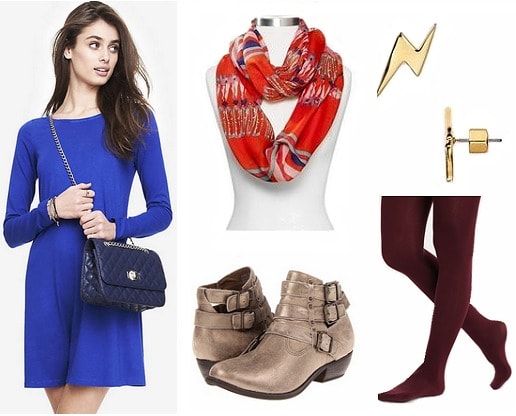 Product Information: Dress, Tights, Boots, Scarf, Earrings
For a look inspired by Kamala's superhero style, try this outfit on for size. A long-sleeved shift dress is reminiscent of her burkini, while lightning-bolt shaped earrings echo the Ms. Marvel insignia.
Bright red tights could easily take this look into cartoon-y primary color overload. Instead, opt for a darker-colored pair and add a pop of red in the form of a pretty patterned scarf. Last but not least, this pair of golden ankle boots was made for kicking some supervillain butt!
What did you think?
Would you wear these outfits? Have you read Ms. Marvel? What other comic book inspirations would you like to see next? Let me know your thoughts by leaving a comment!