This post may contain affiliate links, which means we may receive a commission if you purchase through our links. Please
read our full disclosure here
.

Can we just talk about Zachary Levi for a second? Shouldn't there be some law against geeky, adorable guys who woo Disney princesses, battle alongside Asgardian princes, organize Comic-Con panels to support Operation Smile, and also sing? (Or a law that demands the existence of more of 'em?)
I've been harboring a serious crush on Mr. Levi since I started watching Chuck a few weeks ago, and meeting him in person over Thanksgiving break certainly didn't help to quell my girlish infatuation (my friend and I met him at the stage door after his Broadway show, First Date. He's so talented!).
Okay, all fan-girling aside, the guy's the star of a pretty awesome and definitely very Geek Chic show: Chuck.  The show stars Zachary Levi, Yvonne Strahovski, Adam Baldwin, Joshua Lopez, Sarah Lancaster, and Ryan McPartlin. It's a lighthearted average-computer-whiz-next-door-turned-international-spy dramedy that never takes itself too seriously.
Know Your Geek: About Chuck
Chuck was created by Josh Schwartz (creator of The O.C.) and Chris Fedak and aired on NBC for five seasons (2007-2012).
When Chuck receives an email from his former roommate that contains the only copy of all of the CIA's intelligence, Chuck's life is turned upside down. The information is downloaded into his brain, turning him into a human computer called The Intersect; whenever Chuck sees or hears something contained within the database, he "flashes" and is able to provide valuable intel.
So long as all of those important government secrets are in his head, Chuck must be protected. He's assigned two handlers: CIA agent Sarah Walker and Major John Casey of the NSA (aka Jayne from Firefly).
Unwillingly drawn into the world of espionage, Chuck must learn to fulfill his role as a CIA asset and save the world on a weekly basis without jeopardizing his relationships with friends and family.
Outfits Inspired by Chuck
Welcome to the Buy More!
After getting kicked out of Stanford, Chuck has settled into a job as a Nerd Herd computer expert at The Buy More, a parody of Best Buy (housed in the same mall complex as its competitor Large-Mart, natch). The staff features a colorful cast of kooky characters such as Morgan, Chuck's bearded work-shy BFF; Lester and Jeff, an odd duo with delusions of grandeur and megalomaniac tendencies; Anna, a sassy rebel; Big Mike, the donut-loving manager; and Casey, who goes undercover as a green-shirt-wearing sales associate.
No one likes a scruffy-looking nerd-herder, so go for a fun but put-together take on the Buy More uniform. A cropped white shirt, black jeans, and Converse put a slightly more feminine twist on the Nerd Herd uniform, while a kelly blazer adds a pop of color and recalls the Green Shirts. Tie on a silky gray head scarf in lieu of an actual tie, then accessorize with cute swordfish earrings that allude to Big Mike's treasured office decor. Finally, keep your tech as stylish as you are with an eye-catching chrome laptop case.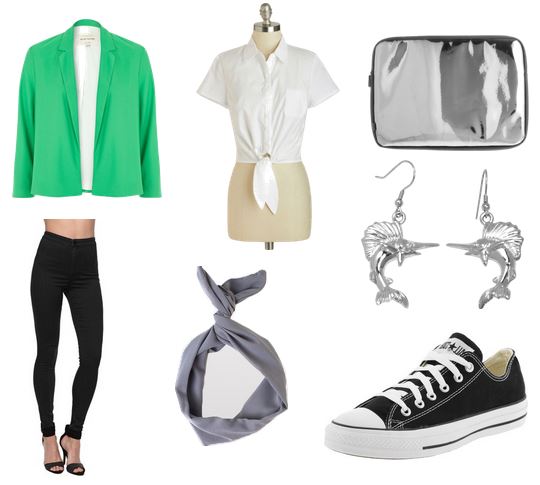 Product Information: Blazer, Shirt, Jeans, Shoes, Earrings, Scarf, Laptop case
Agent Sarah Walker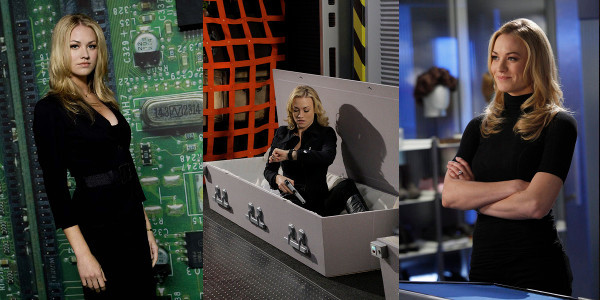 Sarah Walker is one of the CIA's best agents and Bryce Larkin's former partner. She's adept at combat and adopts new covers with ease; however, her new cover as Chuck's girlfriend presents with a unique set of difficulties. Although she's learned that emotion is weakness in her line of work, she's attracted to Chuck's refreshing optimism and humanity. Sarah must keep her personal feelings in check so she can maintain her professional responsibility: to protect The Intersect.
While Sarah can be warm and funny when she's just hanging out with Chuck, she's all business when it comes to missions. Snag her sexy spy vibe with a monochromatic outfit featuring classic tailoring and design. A fitted turtleneck top and pencil skirt combo is very Grace Kelly. Add timeless accessories like cat-eye sunglasses, a patent belt, a structured tote, and sleek Mary Jane pumps for a knock-'em-dead outfit that dazzles with its simplicity.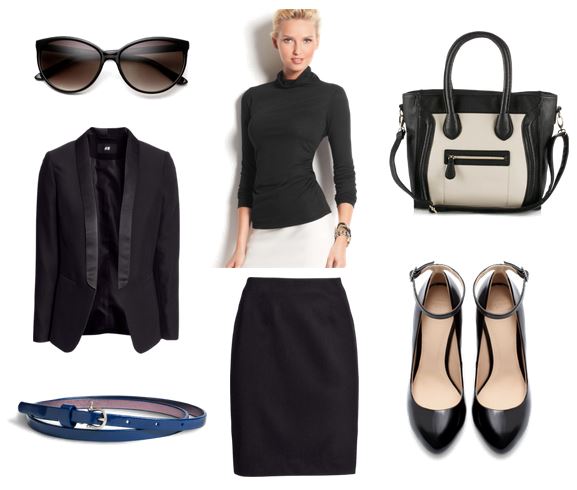 Product Information: Turtleneck, Skirt, Jacket, Shoes, Belt, Tote, Sunglasses
Carmichael. Charles Carmichael.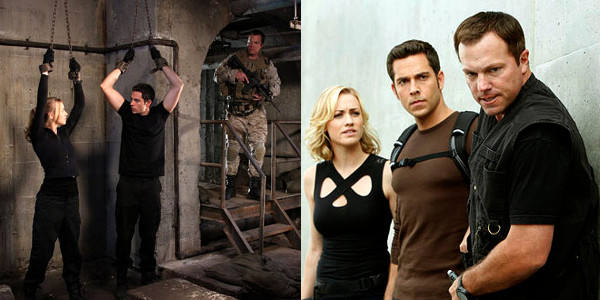 As Chuck slowly makes the transition from hapless asset to fully-fledged spy, he gets into more than his fair share of hairy situations with the bad guys. More often than not, Sarah and Casey must come to Chuck's rescue, though he usually winds up hatching an eleventh-hour plan that saves the day. In the field, Chuck goes by the nom de guerre "Charles Carmichael."
When the agents are in the field, they usually wear tactical gear (or at least practical wear). Luckily, camo is trending again this season; no need to go full-fatigues like Casey, just slip on a ruggedly cool cargo jacket in this ever-popular print. A cool cut-out top and sturdy ankle boots are relatively practical, but also show off fun details. Sling on a backpack to stow all your spy weapons books, slap on a GPS-tracking watch, and slip a few poison-spewing ballpoint pens into your pencil case. (While you're at it, may as well ask the Starbucks barista for a latte that's "shaken, not stirred.")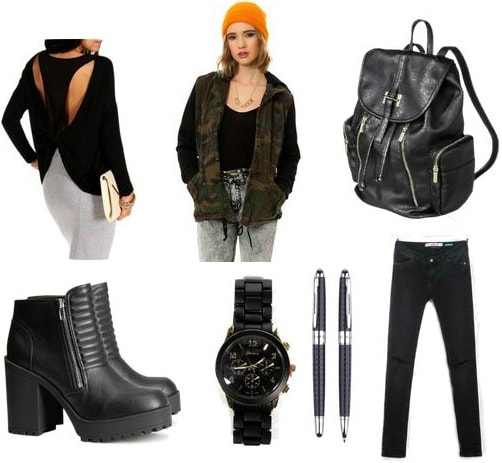 Product Information: Jacket, Top, Jeans, Boots, Watch, Backpack, Pens
Dressed To Kill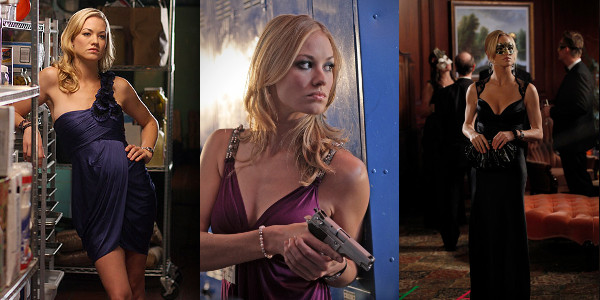 Sarah frequently goes undercover at swanky soirees where she must extract information from wealthy weapons dealers or trillionaire terrorists. As such, she has quite the collection of sexy cocktail dresses and black tie gowns, under which she always seems to have hidden a trove of weapons for when the party inevitably goes awry. All in a day's work!
Emulate Sarah's tastefully sexy evening-wear choices with an amethyst dress featuring a daring slit. If you want a little figure support for your big night, add a shaping slip adorned with pretty lace–no need for Bridget Jones-style "simply enormous" granny-panties. Simple black and gold accessories are always in vogue. Finish off the look with a metallic smokey eye and a glamorous chignon.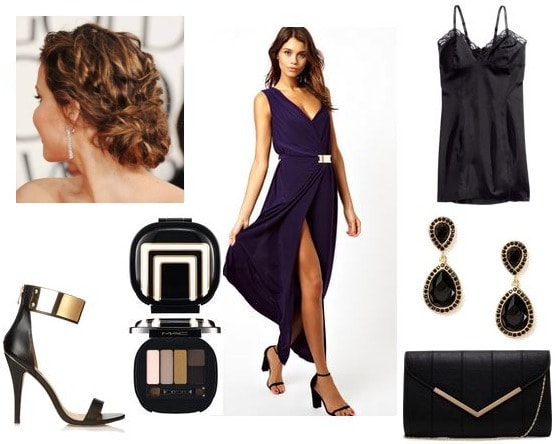 Product Information: Dress, Slip, Shoes, Clutch, Earrings, Eyeshadow | Hair Photo: ELLE
The Awesomes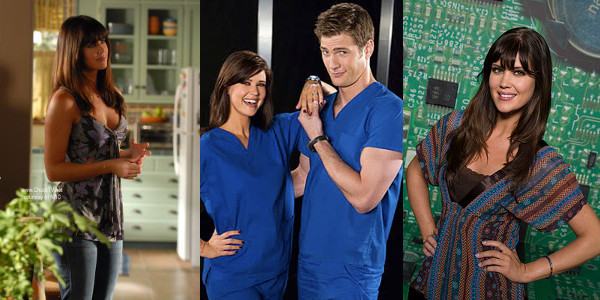 At the beginning of the show, Chuck lives with his sister Ellie and her boyfriend Devon (a.k.a. Captain Awesome). They're both doctors and well, awesome. Ellie frequently worries about her younger brother and his seeming lack of direction in life; while she's very supportive, she knows that he's not living up to his full potential and hopes that his "girlfriend" Sarah will spur him to make some changes. She also spends a good deal of time rejecting Morgan's amorous advances.
When she's not in scrubs, Ellie is usually rocking laid-back, West-Coast style (the show is set in Burbank, CA.) Get her relaxed look with a fluttery floral top and your favorite pair of jeans. A bright-blue cardigan is much cuter than donning scrubs and provides a fun color contrast to the pink shirt. Beach-chic accessories like simple hoops and metallic sandals round out the outfit…but don't forget to be awesome!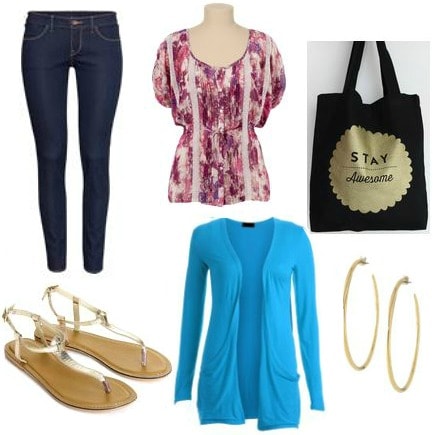 Product Information: Cardigan, Top, Jeans, Sandals, Tote, Earrings
 What did you think?
Would you wear these outfits? Do you watch Chuck? Do you share my eternal adoration of Zachary Levi? What other geeky inspirations would you like to see? Let me know in the comments!