This post may contain affiliate links, which means we may receive a commission if you purchase through our links. Please
read our full disclosure here
.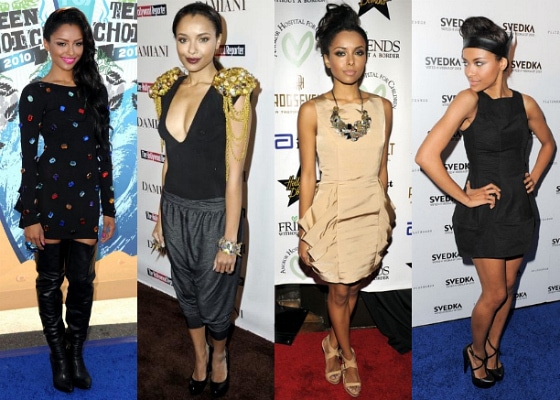 For our next Fresh Fashion Icon, I wanted to feature a girl with a fearless approach to fashion: Kat Graham.
If you didn't already know, Kat stars in the CW series, The Vampire Diaries and has had roles in films like 17 Again and The Roommate. Aside from acting, she is also pursuing a singing career — her first single "Sassy" was released last year.
Kat has an avant-garde sense of fashion and always makes a statement with everything from her clothes to her jewelry and makeup. Despite her eccentric tastes, Kat always manages to look put together while still staying true to her personal style.
Interested in seeing more? Read on to discover the three key elements of Kat's style as well as a few ways to channel her look for yourself.
Bold Patterns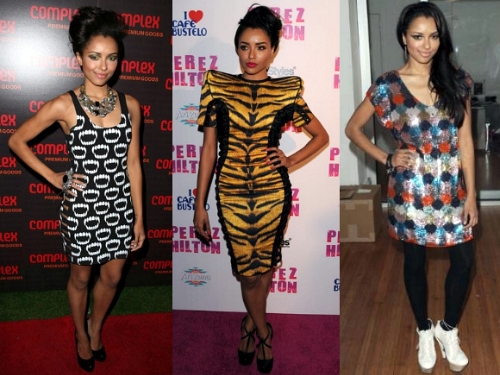 Whether it's animal print or sequins, Kat isn't afraid to wear bold and outlandish patterns to red carpet events. These one-of-a-kind prints get her noticed — in a good way! Next time you feel adventurous, be like Kat and choose a "look-at-me" printed dress, like the one below.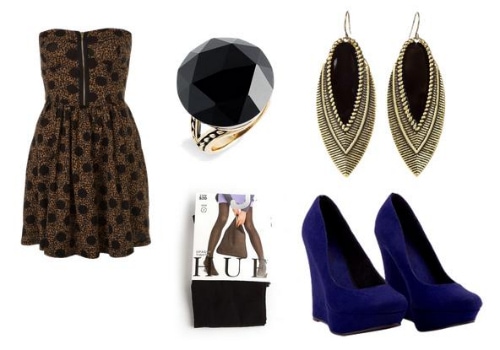 Dress, Ring, Earrings, Tights, Shoes
Take a walk on the wild side with this dress that mixes animal print with polka-dots. Add some opaque tights for warmth and to showcase these electric blue wedges. Finally, add some sleek and chic earrings and a bold cocktail ring for glitz.
Structure & Volume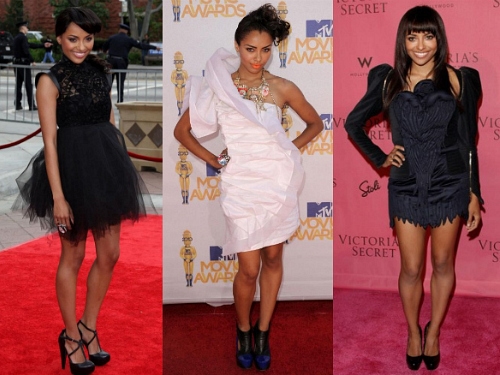 Other than bold prints, another key to Kat's style is the fabulous combination of structure and volume. She wears dresses with full skirts, exaggerated shoulders and organic shapes. Kat always makes sure to keep the attention on the structure of the gown by wearing neutral colors.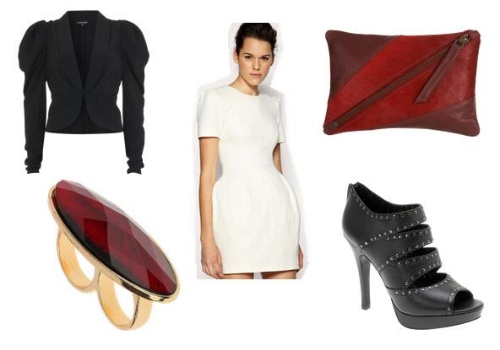 For this look, I chose a basic white dress with lots of great structure in the hip area. Layer on a cropped jacket with voluminous shoulders to truly channel Kat's style. Add some edgy heeled shoes for interest, and give the outfit a pop of color with a sleek red clutch and matching ring.
Statement-Making Jewelry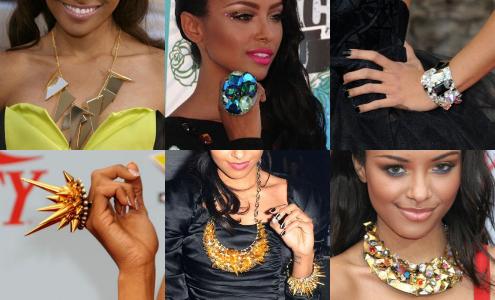 If you hadn't already noticed from the pictures, Ms. Graham loves big, bold, statement-making jewelry. No dainty necklaces and tiny stud earrings for this girl! Instead, her necklaces, bracelets and rings have a definite "wow" factor and always cause a buzz on the red carpet or at events.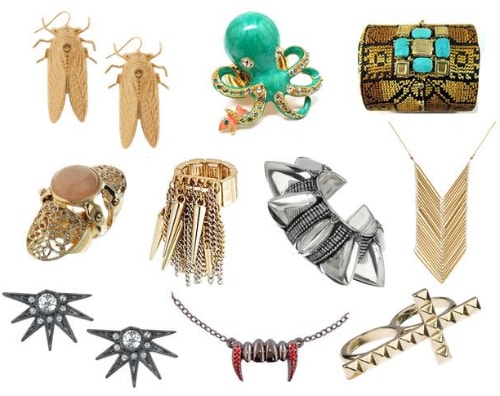 Top: 1, 2, 3 Middle: 4, 5, 6, 7 Bottom: 8, 9, 10
I wanted to showcase some pieces inspired by Kat's bold jewelry choices. Above, I've found plenty of rings, bracelets, necklaces and earrings, so whatever your jewelry preference, you can find a piece that matches your style. These pieces would look good with everything from a fancy dress to jeans and a t-shirt. However, make sure you stick with one piece of statement-making jewelry at a time to make a strong impact.
*All photos from Katerina-Images.com
Thoughts?
What do you think of Kat's look? Do you like her bold style or is it too wild for your taste? Do you wear statement-making jewelry? Be sure to leave a comment and let me know you think!