This post may contain affiliate links, which means we may receive a commission if you purchase through our links. Please
read our full disclosure here
.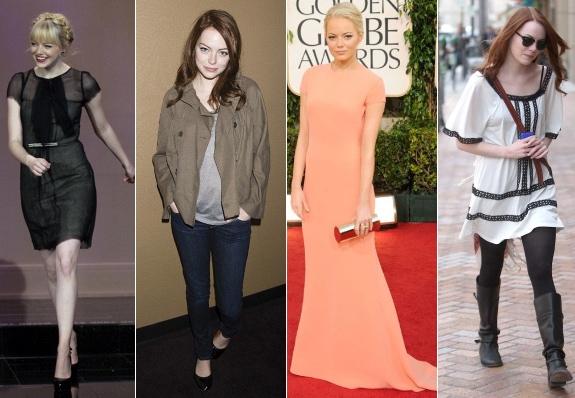 Looking for some new celeb style inspiration? Well, you're in luck, because I'm continuing the Fresh Fashion Icon series Kim started last summer. This bi-weekly column will showcase some up-and-coming stars with fierce personal style and show you how channel their looks. First up is the hilarious and gorgeous actress, Emma Stone.
Most of us were introduced to Emma after she played Jules in 2007's Superbad. After roles in movies like The House Bunny and Zombieland, Emma landed her first lead actress role in Easy A, which earned her a Golden Globe nomination. She recently scored the role of Gwen Stacy in the upcoming Spiderman reboot, which required her to dye her signature red locks blonde.
Emma has a relatable style for college-aged girls. She's a fan of casual everyday looks, but isn't afraid to show some skin and wear bold pieces at parties and events. Want to learn how to dress like Emma? Read on for three key elements of her style and some outfit inspiration.
#1: Keep it casual.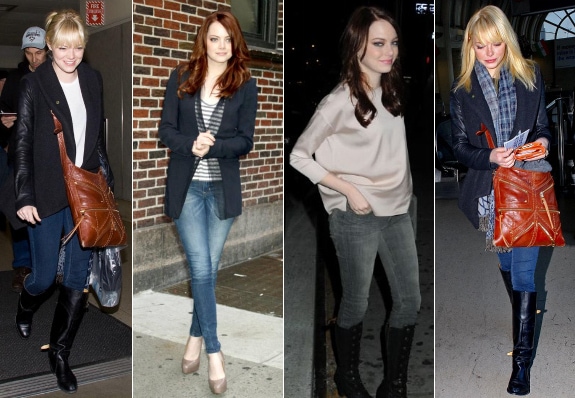 Emma's typical everyday look is casual, yet still very put together. She's a fan of skinny jeans, which she often pairs with either boots or pumps. Emma wears lots of basic, no-frills tops, which can easily be dressed up with jewelry or scarves. Finally, she likes to layer her everyday outfits with a cozy jacket.
Outfit Inspired by Emma's Everyday Look: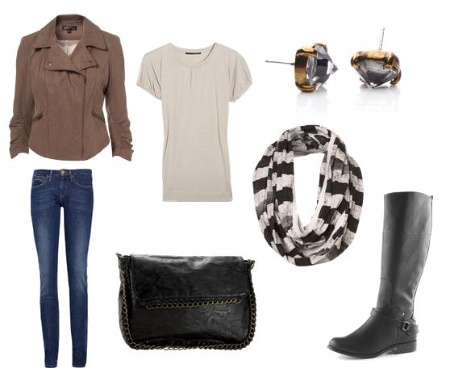 Jacket, Tee, Jeans, Earrings, Scarf, Bag, Boots
For a casual outfit inspired by Emma, start with the basics: jeans and a neutral-colored tee. Pair these items with a stylish and functional jacket and a bold striped circle scarf. Add some riding boots and a matching bag and accessorize with some cool stud earrings.
#2: Show off your legs!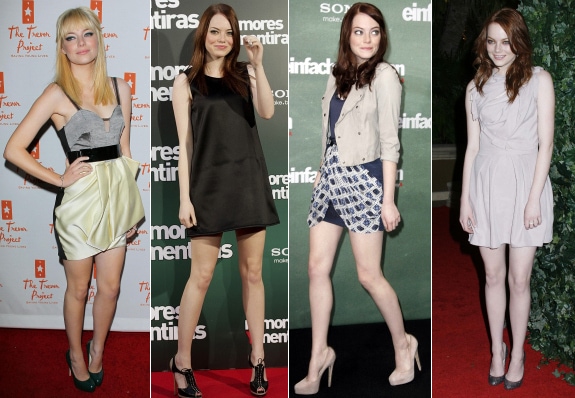 If you can't tell by the pictures above, Emma loves to wear short dresses that show of her great legs to red carpet events. She also pairs these dresses with sky-high pumps which make her legs look even longer. Although these dresses show a lot of skin, Emma balances it out by making sure the neckline is modest or by layering on a jacket.
Outfit Inspired by Emma's Short Dresses: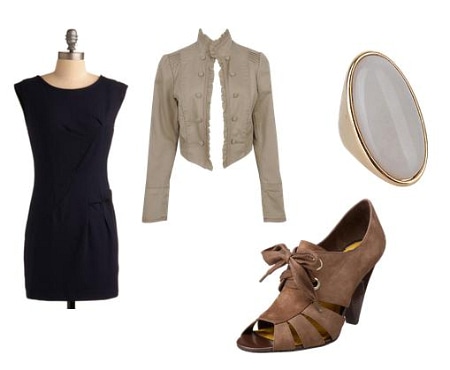 Since most of us don't normally frequent red carpets, I wanted this Emma-inspired look to be appropriate for the average college girl. Start out with a navy dress with some unique asymmetrical detailing. Pair the dress with a cute jacket for extra coverage and warmth. Add these adorable shoes and a chic cocktail ring to finish off this refined look.
#3: Make a bold statement.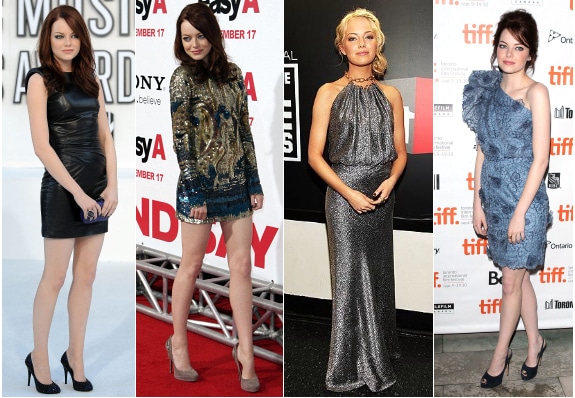 Emma stands out from the crowd on the red carpet by wearing eye-grabbing dresses at events. Sequins, glitter and leather are all game in her book and make a stylish impact. Emma always remembers to keep her accessories to a minimum in order to make her dress the center of attention. Next time you want to stand out in a sea of LBD's, mimic Emma and choose a bold dress.
Outfit Inspired by Emma's Red Carpet Look: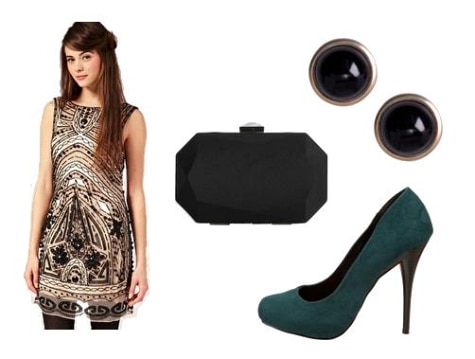 Dress, Earrings, Clutch, Pumps
This would be a great outfit for a special night out. Channel Emma's bold red carpet style with this intricately beaded dress. Add some pumps in a gorgeous green hue, and carry your things in a sleek and structured clutch. Emma never over-accessorizes when she wears a bold dress, so all you need are some simple stud earrings to complete this look.
*All photos from Emma-Stone.org
What do you think?
Do you like Emma Stone's style? What do you think of the way she dresses? Who's your fresh fashion icon? Be sure to let me know your thoughts by leaving a comment!