Can you believe the Fourth of July is right around the corner? This summer is flying by, so I hope you're enjoying every last minute of it. I don't know about you, but I've been looking forward to barbecues, bonfires, and fireworks for weeks now.
Depending on what your plans are for the holiday, you might be a little stumped about what to wear.
It can be hard to find the line between being festive and going completely overboard. Believe me, the last thing you want is to look like you've literally wrapped yourself in the American flag. To avoid this tragic fate, I suggest sticking with one color for your main pieces, then adding colorful accessories to finish off the look.
If you haven't picked out the perfect outfit for the Fourth, look no further than this post. Should you go for fun and flirty or casual and cool? Take the quiz below to find out!
Quiz Results!
Below are the results to the quiz. If you haven't taken it yet, please don't peek! I've created an outfit to go with each look for a little holiday inspiration. Scroll down to take a look:
Fun and Flirty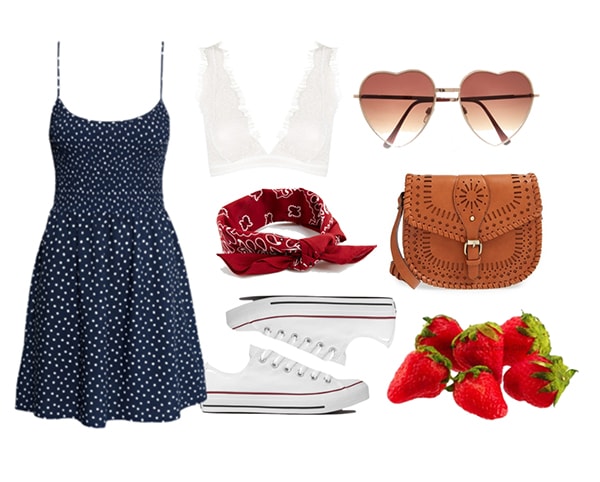 Product Information: Dress, Bralet, Sneakers, Bandana, Bag, Sunglasses
Whatever your plans are for the day, this outfit is your go-to. A casual sundress, like this one from H&M, is the perfect piece for a day like this. It's fun and flirty, but also keeps you from overheating in the sun. Finish off the look with a cute headpiece and a red lip for that extra festive pop.
Casual Cool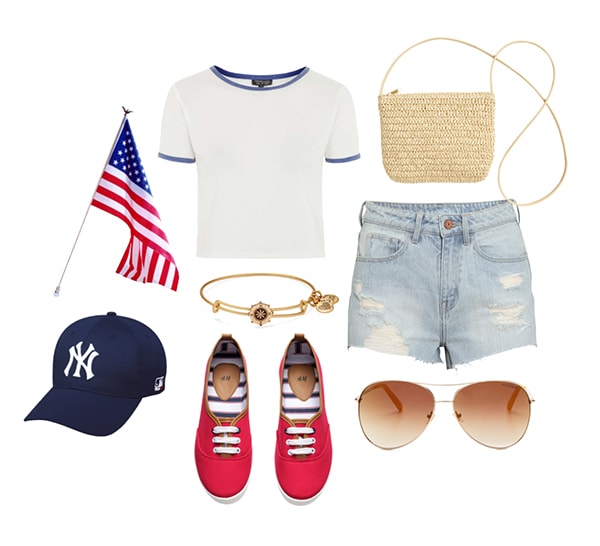 Product Information: Tee, Shorts, Sneakers, Bag, Cap, Bangle, Sunglasses
No outfit is more Fourth of July-ready than this one. High-waisted shorts and a lightweight tee will help keep you cool all day long. Adding a little red and blue through accessories, like these sneakers and cap, is the perfect way to get in the holiday spirit without going overboard.
Summertime Sweetie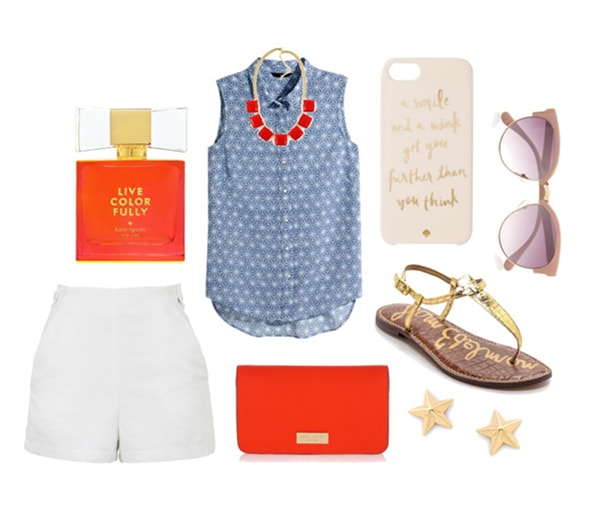 Product Information: Blouse, Shorts, Sandals, Earrings, Necklace, Clutch, Sunglasses, Phone Case
If you want to go for a more polished style this Fourth of July, try a pair of tailored shorts and a sleeveless blouse. You'll look perfectly put together while still dressing casual for the occasion. This outfit is great for spending the day with your family and relaxing at a backyard barbecue.
Dolled-Up Darling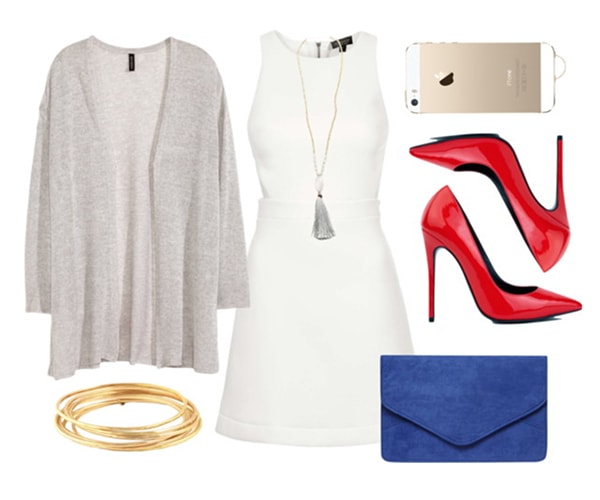 Product Information: Dress, Cardigan, Heels, Clutch, Necklace, Bangles
Got something a little fancier planned for the Fourth? This outfit is perfect for you. Don't forget to take a lightweight cardigan just in case it gets a little cooler in the evening. If you're planning on doing a fair amount of walking to see fireworks, I suggest trading out the heels for a cute pair of red flats.
What do you think?
What are you wearing this Fourth of July? What are your plans for the holiday? Would you wear any of these looks? Let us know in the comments below!